Colorful flowers beckon in the markets
The flower buds are already opening everywhere, but it is too early to say that spring is here. Winter still lingers with the last cold snap and outside it is still difficult to see the feast of flowers. However, you can see cascades of flowers in full bloom in flower markets nearby, and endless crowds go there to get the feeling of spring.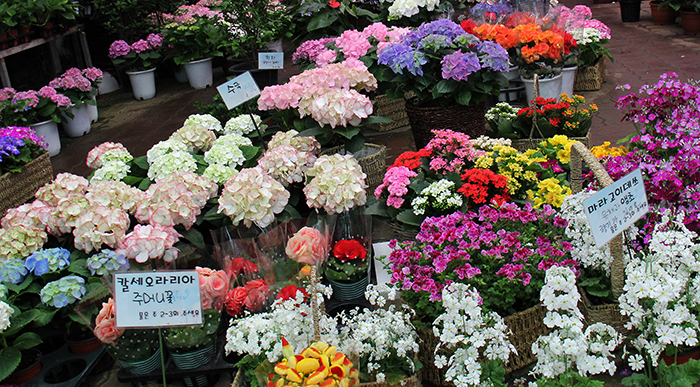 The Yangjae Flower Market has 120 individual stores adjacent to a flower auction block. The stores, located in two large greenhouses, sell natural flowers, trees, seeds and materials needed for planting and growing, such as pots and spades. There are orchids showing off elegant figures as well as herbaceous plants; there are lowering garden plants, potherbs and various types of cactuses. The flower market can be compared to a free botanical garden. Dozens of different stores, seemingly lined up in the greenhouses at random, are all specialized in one or several types of plant. Some stores sell only cactuses or orchids; others have water plants or potted plants. Visitors may get the illusion that they are inside a flower garden and then, around the corner, that they are walking in a tropical forest. 
Obviously, the biggest attractions at the market are the flowers. There are roses that bloom all year round, as well as orchids, including cineraria, crinum, cymbidium goeringii and phalaenopsis, which is known as the moth orchid and bursts into flower buds in the cold. There are also bulbous plants, including narcissus, hyacinth and muscari. "Spring flowers are popular. Narcissus, hyacinth and freesia are especially so," said the proprietor of Sumokwon, a flower store. "There are more and more customers now that spring is on its way." 
On the weekend, flower markets are busy with families with children. Children brighten up as they see various flowers and plants, which they can normally only see in the encyclopedia or online. Visiting the market can be a real education, as they can not only see the actual plants but also touch and smell them. There are many interesting plants for children. Pinguicula, commonly known as the butterwort, is a genus of carnivorous plant that use sticky, glandular leaves to lure, trap and digest small insects, such as fruit flies. Small flower pots like these are sold for KRW 3,000 to KRW 10,000. 
Tabletop animal-shaped topiary are sculpted out of moss and are very popular with children. Stainless steel wires are first used to form their animal shapes and then they are covered with bog moss. In addition to flowers and plants, there are all the materials needed to cultivate plants on your own, such as various sizes of pots as well as spades, shovels, soil and fertilizers, all available for purchase. Visitors can buy flowers and empty pots and pay extra to have their flowers potted for them. 
Heonin and Gwacheon flower markets for wholesale

The Yangjae Flower Market is for individuals, but the Heonin Flower Market in Naegokdong, southern Seoul, and the Gwacheon Flower Market in Gyeonggi-do (Gyeonggi Province) are for wholesalers. The Gwacheon flower market is about 2 kilometers west of the Yangjae Flower Market and covers 66,000 square meters. The Gwacheon market has 170 greenhouse stores divided into sections, such as foliage plants, flowering plants and potted plants. The wholesalers sell these plants in bundles of six to twelve and they are 20 to 30 percent cheaper than plants sold in retail outlets across all of Seoul's neighborhoods. The Heonin Flower Market has 120 stores under three large greenhouses. They distribute different types of flowering plants and foliage. 
How to pick proper flower pots and raise them

How can you pick the right flower, sure that it will survive? Storeowners recommend plants that have clearly visible veins on the leaves and those with vivid colors. They also suggest pots with many anthers and only select a few number of flowers at one time so that buyers can enjoy their flowers for many seasons. Nurturing plants starts with watering. Storeowners say that pots should be watered once a week and twice within ten days, but that the air in most homes is usually a bit drier than the air in greenhouses, so they should be watered a bit more often. Except for cactuses, orchids and bulbous plants, most plants should be given enough water until the surface is completely wet. If it is difficult to see whether the surface is wet or not, poke the soil with a stick. If soil is not attached to the stick when it comes out, it is time to water them. 
By Limb Jae-un
Korea.net Staff Writer
jun2@korea.kr