Restaurant Glamping- Enjoy camping in the middle of the city 1
The whole country seems to have been in the grip of camping fever for a couple of years. It's been creating a new leisure culture, like a camping restaurant with healing theme in the city. These types of restaurants offer various camping dishes with its own camping atmosphere, so that families can have a unique rest time, couples can enjoy a special date.
It is a compound word with 'glamorous' and 'camping', which aims to mean a luxurious royal themed camping. It's already super popular in European countries and US, seemingly setting the new camping trend. Camping restaurant 'Glamping' located in Ilsan is the place people can enjoy the camping atmosphere in the city. Its main theme is a camping site in nature. This restaurant has set 12 tents and 3 cabanas for the site, Dutch oven and grill for smoked camping dishes like barbeque, beer-can, and brisket.
When all is said and done, the best thing for camping is cooking. This restaurant serves various slow-food for its main healing theme. Most popular menus such as Pork-valley, Beercan chicken, and Beefsmoke need to be reserved 1~6 hours before, in order to give enough cooking time. Also, real camping dessert, like grilled mash mellow and banana, cannot be missed.
Another charm of Glamping is that guests can experience a lot of different camping leisure as well. In outside terrace facing Ilsan lake park, European cabanas and big bell tents are set up seeming like one big village. It's a famous romantic date spot for couples. If you make a reservation in advance, you can enjoy an IPad, audio system, board games for top 5 hours as well as a private meal time.
Type / Specialty Menu

Camping Restaurant / Grilled meat
Contact
+82-31-908-6535 (Korean)
Hours of Operation
11:30 – 23:00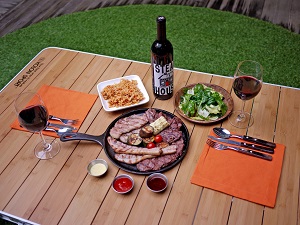 It is a tray on grilled meat, vegetable, some other things like seafood are displayed and served to people. 
Grilled marshmallow with sweets and chocolate, which could be the perfect treat for camping.
Smoked meat and the enhanced flavor of smoked foods make your dinner table a bunch of delicacies in this camping night.
Budae-jjigae (Camping pot sausage stew)
Hot dog sausage, spam, or ham, and incorporated them into a traditional spicy soup flavored with gochujang (red chili paste) and kimchi.
JangHang-dong 869, Ilsan Dong-gu, Goyang-si, Gyeong-gi do