Curved Architecture Merges with Landscape
An atypical structure with a seamless design and endless curves sits near Dongdaemun Gate. Its outer appearance makes this building look as if a giant alien spaceship has landed in the middle of Seoul. The construction of the Dongdaemun Design Plaza and Park (DDP) is nearly complete and it will open to the public on March 21.
"It is unique to combine architecture and landscape as one item. That is what makes it quite unique," said Zaha Hadid, the Iraqi-British architect who designed the monumental building. In a press conference on March 11, she said, "It was not easy to achieve, but it has been successful and the building has become part of the landscape itself." 
Hadid, founder of Zaha Hadid Architects (ZHA), was the first women to be awarded the prestigious Pritzker Architecture Prize in 2004. In addition to the DDP, she also designed the Bergisel Ski Jump in Innsbruck, Austria, in 2002, the BMW Central Building in Leipzig, Germany, in 2005, the MAXXI National Museum of 21st Century Arts in Rome, Italy, in 2010, and the main stadium for the 2020 Tokyo Olympics in Japan. The DDP is Hadid's first project in Korea and is now the world's biggest three-dimensional atypical building.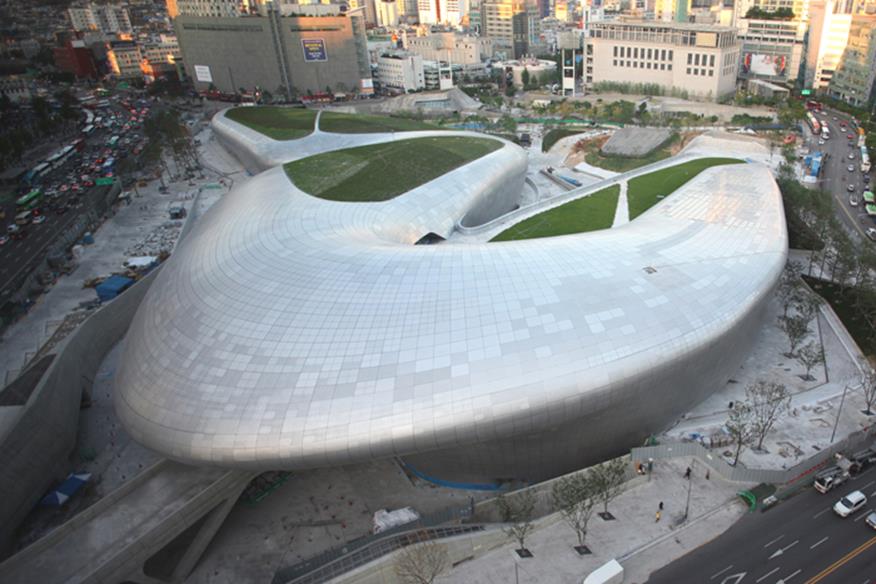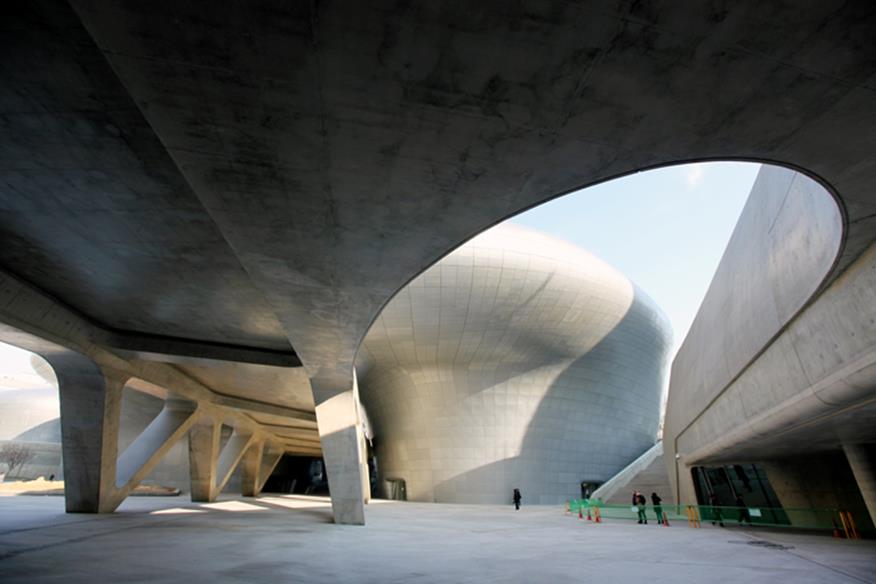 The DDP shows a different shape from every angle. (photos courtesy of the Seoul Design Foundation)
For some time now, her critics have called Hadid a "paper architect." Her designs often do not get built because she refuses to compromise on her unconventional and daring designs. Her designs are known for having no boundaries or limits. She designs not only buildings but also furniture, fashion and accessories, amongst other things. Hadid's design was selected for the DDP in an international competition held by the city of Seoul in 2007. Seoul wanted to establish a cultural hub at the center of one of the busiest and most historic districts of the city, and to bring delight and inspiration to the people of Seoul. The ideas of the design were to organically merge architecture with the surrounding landscape and the builders faithfully executed the concept. This has led to a massive, atypical structure. The biggest characteristic of the DDP is that different shapes appear from no matter which direction you look at it. The complexity of the design, however, was offset by a simple surface, covered with thousands of aluminum panels of the same color.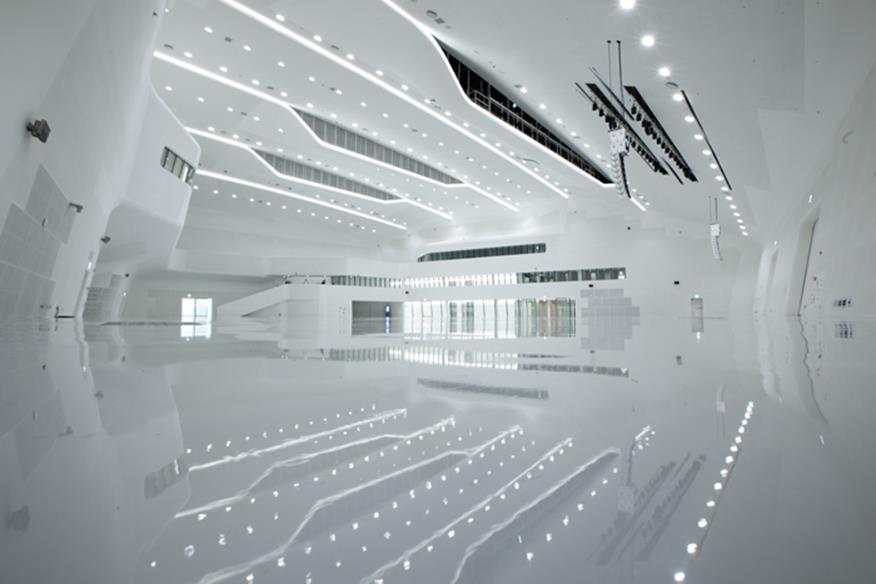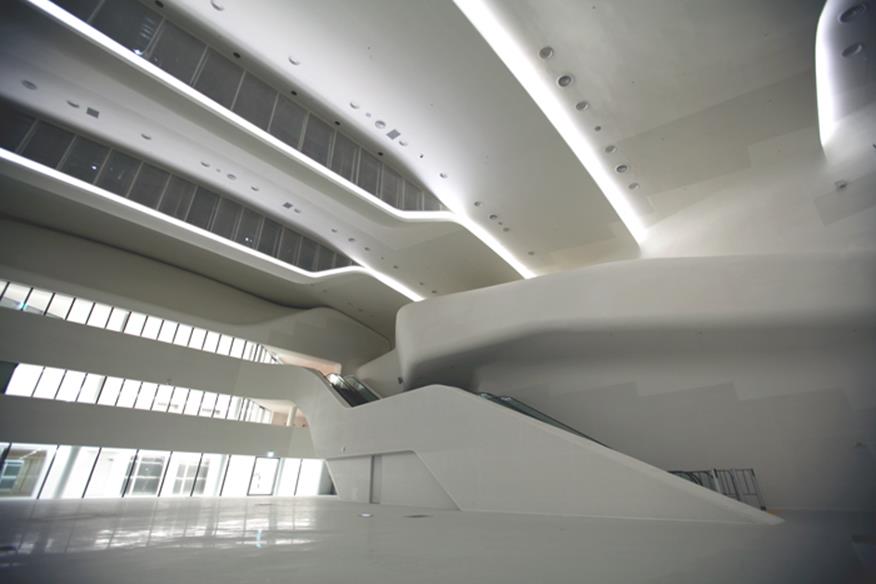 Art Hall 1 and 2 of the DDP are used as convention centers. (photos courtesy of the Seoul Design Foundation)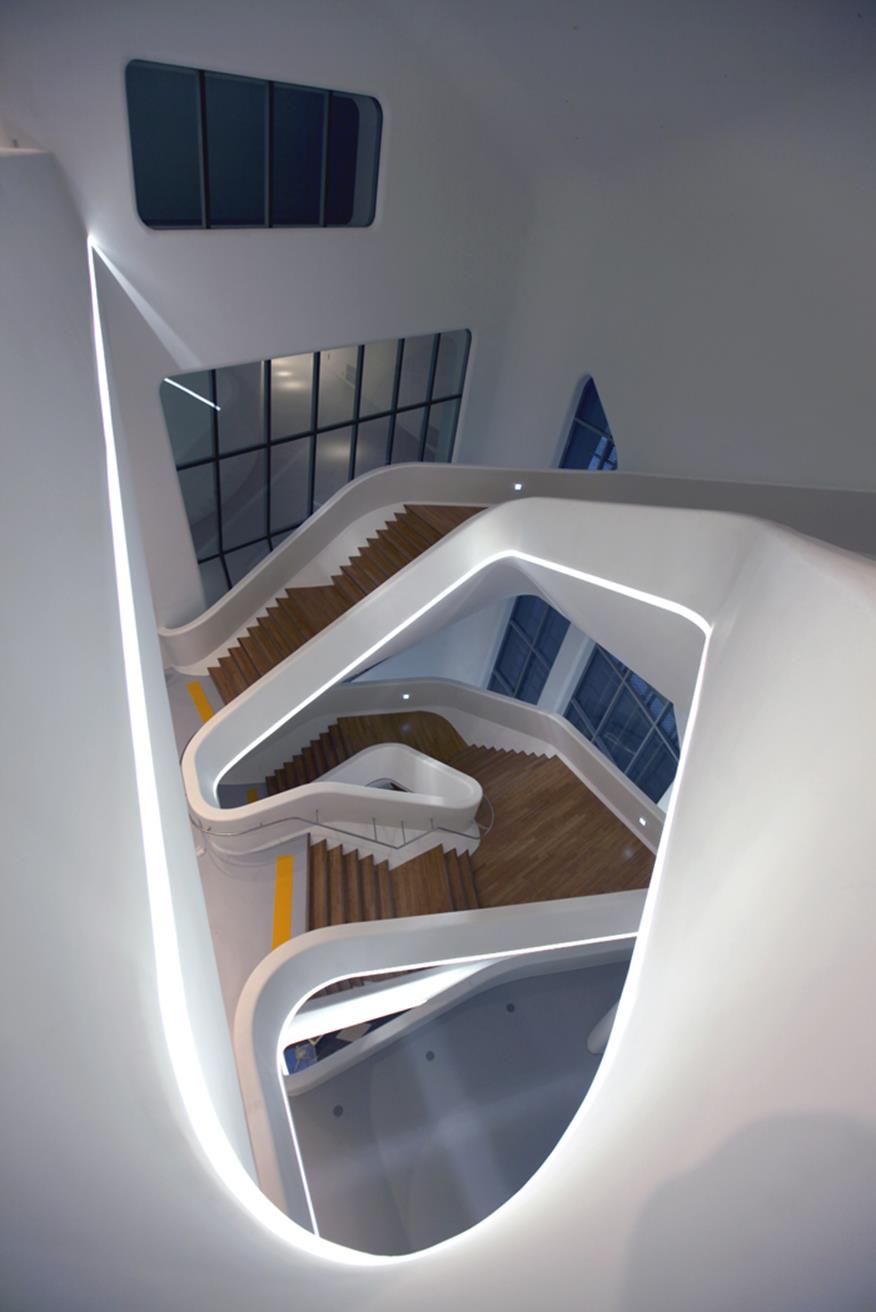 A long spiral staircase leads from the basement to the fourth floor. (photo courtesy of the Seoul Design Foundation)
"The DDP is a single building, but the idea was to create irregular shapes that allow movement around and through the building," said Patrik Schumacher, a partner at Zaha Hadid Architects. "The image keeps changing as the new vista and the new shapes open up. That is what you experience when moving through an unusual, unknown landscape," Schumacher said. "What are important are the skin, the monolithic appearance and the seamless body."  "What we were doing was something very original. We are very much aware that there have been doubts and worries because the project seems so strange and alien. Now, however, I think the mood is changing as the ideas and the extraordinary beauty of the project are becoming apparent. We have always had this experience. When we work with something very original and unusual, there are first doubts and then later, people develop affection for the building," he added. 
State-of-the-art technology was used to build the DDP
It cost KRW 500 billion to build the DDP. The building has three stories underground, four stories above ground and covers 85,320 square meters. It houses convention halls, exhibition space, studios, business centers and other facilities. The building has no pillars indoors and consists of endless curves. An advanced computer simulation program, a building information modeling (BIM) program, had to be used to achieve the design concept. Using BIM involves the generation and management of a digital representation of the physical and functional characteristics of a proposed building. It transforms a two-dimensional design into three dimensions. New technologies, including mega-trusses, which were developed for applications which require monumental load-bearing capability, and space frames, a truss-like, lightweight rigid structure constructed from interlocking struts in a geometric pattern, were used to realize a structure without using pillars. Inside, the DDP is also spectacular. There are spaces within spaces and it is difficult to figure out which spaces are located on which floors. There is a gallery shaped like a large cylinder with spiral corridors. An art hall used as a convention center covers 2,992 square meters and the ceiling is 9 meters above you, boasting a vast open space. The fourth floor and the basement are connected via a long spiral staircase.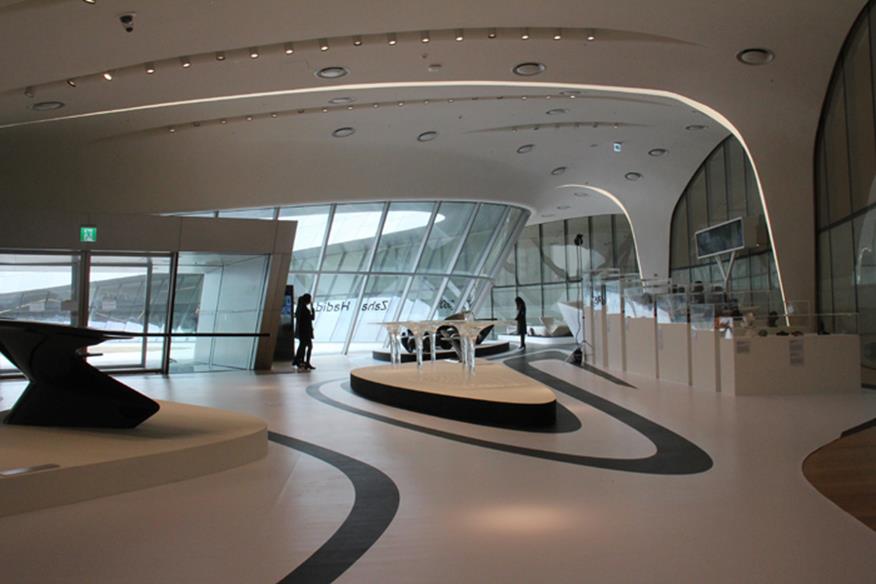 The opening exhibition "Zaha Hadid_3600″ is held at the DDP. (photo: Limb Jae-un)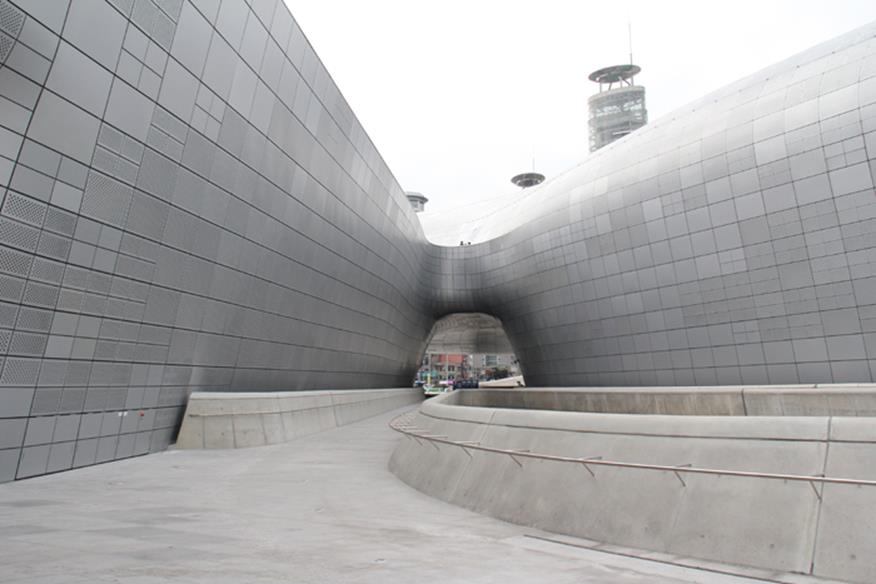 The DDP's outdoor appearance is characterized by endless curves. (photo: Limb Jae-un)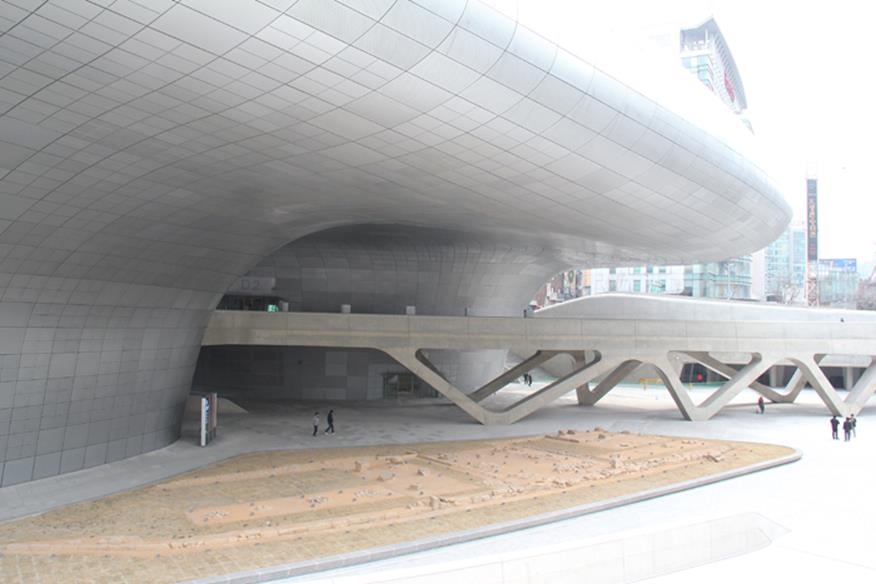 Relics found at the site during construction have been preserved. (photo: Limb Jae-un)
The DDP's outdoor surface is covered with 45,133 aluminum panels that are all different from each other. Manufacturing the 4-millimeter thick panels was one of the most difficult parts of the construction. Hadid wanted two-dimensional curved panels and initially asked British and German manufacturers to produce them, but the suppliers replied that they will have to be fabricated manually, one by one, and that it would take 20 years to make them. After a series of trials and errors, Korean engineers developed a state-of-the-art molding machine and a cutter. Developing the machine lead to the filing of six patents. Hadid is now introducing Korean-made panels to help builders realize her designs for buildings elsewhere. "The construction of the building was something unprecedented and it was difficult to build because there were no examples to refer to," said Lee Sang-gyu, an executive at Samsung C&T, which built the DDP. "To produce aluminum panels within the period of construction and within budget, we had to tap all kinds of metal molding technologies." 
Zaha Hadid talked about her architectural philosophy at a press conference at the DDP on March 11.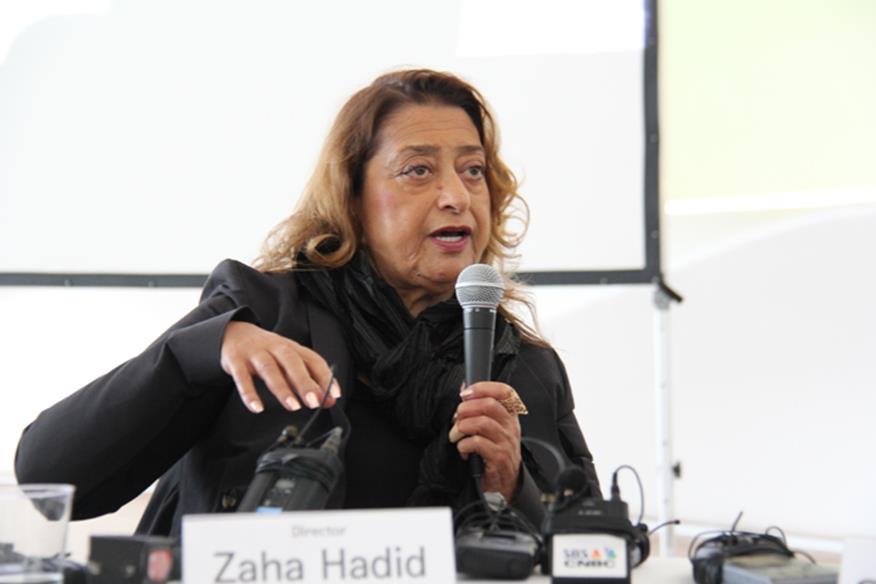 Zaha Hadid answers questions on the concept of the DDP's design during a press conference. (photo: Limb Jae-un)
– What did you focus on when you designed the DDP?

– Our purpose was to create a cultural hub in one of the busiest and most historic districts of the city. We wanted to design the DDP so that exhibitions and events can breathe life into the surroundings. We also wanted to maintain the traces of the city wall, merge the building with the landscape and create a seamless design. We also considered the fact that there is no greenery nearby. Using state-of-the-art technology, we wanted to tear down barriers between the building and the landscape and merge them into one item. 
– Why do you use a lot of curves in your design?

– I like using curves. Twenty years ago, I thought about how to deal with very large projects. I had to consider the characteristics of geography because large projects are built on large land masses. I used a lot of curves because I had to take geography into consideration. When you visit an unknown place, you see more curves than angles, so I used many curves. 
– How is the DDP different from other projects?

– Most projects are site-specific, but the ideas are generic. I have to consider geographical features to design a building and it is always difficult. For this project, I had a unique approach in combining the landscape with the building. Considering the geography, historical background and harmony of the building with the landscape, I came up with an original idea. – You have visited many cities and you know how they are all different from each other in terms of design. Is Seoul heading in the right direction? 
– I think that for me, there is something special about Asian cities. Asian cities are different from European cities. I don't know Seoul very well. I know there are unique qualities about Seoul. I saw shrines. Many cities have different characteristics because they were formed on different traditions. Every city is becoming quite global and there could be similarities. From what I know, Seoul is going in the right direction with interesting projects. The most important thing is to deal with new ideas of urbanism. It takes a long time to develop.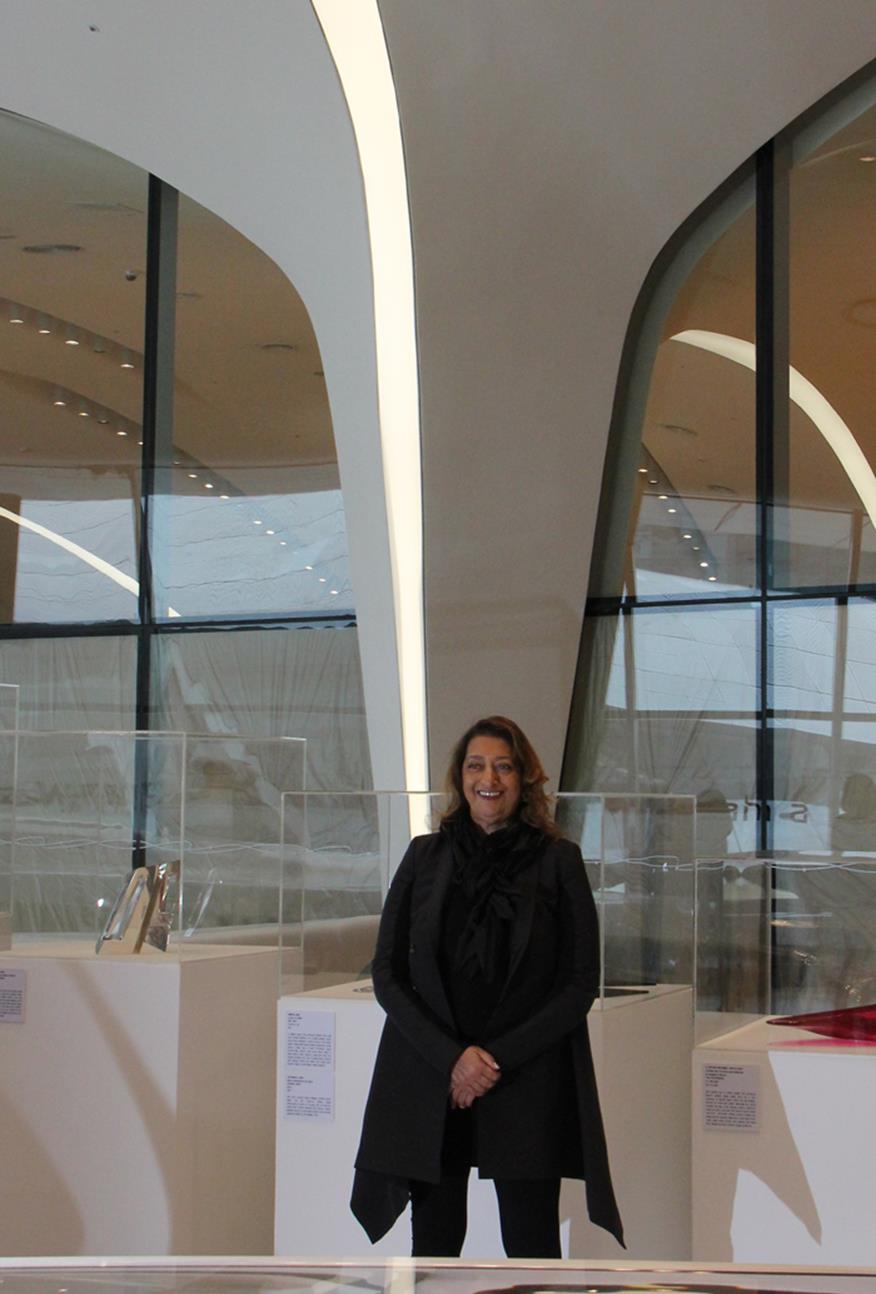 Zaha Hadid poses at the opening exhibition, "Zaha Hadid_3600." (photo: Limb Jae-un)
– What did you mean by original approach?

– What is unique is to combine architecture and landscape as one item. I had to deal with large scales and it was hard to achieve. The building itself has become a landscape. That makes it quite unique. For example, the roofs are all green. We created an artificial landscape. The exhibition spaces are not boxy and they are connected with the landscape. This combination is what is original about the building. 
– Has your design concept been realized with the DDP? Are you satisfied with how it turned out?
– I think that it is important to realize a diagram. In construction, another layer is added to the building. There are obviously some changes. Every building is unique, with different materials used. In construction, you add another layer and it will have a different quality of texture. Construction is an interpretation of the original diagram. There are obviously some changes and some additions made, but I think it has been very successful. 
– How did you take into account the historic and cultural aspects of the DDP?

– (Schumacher) The decision to demolish the stadium was obviously made by the government. In the competition, there was a suggestion as to how one could maintain the memory of the building. We left the floodlights of Dongdaemun Stadium. We wanted to concentrate on the original characteristics of the space and though it was a little abstract, so we created a design that is similar to an arena. 
– How are the design and the construction of the DDP different?

– (Schumacher) Using computer simulations, we were able to enhance the fluidity in design and create a seamless shape. We tried to take urbanism into the design. That was the actual consideration. This also applies to interior or product designs. The DDP was a complex building and we had to do it computationally. Using a lot of curves was important to have the building adapt to the complex site. The design was so complex that we had to use a lot of curves. If there were straight lines, it would have created chaos. The use of continually changing curves and seamless shapes creates a sense of visual calmness and elegance. 
– I think conceptually the construction and the design are very similar, but architecture has much more complexity to it. There are spaces within space. There are big differences between the two things. As a design firm, you know you can design on many levels and different scales. It can be very small or very large. Spatial differences are enormous. 
– Some critics said it's too big. What do you think?

– Too big for what? I think many people are very accustomed to the domestic scale. When you are dealing with a very large project, there is nothing you can do. It is a given scale. It is not a house, it is not an office. The idea was to combine fluidic lines with the landscape and architecture. If the same project was done here as a box, it would have been much bigger and not tailored for its size. 
If you need to build a stadium to hold a certain amount of people, you can't shrink it. You can shrink a kitchen or a bedroom, but you can't shrink a stadium, a theater or an opera house because these spaces have certain requirements and it needs to accommodate a certain amount of people. If they want another stadium, that is another story, another project all together. 
– What does Seoul have to do in terms of design?

– The next development in any city is urbanism. It is not just for Seoul, but many cities around the world. There are many changes, including transportation development. In the same way, they can't change everything. We should focus on urbanism as opposed to constructing new buildings. It is not about changing but how it can change. Every city should consider urbanism and not just adding more buildings. 
– You have become a leading female architect. You once said architecture is an endless battle. What did you mean?

– It is not an endless battle because I am a woman, but because architecture requires constant negotiations with everybody, about everything. It is a very difficult profession. I do think it is more difficult for women, though. I always think that my partners and male architects have an easier time of it. It takes a long time for them to accept you. You have to convince colleagues, teachers, politicians and clients. Every step of the way, it has been a battle. During my career over the past 20 to 30 years, things have changed a lot. You find many more women in the profession now. There are many respected female architects. It is still difficult for women, however. 
By Limb Jae-un
Korea.net Staff Writer