Joseon royal tombs open to public
Dec 30, 2013
Across the capital city of Seoul, we can find as many as 42 royal tombs, sites that are both mysterious and historic. It is at these Joseon royal tombs that the kings and queens of the Joseon Dynasty (1392-1910) are laying in peace.Some of these historic sites will be open to the public starting this coming New Year. People will now be able to better understand and learn more about Korean history and the royal Joseon family.The Cultural Heritage Administration (CHA) announced that two of the tombs will be unveiled for the first time: the Sareung Royal Tomb in Namyangju in Gyeonggi-do (Gyeonggi Province) where Queen Jeongsun (1440-1521) is buried; and, the Gangneung tomb site in Seoul where King Myeongjong (1534-1567) and his wife Queen Insun (1532-1575) are buried.

Queen Jeongsun, wife of King Danjong (1441-1457), is buried in the Sareung Royal Tomb in Namyangju, just east of Seoul. It was opened to the public in 1973 but was then closed again in 1980 for the protection of the cultural properties. The CHA had opened the site in 2013 and due to its popularity has decided to keep it open.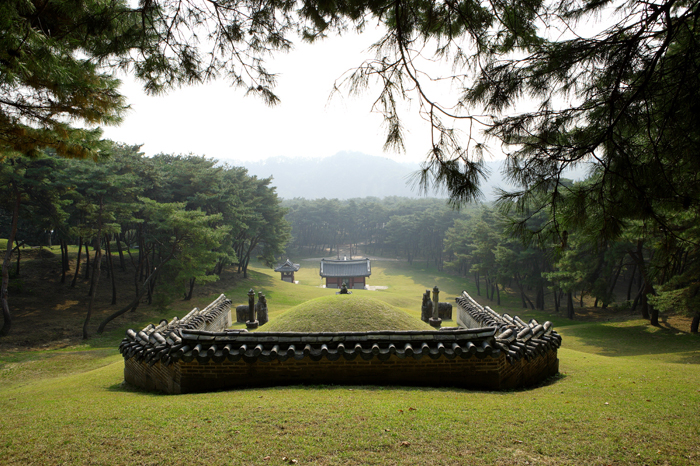 King Danjong rose to the throne when he was only 11 years old. He was soon overthrown by his uncle Prince Suyang (1417-1468), who became King Sejo, and was sent into exile to Yeongwol, Gangwon-do (Gangwon Province). Queen Jeongsun was forced to part from her husband and was left alone in Seoul. In 1457, she heard that her husband had died. Falling into deep sorrow, Queen Jeongsun looked in the direction of Yeongwol every day until she died at the age of 82 in 1521. Her tomb was named "Sa," using a word that has the meaning of both thinking and missing.
Inside, the Sareung grounds have an ecological park that provides visitors with a new experience of Korea's rare flora and fauna.
The second burial site, Gangneung, is located in Nowon-gu, Seoul. It is where King Myeongjong and Queen Insun are buried. Born in 1534, King Myeongjong rose to the throne in 1545 and passed away at the age of 34 in 1567, dying in Gyeongbokgung Palace. His wife, Queen Insun, joined the royal family in 1545 when Myeongjong became king. She died at the age 44 in 1575 in Changgyeonggung Palace and was buried in Gangneung, Seoul, in April of that year.
In addition to the Sareung and Gangneung burial sites, the CHA will make available to the public some more Joseon royal tombs. According to the CHA's plan, some 10 additional tomb sites will be unveiled by 2019, covering neung tombs, won tombs and myo tombs, depending on the deceased's status. The CHA expects there to be a total of 107 tombs open to the public later on.
[How to get to the Sareung and Gangneung burial sites]
-Sareung: Get off at either Donong Station along the Chungang Line or else Geumgok Station along the Gyeongchun Line. From Donong Station you can take any bus from the opposite side of the street. From Geumgok Station, cross the street and take bus No. 23, 77 or 55. Get off at the Sareung Bus Stop.
-Gangneung: Get off at Taereung Station, along lines No. 6 and 7, and go out of exit no. 7. Grab either bus No. 1155 or 1156 and get off at the Gangneung Bus Stop. It's a 10 minute bus ride.
More information can be found at the website of the CHA: Sareung, Gangneung.
(All photos courtesy of the Cultural Heritage Administration)
By Lee Seung-ah
Korea.net Staff Writer