Lee wins gold at 2nd consecutive Olympics
Speed skater Lee Sang-hwa won Korea's first gold medal in Sochi while breaking an Olympic record. 
The defending Olympic champion topped the race by clocking in at 74.70 seconds in the ladies 500-meter long-track race, in which skaters run twice and are ranked by total time. She recorded 37.28 seconds in her second run, setting a new Olympic record by breaking the old one by 0.02 seconds. The previous Olympic record was 37.30 seconds set by Catriona Le May Doan from Canada in the 2002 Winter Olympics in Salt Lake City. Lee's total time also became the new Olympic record. 
Lee became the first Asian athlete and the third athlete ever to win gold in women's 500-meter speed skating at two consecutive winter Olympics, following Bonnie Kathleen Blair of the United States and Catriona Le May Doan.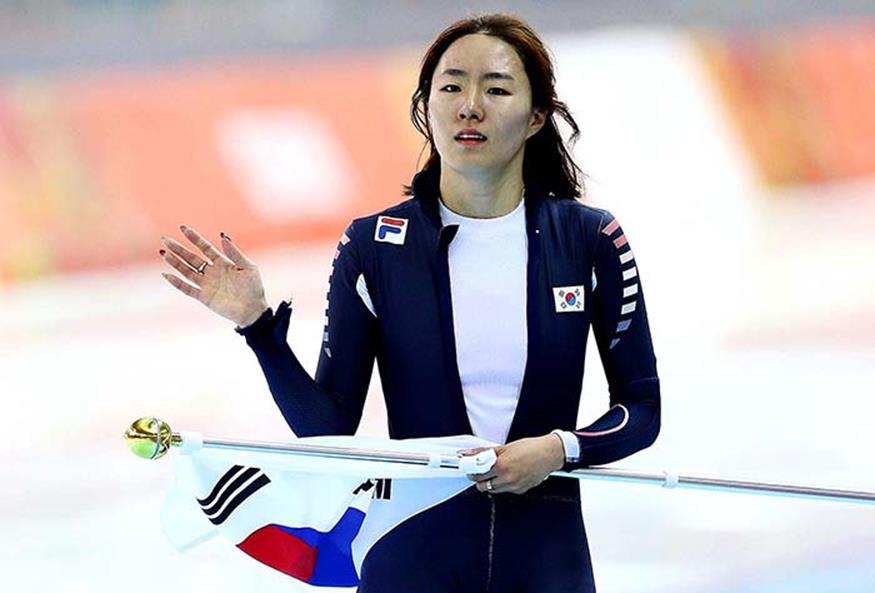 Lee Sang-hwa waves her hand to the crowd while holding the Taegeukgi, the Korean flag, after winning the ladies 500-meter race
with a new Olympic record of 37.28 seconds. (photo courtesy of the Korean Olympic Committee)


In fact, Lee's victory was not unexpected, as she had broken her own world record four times last year alone with a time of 36.36 seconds. Many people said that she only needed to beat herself in this race. Before leaving for the Sochi Games, Lee said she would enjoy her time there. As she stood at the starting line in her first race of the ladies 500-meters, she had a calm face. 
After starting the race neck and neck, Lee finished on her own with a record of 37.42 seconds in the first run. Other athletes showed improved performances with shortened times in their second runs, but it did not affect Lee. In the first 100 meters of the second race, she took the lead at 10.17 seconds, 0.15 seconds ahead of Russia's Olga Fatkulina. Lee covered the remaining 400 meters without losing pace, showing a flawless performance during her start, corners and spurt at the end. The result was a new Olympic record. 


Lee Sang-hwa makes a final spurt for the finish line in the first race of the ladies 500-meter speed skating competition
on February 12 at the Adler Arena Skating Center in Sochi, Russia. (photo courtesy of the Korean Olympic Committee)


Lee raised her arms with joy after realizing she set a new Olympic record. "I am so happy to win the race and am overcome by winning a second victory at the Olympics. I treated this race just as another common World Cup match, not as the Olympic Games, which seems to have brought great results," said Lee. She added that her good time in her second run is only due to her competitors, who also put on a great performance and encouraged her to do better. 
On the podium, Lee had tears in her eyes. "Though I already experienced this moment at the Vancouver games, my tears are still flowing as I think about all the moments of hardship. I hope you can cheer me on a lot in the upcoming 1,000-meter race," she said with a smile. 
Lee will participate in the ladies 1,000-meter race at the Adler Arena Skating Center on February 13 starting at 11 p.m. Korean time, aiming for another gold. 
By Jeon Han, Yoon Sojung 
Korea.net Staff Writers