Traditional patterns made available in modern designs
Since the ancient Three Kingdoms period (57 B.C.- A.D. 668) through to the Joseon Dynasty (1392-1910), there have been certain roof tile and brick patterns that Koreans used in their architecture when building palaces or temples. The size, shape and pattern details were transformed in a variety of ways, depending on the time and location. Each pattern had a message of its own. There were patterns, for instance, that symbolized the prestigious status of a person, or patterns that wish to bring luck and protect oneself from bad spirits.
The National Research Institute of Cultural Heritage (NRICH) has looked into Korea's traditional architectural patterns engraved in roof tiles, eaves and bricks, and has published a 400-page book of the results, "Korean Traditional Pattern Roof Tiles and Bricks." The architectural styles are arranged into seven categories: plants, animals, landscapes, miscellaneous objects, characters, geometric figures and human figures. According to the report, the most popular pattern was plants, especially flowers. Flowers were symbols of beauty, splendor, magnificence and prosperity.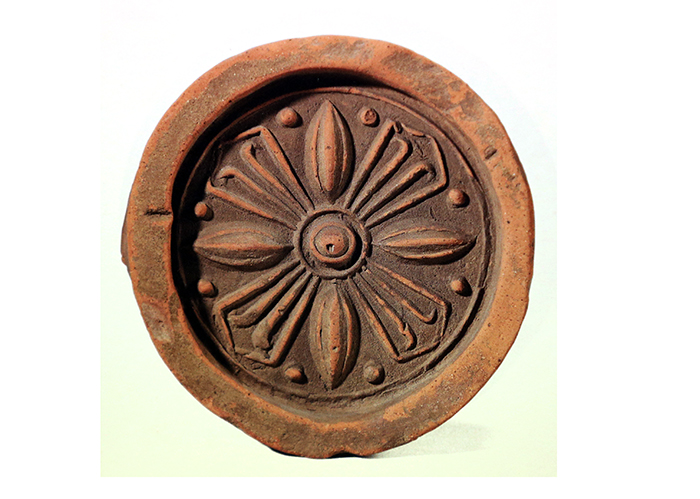 Roof-end Tile with Lotus Pattern. Goguryeo. The Central Museum of Kyunghee University
The lotus flower took up the largest proportion, partially because Buddhism had a great influence on the then society. Basically, Buddhism and lotus flowers have been closely linked. The lotus plant gives bloom to a beautiful flower even if it lives in a muddy pond. It's often been compared to the basic Buddhist doctrine that human nature is truly pure from birth. In addition to this belief, lotus-related myths have been told across the generations, too. One story recounts that when Gautama Buddha was born, there were five colored lotus flowers in full bloom around Maya, his birth mother. Plant patterns were often used alongside other patterns, too. Plant patterns coupled with animals like birds and fish, and with landscapes of rocks, mountains, clouds and water, symbolized a happy life, great harmony between husband and wife, prosperity and a happy afterlife. Animals that had close ties to human life were featured in stone, such as horses, tigers, birds and deer. Sometimes, mythological animals appeared, too, including dragons, phoenixes and haechi, a sort of lion-watchdog cross that is a symbol of justice. Dragons and phoenixes were symbols of royal authority while cranes and tigers were indications of one's official status.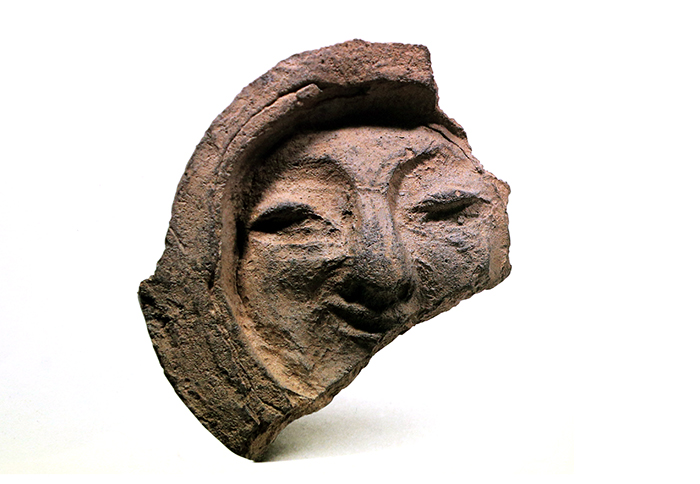 Roof-end Tile with Face Pattern. Silla. Gyeongju National Museum
There were also architectural patterns that depicted human figures. Buddhist figures were most prominent, especially the Buddha himself, but there were also some heavenly maidens and baby boys, too. One pattern created during the Unified Silla period (668-935) depicts a human riding on horseback while hunting an animal. These sophisticated works of architectural art allow us to peek into the Silla people's artistic sensibility.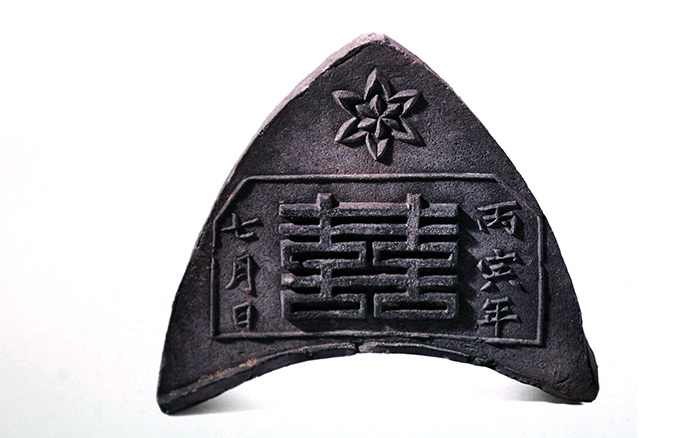 Ridge-end Tile with Character Pattern. Joseon. Yonsei University Museum
In all, the NRICH publication introduces us to some traditional rooftop patterns of historical and cultural value, with a detailed description about each symbol's meaning and characteristics. Also, it provides information about how the patterns were developed during each kingdom and dynasty, giving us an overview of the whole process. Along with photographs of the designs, the NRICH added some delicate illustrative images in its book, hoping for a boost in the use of these traditional patterns in modern designs. The NRICH produced this book of traditional architectural patterns to contribute to the success of the current administration's "Government 3.0" plan, a plan to invest more in the creative industries and to make public statistics more easily available. The NRICH expects the report to help academic studies as well as to help the development of products and merchandise that make use of cultural content. The pattern illustrations can also be seen at the website (www.alright.or.kr) for free.
By Lee Seung-ah
Korea.net Staff Writer