Korea aids farm mechanization in Cameroon
A system of mechanized rice farming has been put in place recently in Cameroon with assistance from the Korean government.
During the opening ceremony for the farm in the Central African nation on October 16, Director Tobie Ondoa Manga from the Cameroonian Ministry of Agriculture & Rural Development said, "With the completion of this complex, we will be able to provide automation in farming and it will be used as a venue to educate farmers about how to operate farming machines."
The director also asked the Korean government to consider follow-up projects that would provide a variety of advanced agricultural technologies and help farmers increase both their productivity and income.
The newly opened farming complex was built in the Haute-Sanaga department of the Centre province in Cameroon and has been under construction since December 2011, according to the Korean Ministry of Agriculture, Food and Rural Affairs.
The project included the reconditioning of 20 hectares of arable land into a pilot farm to allow for mechanised farming and for the building of cultivation and irrigation channels and pumping stations. They also built a farm equipment storage facility and an office, invited trainees to Korea and sent Korean agriculture professionals to Cameroon to help educate the farmers.
The project is part of the Korean government's international cooperation plans to support overseas agricultural development and to share its farming technology. The project, started in 2006, is now underway in 15 areas across 10 nations.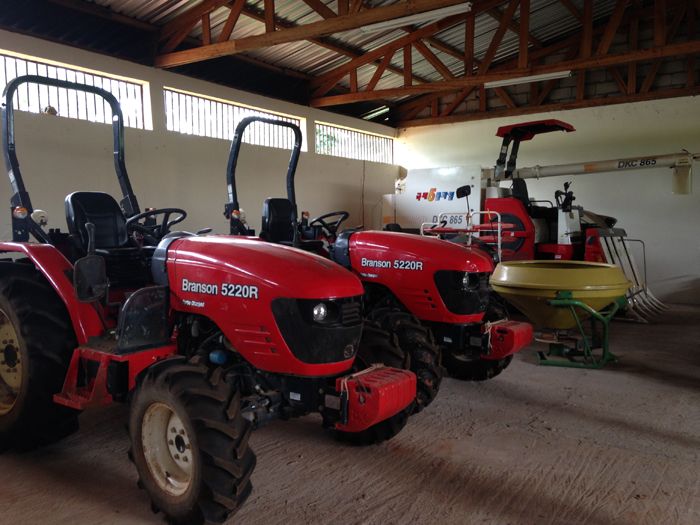 "We hope that this project will provide an example of farming mechanization in Cameroon, and help train farming experts," said an official from the Korean government. "It will help expand the exchange of farming technology between our two countries and strengthen food security."
By Limb Jae-un
Korea.net Staff Writer
Photos courtesy of the Ministry of Agriculture, Food and Rural Affairs
jun2@korea.kr