Countryside offers bounty of organic produce, cultural immersion
Interested in organic farming and/or getting your hands dirty while exploring rural Korea? Ever want to practice your Korean far from the curious ears and eyes of urbanites? World Wide Opportunities on Organic Farms Korea (wwoofkorea.org/) offers 64 such chances through farms, temples and guesthouses in all nine provinces. WWOOF (www.wwoof.net) started in the UK in 1971. The South Korean branch opened in 1997, and the organization now has offices in over 60 nations.
Kayleigh Burgess an American colleague blazed my WWOOF trail while interning in Seoul this summer. She paid the required W50,000 registration fee, contacted six listed hosts, received two invitations and opted to work atNanumteo, a samulnori retreat/organic farm (WWOOF Host # CN 105) in Chungcheongnam-do (South Chungcheong Province). She explained that while the alternative soil institute offer sounded fascinating, she preferred staying with a family since she was traveling solo.
She and all posted reviewers appear pleased with the standard WWOOF arrangement: free room and board in exchange for four to six hours of work a day. Odd non-farming jobs such as mopping floors or serving guests, occasionally surprise volunteers in Korea but do not seem to dampen the overall enthusiasm. (Ms. Burgess' subsequent article, linked below, summarizes her experience and the history of WWOOF.)
WWOOFing seemed an ideal way for me to exercise in fresh air and save money while here on a tourist visa. Immigration and tax compliance are not issues since money never changes hands. E-mails to two listed Gangwon-do (Gangwon Province) farms led to a short English-language exchange and one invitation to a fantastic opportunity.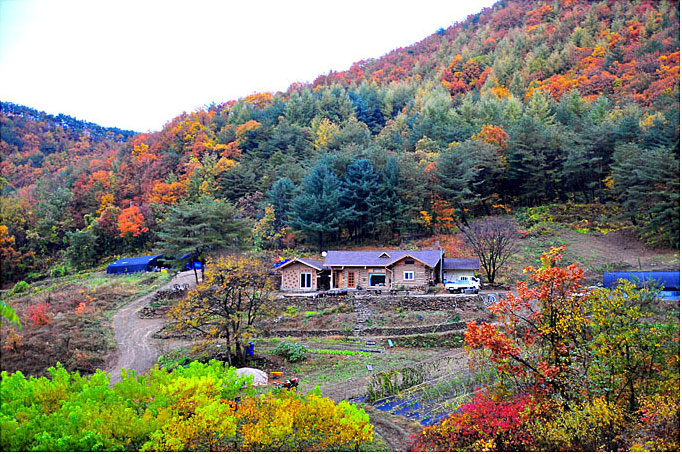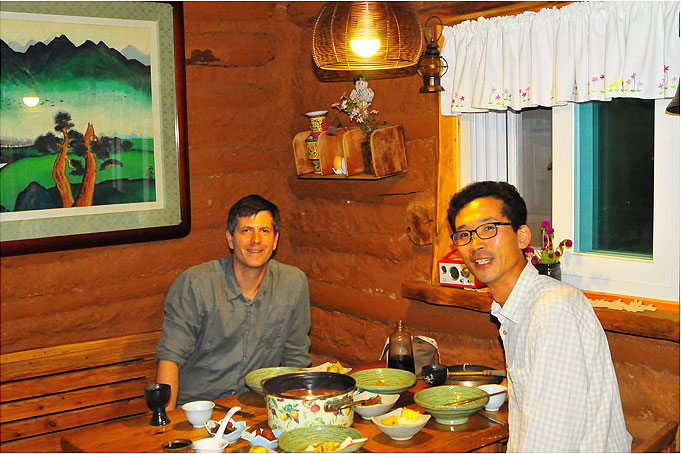 GW 105's sedate WWOOF webpage does not adequately convey all that these hosts offer. About four years ago, owners Kim Young-mee and Im So-hyeon designed a beautiful married life for themselves intentionally apart from what they saw as modern inconveniences. Nae Maeumui Waegatjib (The Grandmother's Home I Desire) is an organic omija winery/B&B that they run from a half Hanok-half log cabin built from materials close at hand. Their attractive home sits atop a valley unmarred by power lines or elevated roads. And Ms. Kim prepares delicious, wholesome meals served on well-crafted ceramics and drawn from a bounty that extends far beyond organic omija to include wheat, peppers, sweet potatoes, and within a few years, fruit from their new darae (Siberian gooseberry) orchard.
Even the two-room outhouse from which they extract natural fertilizer for their garden is aesthetically and olfactorily pleasing with art on the walls and excellent ventilation. Potential WWOOFers drawn to the farm's ideas but unsure of their ability to squat down and put so much of themselves into its production will be happy to learn that conventional toilets are an option. The attic room that houses WWOOFers is bright and large, but hosts also allow them to use the facilities in the B&B rooms when unoccupied.
I worked nearly eight days on the farm in total over the first weeks of October. Tasks included scrubbing the large clay omija wine casks, putting wheat through multiple hand washings, and stripping bark off logs. In addition to the owners, I met two hearty carpenters in their fifties, who could toss three-meter Douglas Fir logs like they were pick-up sticks; laborers from China and Uzbekistan earning money for their families back home; and a jovial cast of family, friends and neighbors.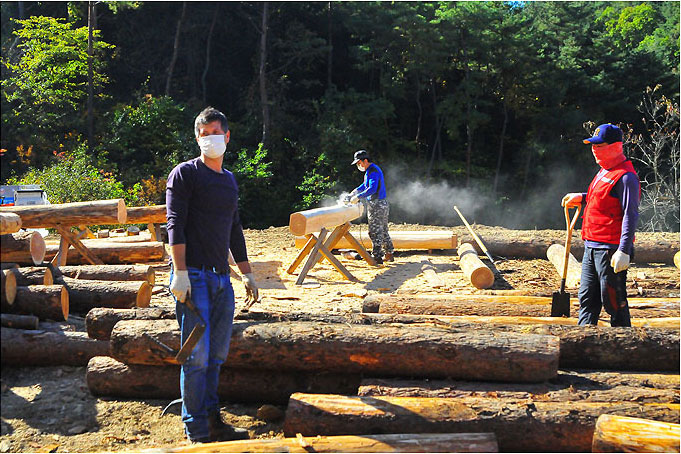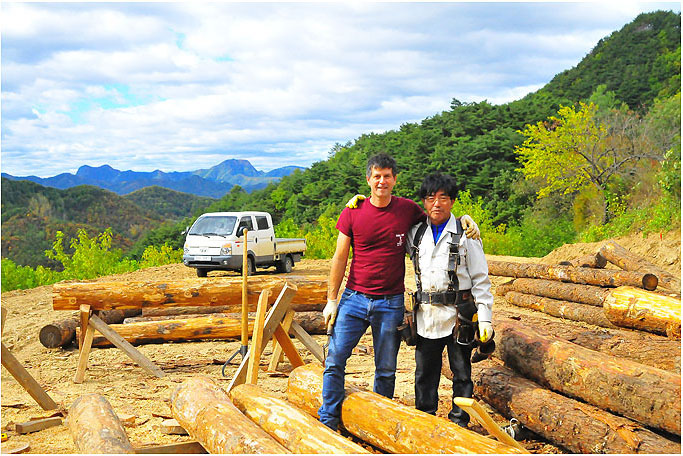 The best part of my WWOOF experience was communicating in Korean. Securing a high TOEFL score is not something most farmers stress about. Consequently, they are not embarrassed that proper English is rarely on the tip of their tongues. Anything that cannot be conveyed in words is simply demonstrated until understood. And during off time, listeners did their best to grasp whatever Korean I threw their way as if it were all completely natural.
While registered members can read host profiles that include their English proficiency, WWOOF Korea manager, Kota Fukuyama is reluctant to specify how many speak English: "[The listing] doesn't seem to work very well because the answers we got from hosts were totally subjective. From my experience, language skill is less important than communication skill." Ms. Burgess knew little Korean before her WWOOF experience but persevered: "Communication was incredibly challenging, but that was part of what made it interesting! We all had to rely on our ingenuity and creativity to communicate."
Contact with foreigners is WWOOF's best attribute, according to Ms. Kim. The breakdown of the average 20 WWOOFers a year that come to their farm is a close microcosm of the demographics Mr. Fukuyama provided for the roughly 500 that have worked in Korea so far this year: the plurality is a remarkably broad mix of Korean students and office workers from ages 11 to 62. The overseas volunteers are mostly Chinese from Hong Kong, Singapore and Taiwan; Americans; and French. A mix of other Asians and Europeans are represented as well.
Asked about average length of stay, Mr. Fukuyama replied, "It totally depends, but we recommend a week. Many hosts find three days too short to be able to get help. Longer than a week – you need to be careful because you might not like the host at all while the host might want you to stay." He encourages checking the online profiles and contacting a variety of places to find the best fit. Other good advice: make sure that host and volunteer each share the same expectations regarding the type of work and daily schedule. Volunteers should be sure to save time to take in the local sights that many hosts are eager to show off.
WWOOF also has short trips open to non-members for one-day-long tastes of organic farm life. Three such trips are scheduled for November. "All the hosts are mainly just looking for hard workers and friendly, positive people," concludes Mr. Fukuyama.
Related article on WWOOFing in Korea by Kayleigh Burgess:
https://projourno.org/2014/09/wwoof-korea-a-bridge-of-the-agricultural-past-and-urban-modernity/
By David Kendall
Photos courtesy of farm owner Kim Young-mee
David Kendall is a former korea.net editor/writer. He is in Seoul researching his thesis for an MA degree in East Asian Studies expected from Indiana University – Bloomington this winter.