Escape the heat wave with Korail
Summer has officially begun, as the scorching sun and sweltering heat drains people of their energy and causes them to sweat, even if standing still in the shade.
Normally between July and August, crowds of people flock to the oceans, rivers, mountains and valleys to avoid the heat. If you are still deciding where to go, here are some of this year's go-to destinations as prepared by Korail, the nation's largest train operator.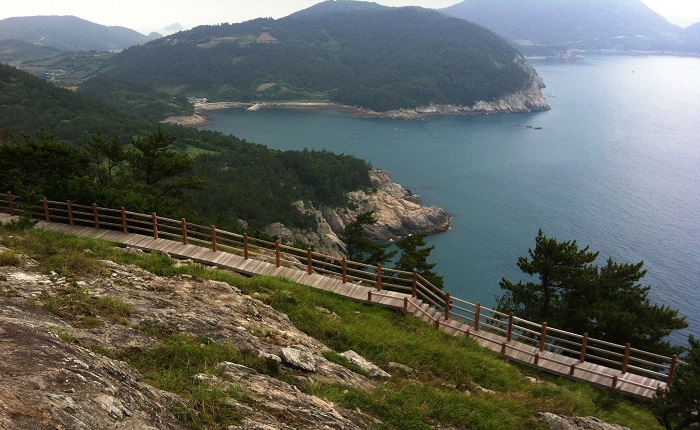 Beaches and the sea are two of the most popular travel destinations during the summer. This year, Korail recommends the South Sea in Yeosu and Daecheon Beach in South Chungcheong Province. Pictured is the sea as seen from Geumodo Island in Yeosu.
Korail recommends six places: Daecheon Beach, the Donggang River in Yeongwol, the Hantangang River in Yeoncheon, beaches in Yeosu, Yangwon for trekking and Buncheon for its Summer Santa Village.
One of the best ways to ward off the heat and to stay hydrated is to dive into the water. Indeed, summer vacation is closely associated with the sea. One body of water that Korail recommends this year is Daecheon Beach in Chungcheongnam-do (South Chungcheong Province), a perfect West Coast beach.
Daecheon Beach is known for its annual mud festival. The summer event is participated in by a large number of Western tourists and residents, and has always secured a top-spot in English-language surveys about summer vacation destinations. The dark mud found along the beach is rich in minerals and other elements known to be good for the skin. Korail's West Gold Train that connects Seoul and Iksan can take you to the beach.
One of the best charms of train travel is that you can enjoy regional specialties. Korail's S-Train takes travelers to Yeosu in Jeollanam-do (South Jeolla Province), a region known for delectable dishes such as fresh seafood and which is home to one of the best varieties of kimchi found anywhere in the country. Beyond food, Yeosu still has a lot to offer travelers. It is surrounded by a number of beautiful beaches, and offers easy access to Odongdo Island, home to some 3,000 camellias, Geomundo Island that floats at the southern end of Dadohaesang National Park, and Hyangilam Temple, nestled in the foothills of Geumosan Mountain.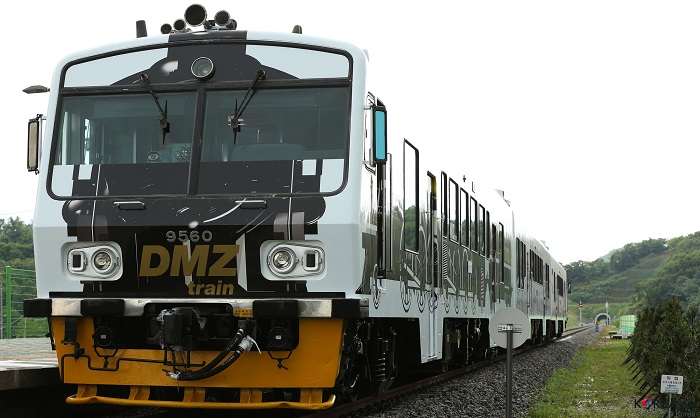 Those who want to enjoy more active pastimes are recommended to take the DMZ-Train Gangwon line and the Jeongseon Arirang Train. Heading to the Hantangang River in Yeoncheon, Gyeonggi Province, and to the Donggang River in Yeongwol, Gangwon Province, respectively, the two trains will take you into a world of river rafting. These regions are normally visited by families, friends and club members who are required to team up and join forces to row upstream. It helps them develop both their health and teamwork.
Passengers on the O-Train that loops around Gangwon, North Gyeongsang and North Chungcheong provinces are recommended to pay a visit to the Summer Santa Village in Buncheon, North Gyeongsang Province, for the fresh experience of Christmas in the summertime.
Tourists onboard the V-Train, a mountain-going train that skirts the Baekdudaegan mountain range, can make a stop at Yangwon Station to enjoy some hiking.
According to Korail, weekday travelers can get 30 percent off their ticket prices, depending on the number of passengers that day. Families taking the O- and S-Trains can get 25 percent off, too. Finally, the "Rail-Ro" promotion will be expanded to include people under the age of 28. Formerly limited to those under 25, this unlimited travel program allows travelers to use any train at anytime for KRW 56,500 over the course of five days, and for KRW 62,700 over the course of seven days.
More information can be found at Korail's official website, with services in English and Korean.
https://info.korail.com/mbs/english/index.jsp
By Lee Seung-ah
Photo: Jeon Han, Korea.net DB
Korea.net Staff Writers
slee27@korea.kr