'Pungwon (풍원)', famous for 'Hallasan fried rice' in Jeju Island
Have you heard 'Hallasan fried rice'? The fried rice is Hallasan Mountain figure and the egg scramble surrounding the fried rice shows Jeju Island. It's such an interesting restaurant which is not only the food is very tasty, but also they have interesting visual effects.
The Pungwon restaurant is located in Udo Island right next to Jeju Island. Udo is called 'the small island in the island'. Although it's really small one, that has such a beautiful scenery and cool beach. For these reasons, Udo is always filled with traveler.
The 'Pungwon' restaurant is the most famous restaurants in Udo Island. The reason why they are famous is because of the Hallasan Fried rice. After having main dish such as marinated grilled black pork, if you order the fried rice, they staff makes that Hallasan Mountain with explanation of interesting story of Hallasan Mountain. (Explanation by English is also available!) Also, the taste of food is really nice.
Because of this kind of fame, you must stand in line to have a meal for around 30minutes, maybe 1 hour during peak season. I would like to recommend you to visit there early lunch time around 10~11am, and then you can have a seat right after you arrive.
If you travel Udo Island, I would like to recommend you to visit there. You won't be disappointed by the interesting foods!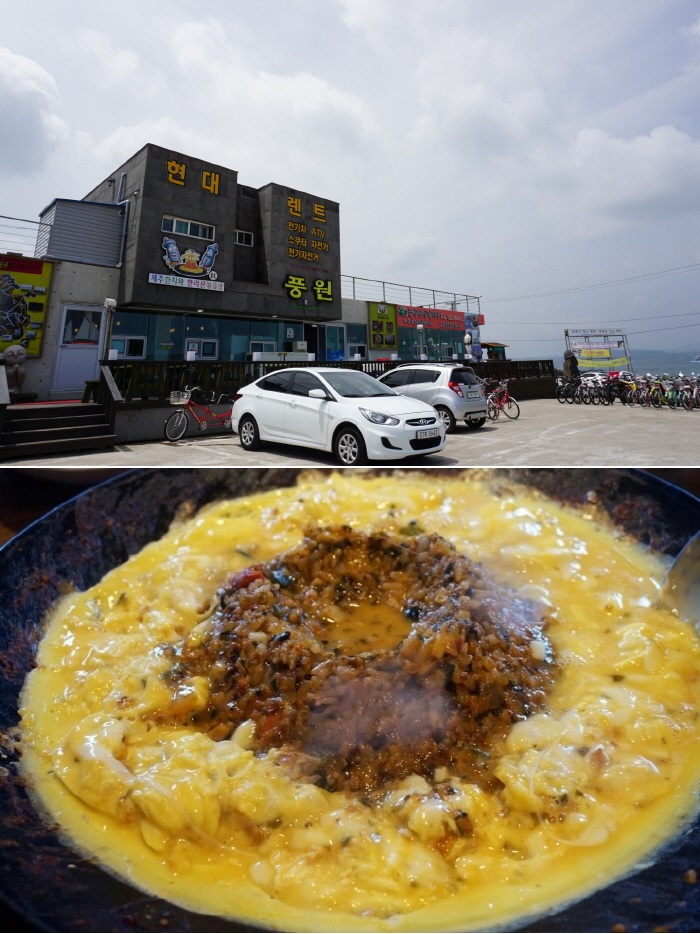 Type
Korean Restaurant
Contact
Tel. +82-64-784-1894
Hours of Operation
09:00 am ~ 21:00 pm
Closed
Always Open
Menu / Price
Marinated grilled black pork (우도흙돼지주물럭) 14,000 KRW
Marinated grilled cuttlefish (한치주물럭) 14,000 KRW
Abalone RIce Porridge mixed with Udo Peanut (우도땅콩 전복죽) 12,000 KRW
Hallasan Fried Rice 3,000 KRW
2427-1, Yeonpyeong-ri, Udo-myeon, Jeju-si, Jeju-do, Korea