International Horticulture Goyang Korea 2015
Goyang International Flower Foundation is held from 24th, April to 10th, May at Lake Park in Goyang-si.
  World's Flower Business Exhibition  
∙20 different countries including Netherlands, Germany, Japan, Taiwan, South Africa, Ecuador and Chile exhibit.
∙320 companies, farms and public institutions from 35 countries participate.
∙Indoor section under the subject of Explorer's Garden, Lifestyle Zone, Flower Lab, etc. are displayed.
∙Foreign buyers, domestic businessmen invited get business meetings and shows.
∙Special flowers displayed for the first time in Korea
-Puya Raimondii, Skeleton Flower, Rainbow Eucalyptus, Walking Palm, Rheum Nobile
∙Enhanced business opportunity during the nominated business days offered. (April 27 to May 1)
 Admission (Only for foreigners) 
Individual: KRW 8,000 / Group of 10 or more: KRW 7,000
∙Group Tourist Discount: Available for 10 or more foreigners on weekdays only.
∙Inquiry: +82-31-908-7642~3
 Information 
⊙Opening Hours
Weekdays: 9:00 ~ 19:00
Weekends & Holidays: 8:30 ~ 20:00
⊙Facilities
General Information Center, Wheelchair & Stroller Rental Service, Storage Service for Goods, Nourishing Room, Medical Service Center, Temporary Police Station, Fire & Disaster Management Center
Flower Related Brand Products Store, Flower Shopping Mall (Growers' Market), Cafeteria
Flower & Tour Guide: Regular course (4 times a day), Bookable for group visitors
⊙Location
Jeongbalsan Station Exit 2[Line No.3 for Daehwa]
+5min. walk in the direction of Lake Park
Ilsan Dong District Office Station
+10min. walk in the direction of Lake Park
KINTEX IC → Temporary Parking Lot
(Free Shuttle Bus: Temporary Parking Lot ↔ IHK area)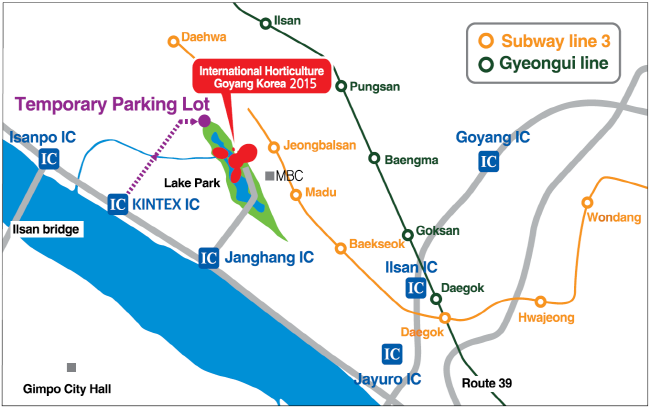 Enjoyable Scent of Flowers 
⊙Indoor Special Area
∙Multimedia Harmony Pavilion
Fantastic view made of ceiling hangings, wall greening and various flowers collaborated with multimedia.
∙KoKo Brand Pavilion
Novel flower related products, Goyang-si brand items displayed.
∙Peaceful Reunification Pavilion
Video, pictures and wild flowers from North Korea exhibited.
⊙Outdoor Area
Peaceful Goyang Garden, Sculpture Garde, Happiness Stage Garden, Flower Tunnel, Lakeside Flower Road, Healing Garden, Children's Garden, Theme Garden, Nostalgia Garden, Flower Wall, Mosaiculture Garden, Korea Garden Show 2015, Display of Urban Agriculture, etc.
 Flower Cultural Festival 
⊙Flower Cultural Events
∙The 17th IHK Flower Design Contest
– Preliminary Round 9:30 ~ 18:00 on April 29
– Final Round 9:00 ~ 18:00 on May 2
∙The 16th Traditional Flower Arrangement Contest
– 13:00 ~ 18:00 on April 30
∙The 4th Preserved Flower Cup Contest: April 26
∙Flower Drawing Contest: May 5
⊙Performances & Events
∙Lakeside Stage (Main) – Dance, Nanta, Cheerleading, etc.
Such exciting performances take place.
∙Happiness Stage – Classical musicians mainly play.
∙Every spot at IHK2015 area is the stage!
Over 300 various genre performances and parades take place.
⊙Experiencing Programs
∙Flower Boat Ride: Available only during IHK season.
-Location: Flower Boat Dock (Near the Gate No.3)
-Fee: KRW 5,000 (1 person / 20 minutes)
∙Flower Related Experience:
-Making pot, soap, perfume, herbal tea, hand-made flower props, etc.
∙Traditional Culture Experience:
-Traditional clothing/wedding experiencing programs