Sunset in Bukchon Hanok Village
A little over a year ago, I moved to Bukchon Hanok Village from Yeonhui-dong. I moved there to be closer to Sungkyunkwan University, which is just on the other side of Changdeokgung, a brisk walk up the hillside. Bukchon itself is the area between the palaces Gyeongbokgung and Changdeokgung, where the upper class of the Joseon Dynasty lived. In more recent history it's been the home of artists and history lovers and the sort of people who would willingly choose to live in homes like this rather than the latest highrises.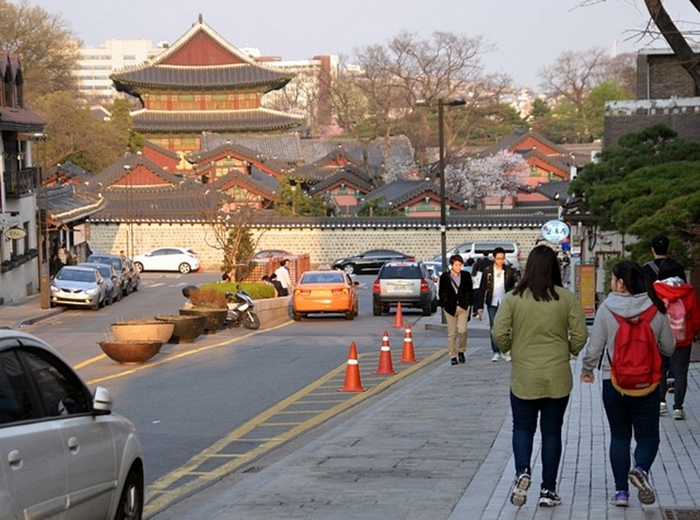 Changdeokgung is right down the street.
I live on the fifth floor of a four-storey building–in other words, an oktap-bang, or rooftop room, constructed additionally after the rest of the building.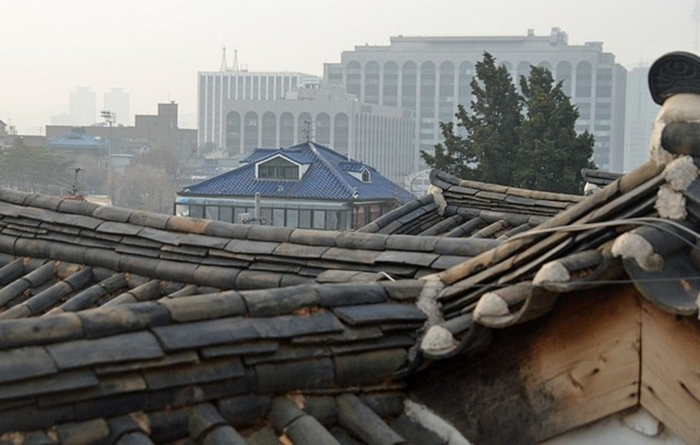 This is my neighbourhood.
People always ask me if I live in a Hanok, but I don't–I simply have the best view of them.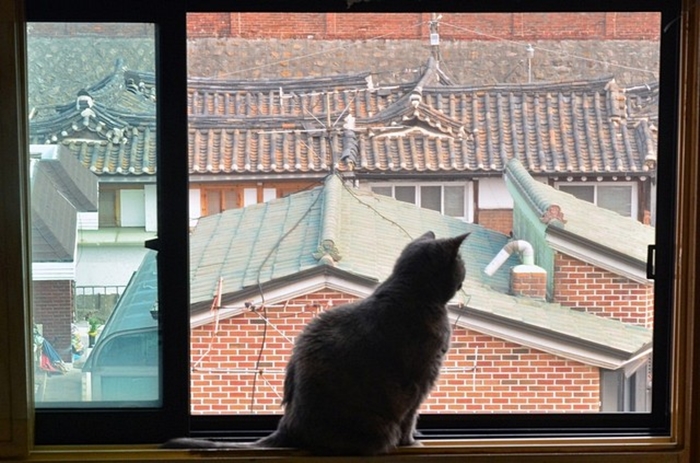 My cats are also pretty happy with the view of Bukchon's Hanoks.
I have windows on three sides: each one offers a unique view of Bukchon Hanok Village. To the north, I look toward Jungang High School, a beautiful campus with some very impressive architecture. I walk through there coming home every day.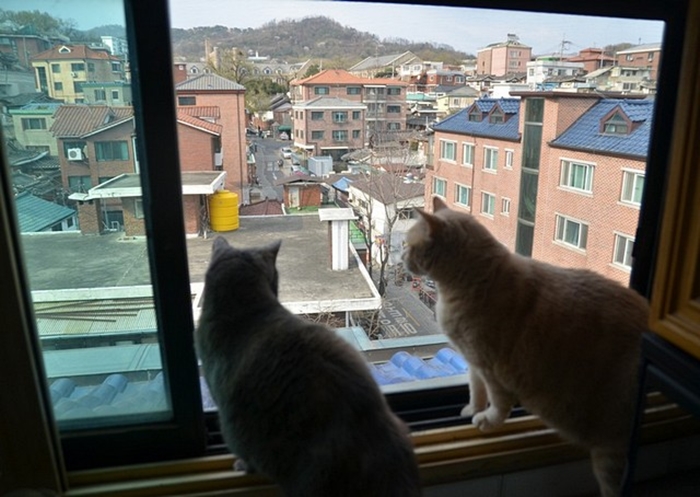 Looking over Bukchon Hanok Village toward Jungang High School.
And to the south, we have a view of downtown Seoul, where the skyline includes Jongno Tower and N Seoul Tower.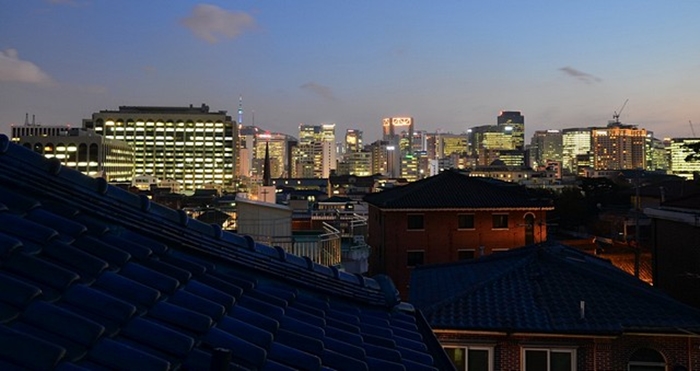 Downtown Seoul glows in the distance.
Bukchon Hanok Village embraces a slower way of living…is what I'd say if it weren't for the robust tourism industry, shipping in busloads of domestic and international tourists every day and crowding up the streets with selfie-stick-wielding visitors. During the day, Bukchon can be a pretty frantic area, and you have to maintain situational awareness to keep from colliding with others or getting in their pictures.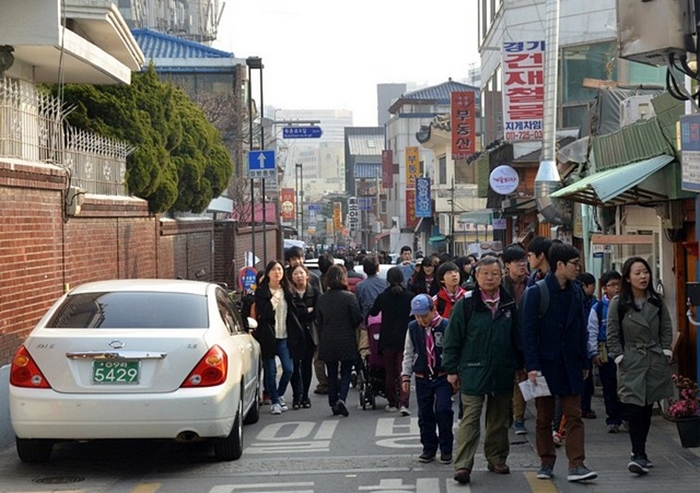 A typical weekend afternoon on Gye-dong Gil.
Something unexpected happens starting around 5pm. The streets begin to empty out, and the tour buses take all the tourists away. Around then, Bukchon once again becomes a quiet, serene place.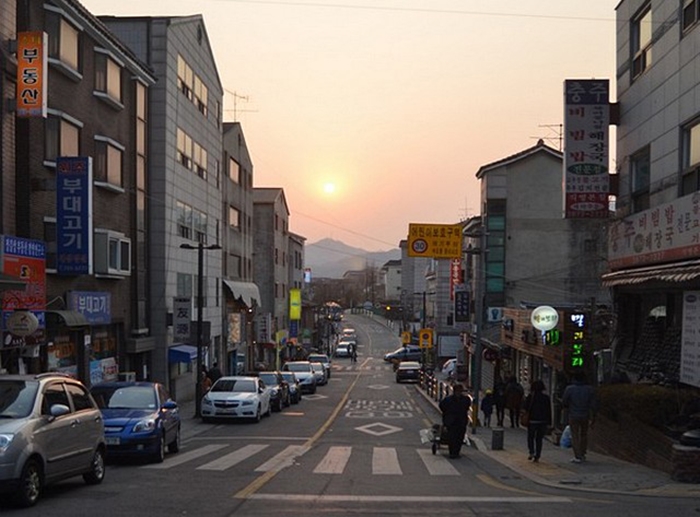 Sunset in Bukchon Hanok Village

The crowds are gone but most of the businesses stay open into the evening.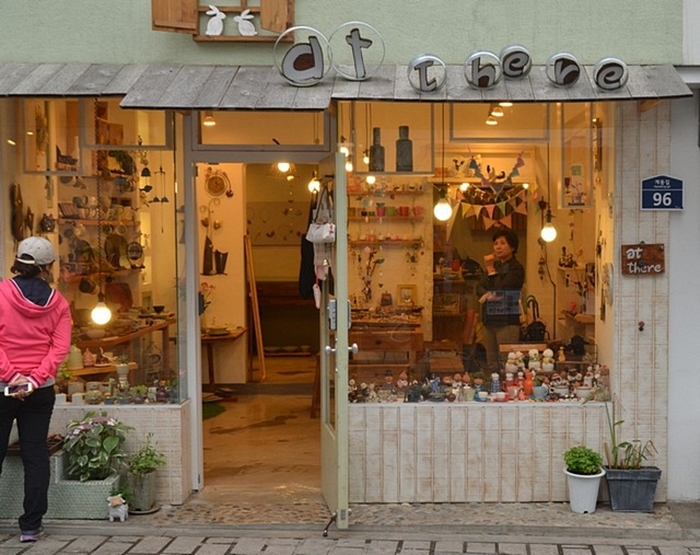 With the crowds gone, Bukchon Hanok Village is a much calmer place.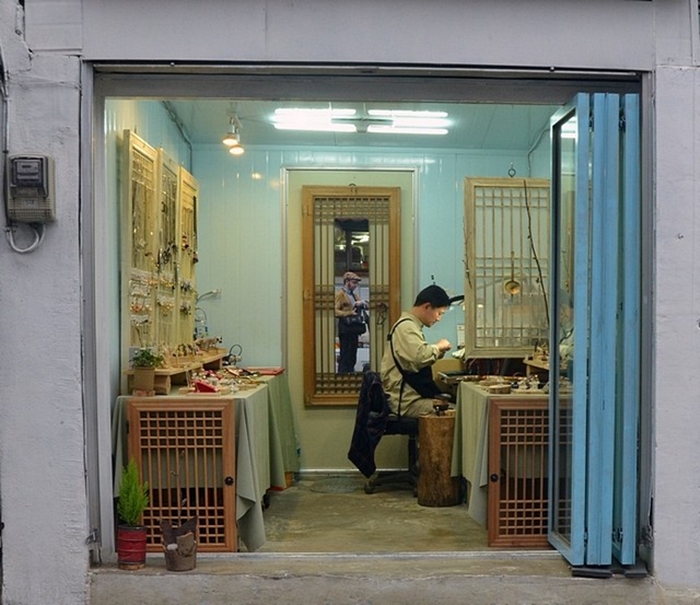 I can see myself in the mirror.
The neighbourhood is most attractive at this time of day, coated in a golden glaze of the day's final flickers of sunlight.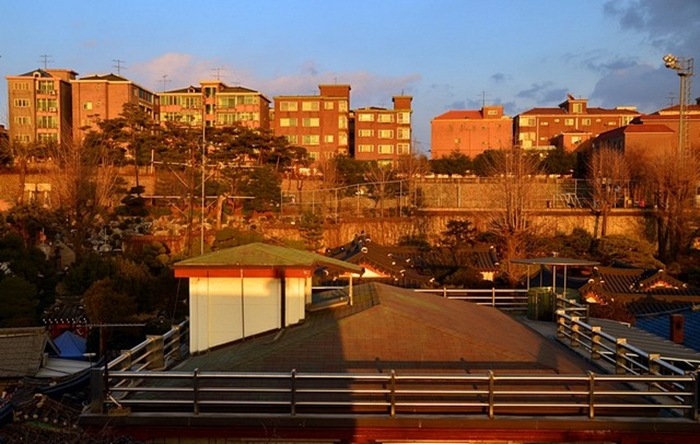 Golden hour in Bukchon Hanok Village

Just like everywhere in Seoul, there is nightlife in Bukchon Hanok Village, although it takes on a unique character here. For most people, this is not a nightlife destination, so most of the activity after dark is from the local businesses, perhaps taking a breath after a long day of siege under tourism.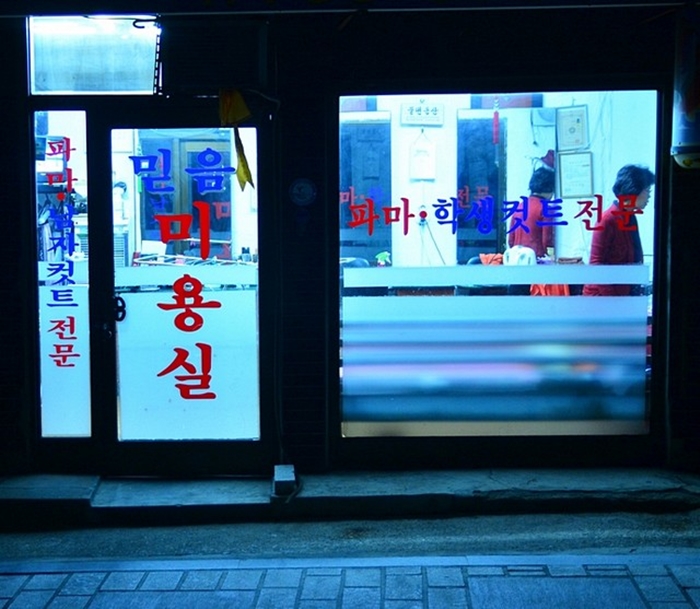 Bukchon barbershop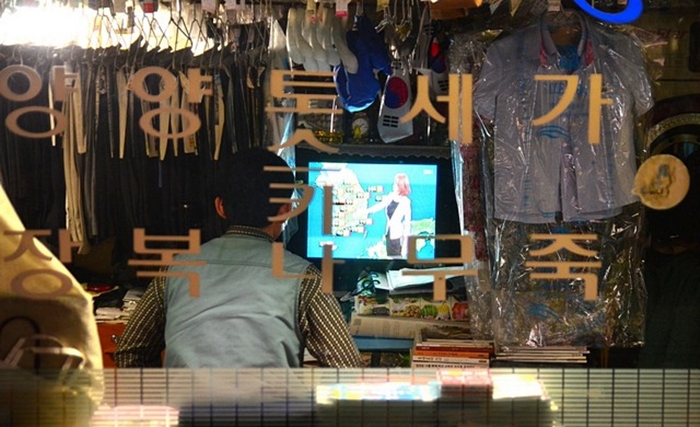 One of several local drycleaners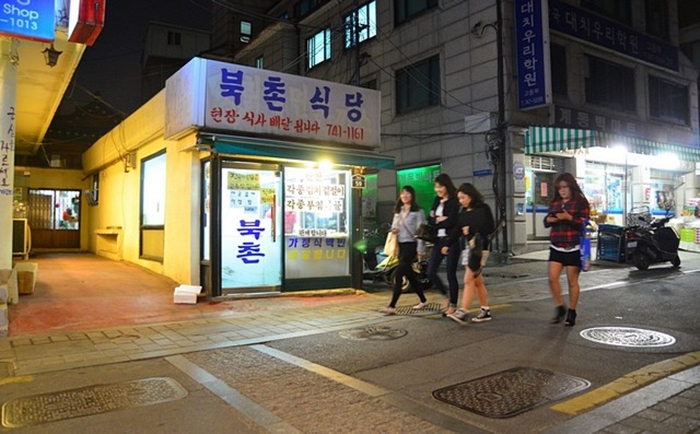 Restaurant in Bukchon Hanok Village at night
Signs of life still are visible, just not in the roving packs of tourists you'd see during the daytime.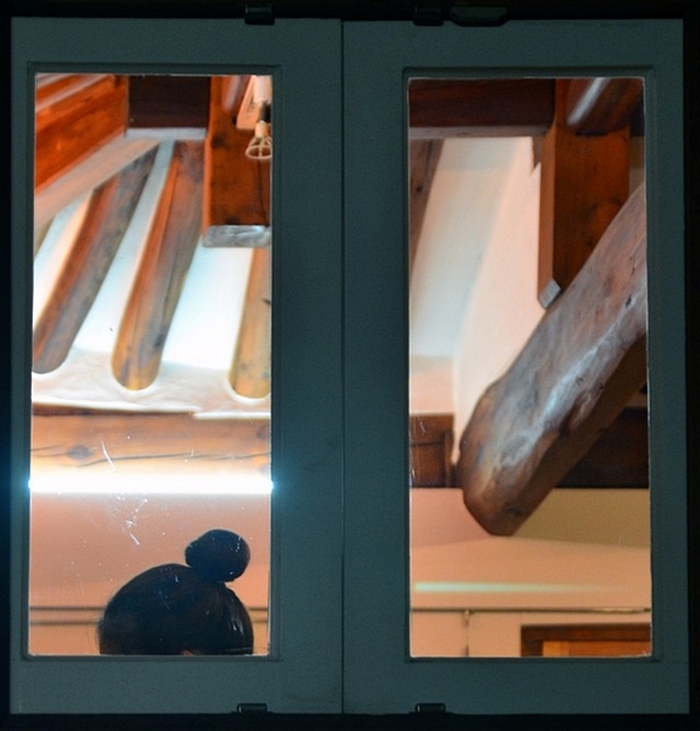 I'm pretty sure this is a real person.
Signs around the neighbourhood warn visitors not to disturb the locals, because this is still an active, lived-in neighbourhood.
Yeah, that means me. Don't disturb me, that is.
Of course, living between three grade schools, it isn't always that quiet. Students stay at school until 10pm, and their events can be quite loud, especially around 10pm when they all head home at once.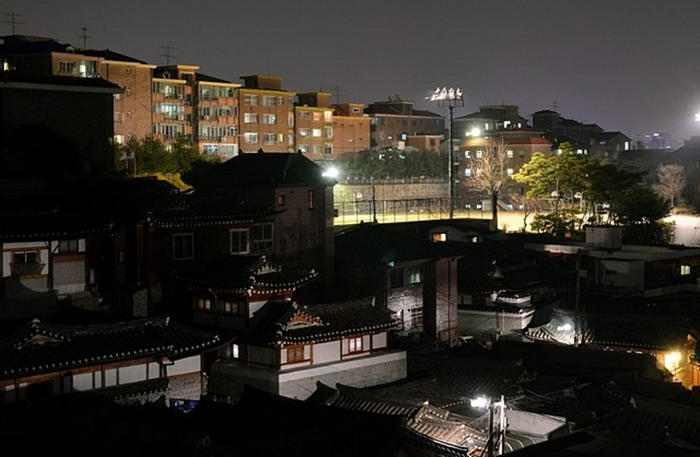 Soccer game at Taxation High School in Bukchon Hanok Village
After that, the only life in the area would be residents coming home from late-night appointments elsewhere in the city. The local grocery store stays open until as late as midnight.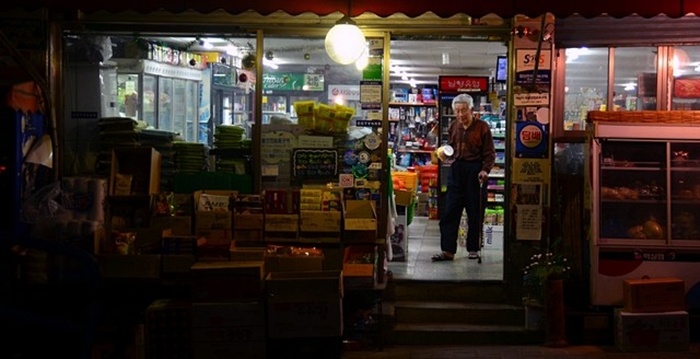 Just like everywhere else in the country, grocery stores here abide by grocery store prices, not tourist trap prices.
It's easy — and rewarding — to get lost in the backroads of Bukchon Hanok Village, where you never know when you might discover another new boutique restaurant or gift shop or art gallery.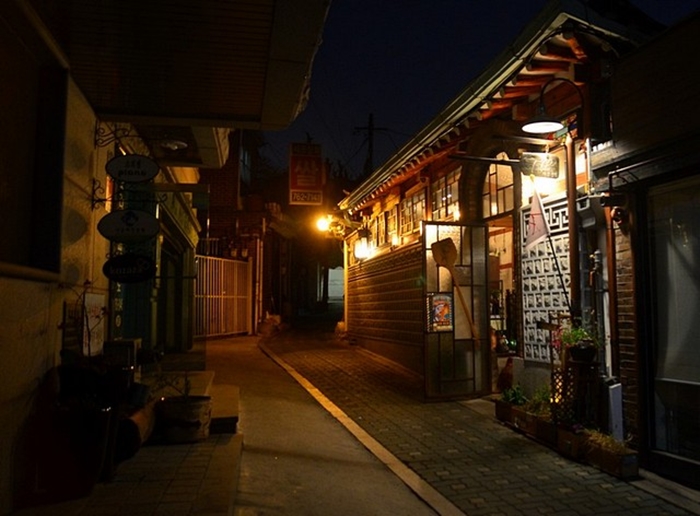 Here's one of the many small business pizza places of Bukchon Hanok Village.
Anyway, this has been my home for a year, and it all seems pretty normal now.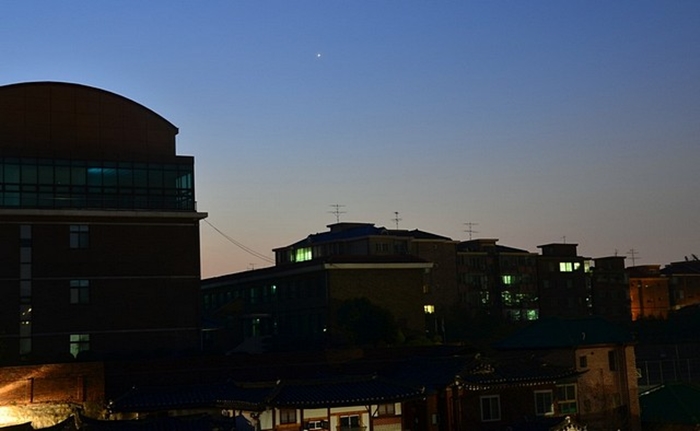 The view from my window in early morning.
By Jon Dunbar for the Korea Blog(Korea.net)