Hitting the slopes: Korea's ski scene will surprise you
I'm from Canada, home of the Laurentian and Rocky Mountains. Some of the country's finest ski resorts are in Quebec and within two hours' driving distance from where I grew up. I've been skiing for as long as I can remember. There really isn't much else to do during Canadian winters. Needless to say, I'm pretty partial to my skiing roots. So naturally, when the mention of a ski trip came up the following winter after I arrived in Korea in 2002, I was a little cynical. That was just over a decade ago. My first impressions weren't terrible, largely because I was missing home and longing to venture out and hit the slopes. But truth be told, the longer I stay here, the more I notice how fast Korea is improving its ski facilities to accommodate the growing influx of skiers and snowboarders.
Since then, I haven't had the good fortune of making it out to the slopes every year, but just last winter, I was able to get out to two of what I consider to be the country's best resorts: Phoenix Park and YongPyong. I was amazed at just how much effort continues to be put into strengthening their appeal. Korea has certainly come a long way in ski infrastructure in the ten years I've been here.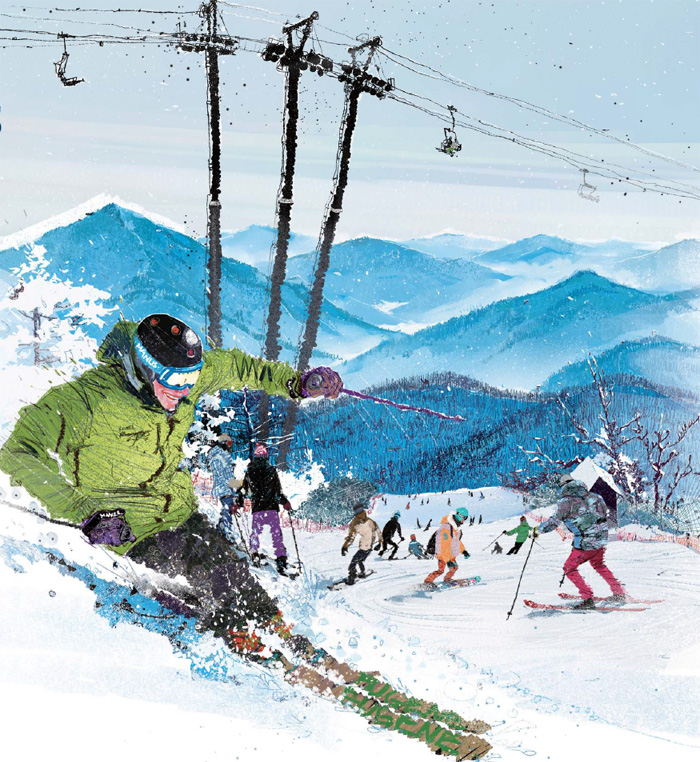 Korea's Major Ski Resorts
YongPyong is situated in the Pyeongchang region, which was selected to host the 2018 Winter Olympics. Founded in 2000, YongPyong remains the country's largest ski and snowboard resort. Despite its small size, it has plenty of hills for beginners and experts. What impressed me most when I was out last season was how well groomed the runs were. Equally impressive was the affordability of ski rentals and lift passes. If you're not up for hauling all your gear, you can rent skis, boots and poles for around KRW 30,000 for the day. Very reasonable.
Two other favorites of mine that have seen considerable improvement are Phoenix Park and High 1. Both are fully equipped to cater to larger crowds. I skied High 1 a few years ago with former co-workers and remember raving about it afterwards. Rentals and lift passes are also affordable here—KRW 80,000 can have you up on the slopes, with gear, to boot. There are plenty of rental shops on the drive into Phoenix Park that offer skis, boots, poles and snowboards. A great way to finish the day is to stop at any number of Korean BBQ restaurants along the road in for samgyeopsal, Korean pork barbeque, and makgeolli, Korean rice beer.
Despite YongPyong's reputation as Korea's largest ski resort, I found Phoenix Park a bit more upscale. It really depends on what you're after. The resort is decked out with a five-star hotel, condos for larger groups and a golf course. At just under a two–hour drive from Seoul, the resort has eight ski lifts, state-of-the-art gondolas and six conveyor belts that whiz skiers of all levels around the mountain.
I got my first ski experience in Korea a decade ago by grabbing a bus near Jamsil Station in Seoul. Buses still leave from there, and other buses depart from Dong Seoul Bus Terminal by Gangbyeon Station (Line 2), which means convenience is no longer an issue. I readily admit that any doubt I had when I first ventured out to YongPyong has long since been cast aside.
Written by Gregory Curley
Illustrated by Kim Yoon-Myong