World Cup Park Winter Festival to kick off Dec 24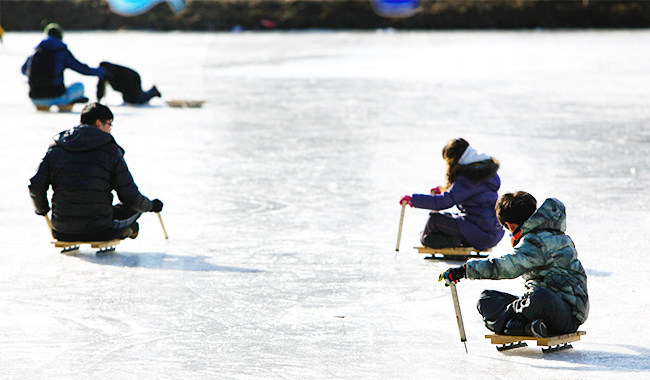 Another winter festival is scheduled to take place at Peace Square in World Cup Park, located in Mapo-gu, Seoul, from December 24, 2014 to February 22, 2015.
Visitors are able to experience various events, including ice sledding, cooking sweet potatoes, making eco-friendly hand warmers, and walking in a wish tunnel. Also, a Eulalia grass maze and tunnel will be set up thanks to an abundance of Eulalia grass at World Cup Park. On weekends, curling and sledding competitions on ice will be held and the winners will receive prizes.
Admission to the festival is free of charge. Sled rentals are 1,000 won for adults (18 years or above) and free for teens and children.

More Info
World Cup Park Winter Festival
☞Venue: Peace Square of World Cup Park, in Mapo-gu, Seoul
☞Period: December 24, 2014 – February 22, 2015
☞Operating hours: Sledding: 10:00 – 17:00/ Hands-on programs: 12:00 – 16:00
☞Admission: Free
☞Sleigh rental fee: 1,000 won for adults (age of 18 or above); free for teens and children
☞Hands-on experience program participation fee: 2,000 – 3,000 won
☞Inquiries: Dasan Call Center +82-2-120 (Korean, English, Japanese, Chinese, Vietnamese, Mongolian)
☞1330 Korea Travel Hotline: +82-2-1330 (Korean, English, Japanese, Chinese)
Courtesy of Seoul Metropolitan Government
By KTO Korea News