Santa Claus offers safety as Christmas gift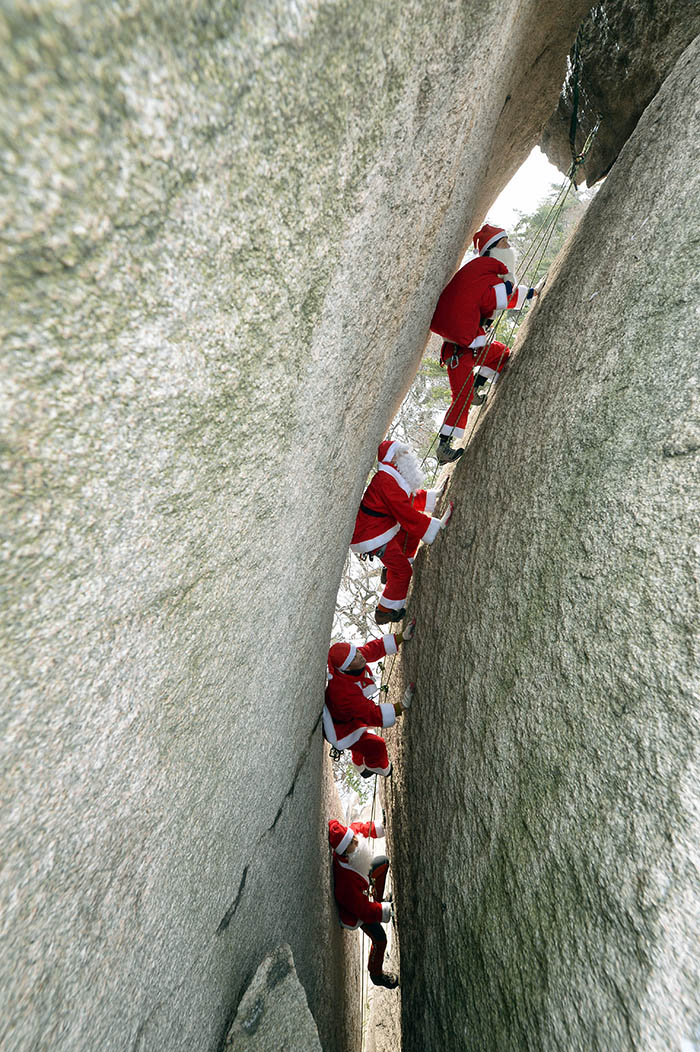 Santa Claus has come to the rocky face of Bukhansan Mountain, which stretches across both Seoul and Gyeonggi-do (Gyeonggi Province).
Four days ahead of Christmas, on December 21, a group of professional climbers wearing red Santa Claus outfits climbed the Haegolbawi, "Skeleton Rock," under the mountain's Yeongbong Peak. The wall is as steep as 90 degrees. Their white whisker blew in the mountain wind.
The unusual scene soon began to catch people's attention. Hikers there for a weekend walk started taking photos. The Santa Clauses are Kim Changgon and his co-workers, part of the Bukhansan Mountain Rescue Police.
Kim, who leads the mountain rescue team, said, "We climbed the mountain face while wearing Santa Claus outfits as a wish for safe mountaineering to all climbers who come to Bukhansan Mountain this winter. We climbed the Haegolbawi as if Santa Claus was climbing up the chimney to bring Christmas gifts." Chimney climbing is an advanced climbing technique, they showed that day. It is used when climbing up a steep cleft with vertical sides mostly parallel, with space barely large enough to fit the climber's body.
"More than 10 million people visit Bukhansan Mountain every year. The mountains here have even received the honor of being in the Guinness Book of World Records for being the national park with the highest number of visitors per year per square foot," said Kim.
"Many people consider the peaks of Bukhansan to be easy mountains to hike because they can get there easily. The mountains here, however, have many rocky, steep faces and many difficult hiking trails. Particularly in the winter, hikers need to wear proper winter gear and should be equipped with necessary mountaineering gear, such as hiking boots and crampons, otherwise it could lead to an accident," he said.
"Not many accidents take place along the designated hiking trails. If people go off-piste, however, it is highly likely that they will face an unexpected, dangerous accident," said Kim, urging people to follow all reasonable safety precautions.
By Jeon Han, Yoon Sojung
Korea.net Staff Writers
Photos: The Hankook-ilbo
hanjeon@korea.kr