'Nongak' added to UNESCO list
Exuberant sounds, dizzily swinging heads and colorful parades are a common scene associated with nongak, a form of traditional farmers' music that has now to be inscribed on the UNESCO Representative List of the Intangible Cultural Heritage of Humanity.
At the recent ninth meeting of the Committee for the Safeguarding of Intangible Cultural Heritage held in Paris, it was confirmed that Korea's traditional agricultural music would be inscribed onto the Representative List of the Intangible Cultural Heritage of Humanity. Part of the reason for its inscription is that nongak offers an additional identity to both the performers and the audience, as it is staged in various forms and for various purposes at multiple venues around the community.
Following the song "Arirang" in 2012 and the process of making kimchi (kimjang) in 2013, the addition this year of traditional farmers' music marks the 17th Korean item to be enlisted on UNESCO's list of humanity's intangible cultural heritage.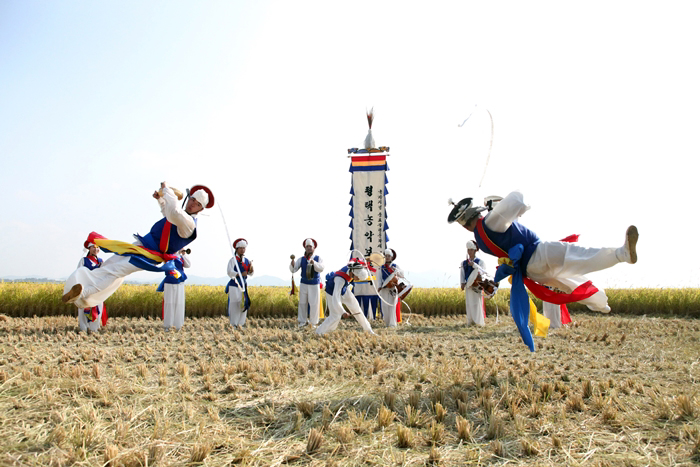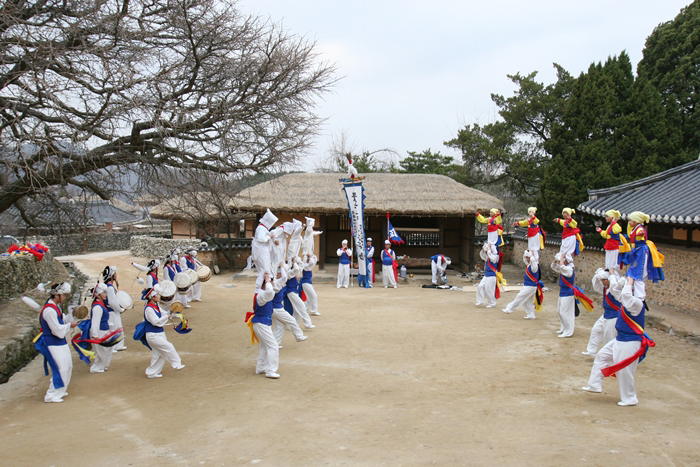 Nongak has its roots in trying to appease the gods in order to have an abundant harvest. It includes customs of chasing away evil spirits and strengthens communal bonds across the land.
As a mixture of percussion, parades, dance, theater and acrobatics, nongak is a traditional form of performance art. It has preserved the harmony of the past in various forms, evolving and continuing over time. Nowadays, this traditional art form has also evolved to include a professional percussion quartet (samulnori), inspiring commercial performances such as Nanta. Focusing on the musical aspects of this traditional art form, it is gaining recognition both at home and abroad.
Central and local governments have designated superior performers or groups as important intangible cultural properties with the aim of handing such traditions down to future generations. The National Gugak Center also sponsors professional individuals and groups.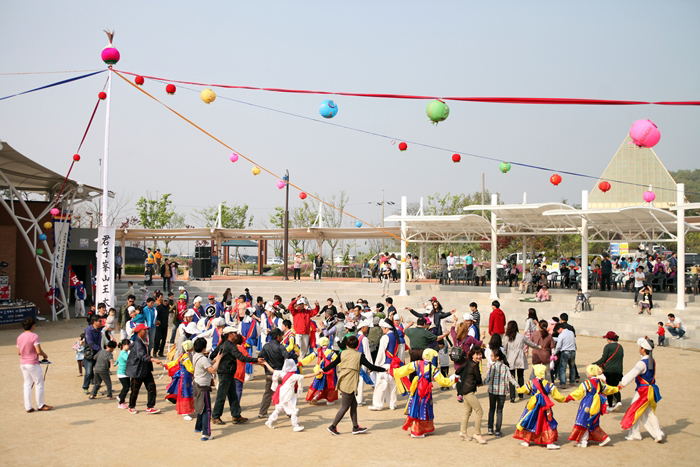 To celebrate this recognition, a large performance is planned in front of the Heungryemun gate inside Gyeongbokgung Palace in Seoul at 3:00 p.m. on November 29. Some 400 performers from 11 groups from across the country will take part.
The performers will, "report the news to the heavens and let all things [the people] beneath the sky know." They will build a three layer tower (a samdonggol), there will be a 12-member twirling ribboned-hat dance and more, all to show various types of nongak.
Ahead of the main event, festivities will start at three different locations: in Insadong at the South Insa Madang from 12:00 p.m. to 1:00 p.m.; in Gwanghwamun at the Simin Yeolin Madang Square from 1:00 p.m. to 2:00 p.m.; and at the National Folk Museum from 1:00 p.m. to 2:00 p.m. Different nongak groups will perform their favorite songs and later join the street parade though Gwanghwamun as it heads toward the Heungryemun gate at Gyeongbokgung Palace.
By Paik Hyun
Korea.net Staff Writer
cathy@korea.kr

Photos courtesy of Park Sungbok of Pyeongtaek Photobank – Memory in Pyeongtaek