NYT describes festive atmosphere of Korean baseball
The celebratory atmosphere of Korean baseball is no less dynamic than in any other country. Cheerleaders kick and jump and spectators bang out a rhythm with their noise-making plastic tubes, chanting and singing in perfect unison to support their team. This is an everyday scene at many professional baseball games across the country.
The New York Times has introduced Korea's ballpark atmosphere to its readership in an article titled, "In Korean Baseball, Louder Cheers and More Squid," reporting about a recent game between the Lotte Giants and the SK Wyverns at the Sajik Stadium in Busan. Lotte lost at home to SK.
"It was the bottom of the ninth and the home team was behind 10-6. In an American ballpark, fans might have started glumly filing out of the stands to beat the traffic," the newspaper wrote. "But here at Sajik Stadium, home to the Lotte Giants, drums were thundering, plastic trumpets were blowing and thousands of people were singing, chanting and catcalling themselves hoarse." The newspaper reported that a big difference between Korea and the U.S. is the thundering roars in the ballparks. "Each Giants player has his own song, which the crowd sings as he steps up to the plate," it wrote.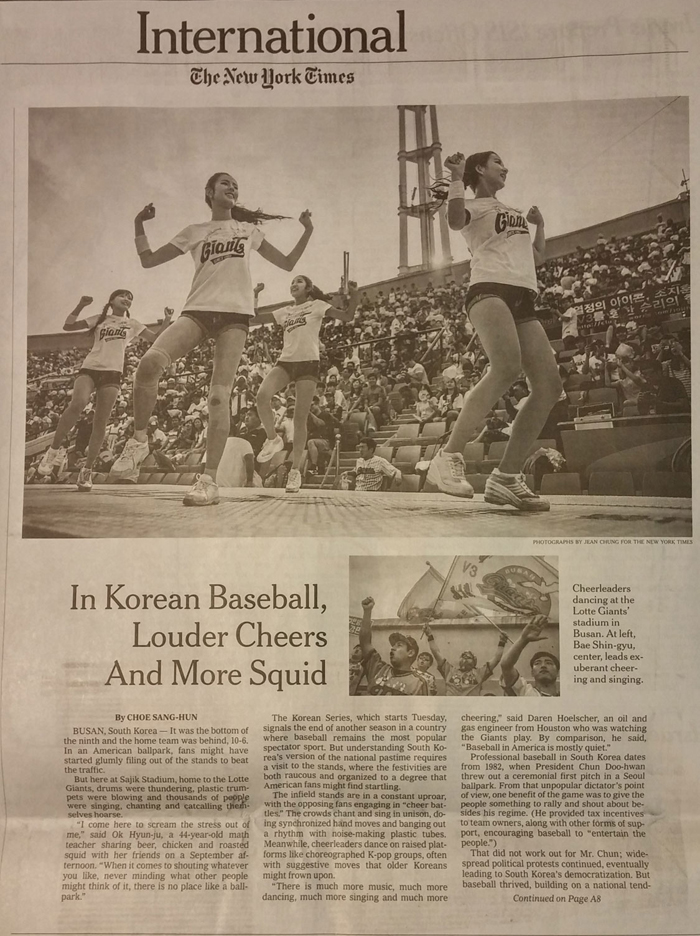 "There is much more music, much more dancing, much more singing and much more cheering,"said Daren Hoelscher in the NYT article, an oil and gas engineer from Houston who was watching the Giants play. "By comparison," he said, "Baseball in America is mostly quiet."
The newspaper also said that cheerleaders dance like choreographed pop groups and that the fans drink beer and enjoy roast squid.
For most fans, the baseball stadium is a place in which they can scream out their stress without worrying about bothering other people. A teacher said she could shout in public at the ballpark and didn't have to worry about what other people were thinking, ever since professional baseball was launched in the country in the early 1980s.
"The festivities are both raucous and organized to a degree that American fans might find startling," the newspaper reported.
By Limb Jae-un
Korea.net Staff Writer
jun2@korea.kr