Korea 5th in World Bank's Doing Business Report
Korea came in fifth place in the Doing Business 2015 report published by the World Bank Group on October 29.
The country's rank climbed two notches over last year's report, achieving its highest marks since the World Bank started its yearly evaluation of 189 nations in 2003, according to the Ministry of Strategy and Finance.
In the overall rankings, Korea rose from 19th in 2009, to 16th in 2010, 8th in 2011 and 2012 and to 7th in 2013. This year, Korea ranked 5th, the highest among the G-20 group of major economies.
Among the ten broad categories evaluated by the World Bank, since 2013 Korea has been, again, listed among the top ten in some categories, including the ease of getting electricity, trading across borders and in the enforcement of contracts. Its rank rose significantly in terms of starting a business, protecting minority investors and in resolving insolvencies.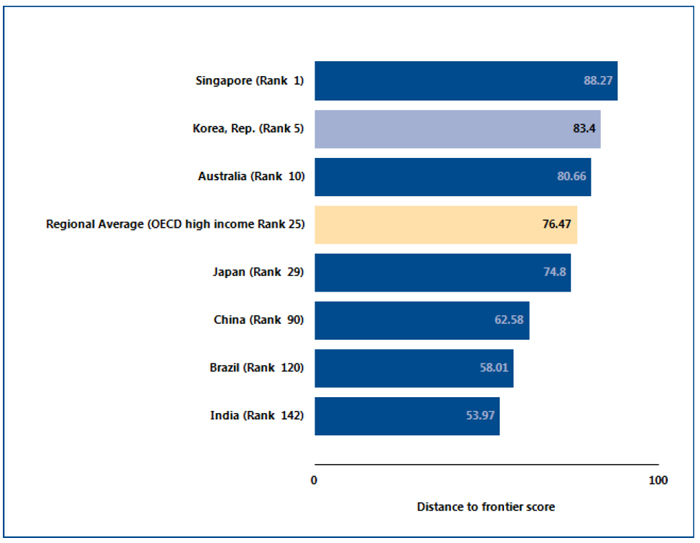 Korea's rankings improved in five categories, remained the same in two of them and declined in the remaining three. The country's ranking climbed from 34th to 17th place in terms of starting a business, from 18th to 12th in dealing with construction permits and from 2nd to 1st in the ease of getting electricity connected. It also rose from 52th to 21st in terms of protecting minority investors and from 15th to 5th in resolving insolvencies.
The rankings remained the same, at 25th place, in terms of paying taxes and at 3rd in terms of trading across borders. However, Korea's ranking fell from 75th to 79th place in registering property, from 13th to 36th in getting credit and from 2nd to 4th in enforcing contracts.
The World Bank praised Korea's tax policies, including: expanded tax exemptions for inheritances to help people succeed their family business; corporate tax reductions for companies returning to Korea; and, overall corporate and income tax cuts. The report said Korea was able to overcome its economic crisis in a faster and more stable manner than other Organisation for Economic Co-operation and Development nations due to its aggressive tax policies.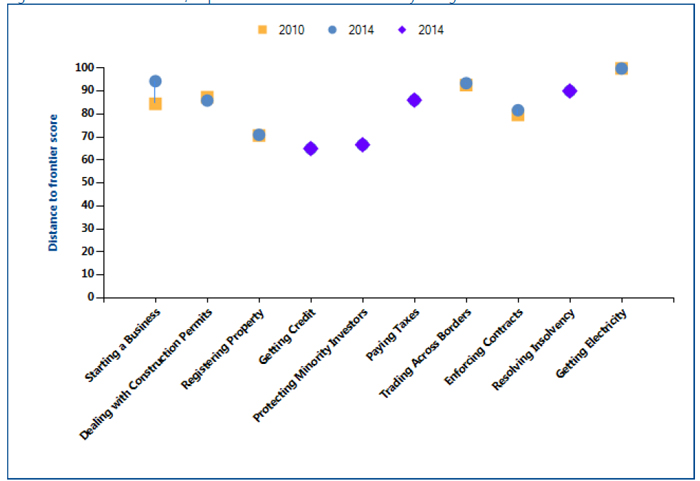 In relation to the World Bank's Doing Business report, an Italian newspaper, il Sole 24 ore, published a special article about the rising foreign direct investment in Korea, titled "Seoul is full of investment."
The newspaper said it is no surprise that foreign direct investment (FDI) in Korea is expected to surpass its annual goal of USD 170 billion and hit its highest mark ever this year. It said that FDI in Korea jumped 37.9 percent year-on-year in the first nine months of 2014. It concluded that Korea's economy is expected to continue to grow at 3.5 percent this year and at 3.9 percent in 2015 without being influenced by the negative external environment, and that the country has caught the attention of many Italian companies.
By Limb Jae-un
Korea.net Staff Writer
Images from the World Bank Doing Business 2015 report
jun2@korea.kr