Awakening at the seven palaces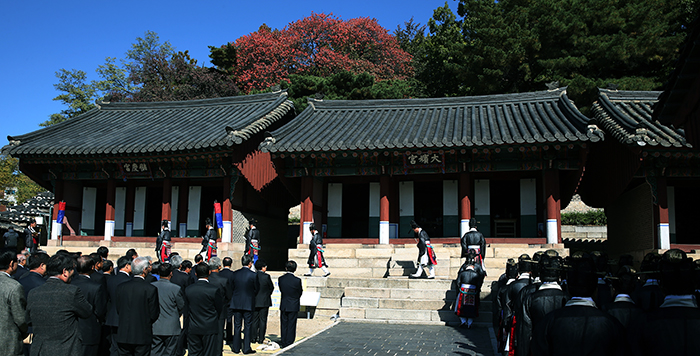 With the sprit and body ready, ritual organizers entered the grounds of the shrine complex early in the morning and changed into their formal, traditional attire. As the shrine compound filled with the warmth of people, they greeted the crowds as they arrived. This is the scene during the ceremonies that take place at the Chilgungshrine complex in Goongjeong-dong, Jongro-gu (District), in Seoul on the fourth Monday of every October.
The Chilgung is a collection of seven shrines, located behind Gyeongbokgung Palace and below Cheong Wa Dae. Each shrine is dedicated to one of the seven concubines from Joseon times (1392-1910) who gave birth to a future king, housing their ancestral tablets. Composed of the Jeogyeonggung, Daebingung, Yeuksanggung,Yeonhogung, Gyeongwoogung and the Deokangung, the shrine complex's name, Chilgung, means, "Seven Palaces."
Every fourth Monday in October a ceremonial rite, the Chilgungje, commemorates the seven royal consorts who mothered a future king. Similar to the much grander Jongmyo-daeje which takes place at the Jongmyo Shrine each May, this October rite is no less an opportunity to witness Joseon royal shrines and rituals that are doused with Koreans' respect for their ancestors.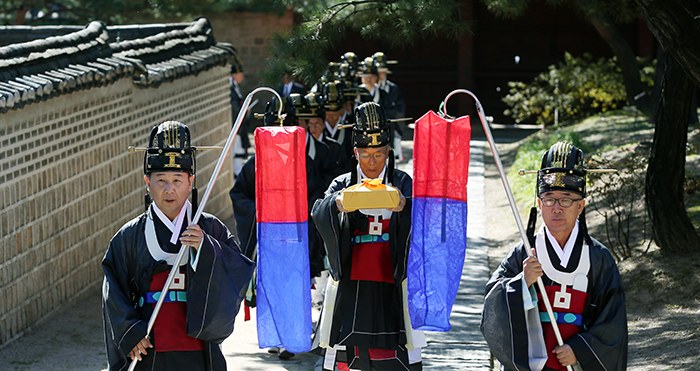 Adjacent to Cheong Wa Dae, the Chilgung compound started out with only the Yeuksanggung, or 毓祥宮, shrine to commemorate Sookbin Choi (1670-1718), the birth mother of King Yeongjo (r. 1724-1776). Upon ascending the throne, Yeongjo had the shrine erected to remember his mother, originally naming it the Sookbinmyo, or 淑嬪廟, shrine. Twenty years later, in March 1744, it was renamed as the Yeuksangmyo, or 毓祥廟, shrine, meaning, "nurturing auspiciousness," and nine years later in June 1753 it was elevated to the name of Yeuksanggung.
During the reign of King Gojong (r. 1863-1907) and King Sunjong (r. 1907-1910), the concubine consort shrines scattered around Seoul were moved to the Chilgung site. The son of the last Joseon king, Sunjong, was the Youngchinwang (1897-1970), who never ascended the throne. When the shrine to the Youngchinwang's mother Sunheongwibi Eeom, the Deokangung, was moved to the location, it then got the name Chilgung. Five shrine units and the Naengcheonjeong, Jaesil and Jeonsacheong buildings are the only remaining buildings left at theChilgung today.
The Chilgung ceremonial rites can be accessed through Cheong Wa Dae's tour program. Guests can make a reservation at Cheong Wa Dae's English website, here (https://english1.president.go.kr/tours/tours.php).
By Jeon Han
Korea.net Staff Writer
hanjeon@korea.kr