Perfect autumn weather in Seoul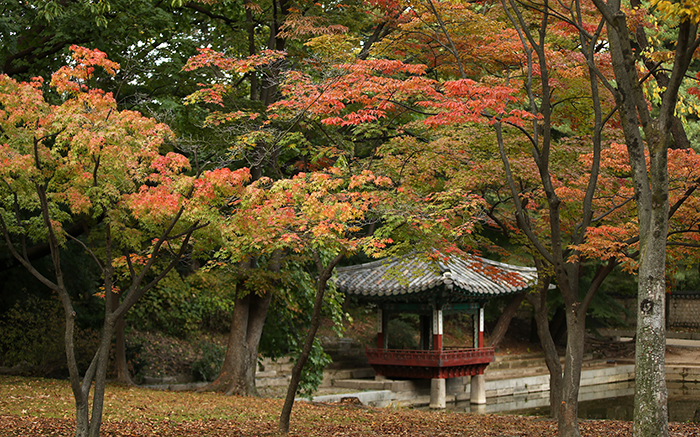 The mountains and trees across Korea are changing their colors to red, yellow and orange, under a cloudless blue sky. The fields, too, are putting on a golden hue, augmenting the autumn vibe that is already in full swing across the peninsula.
Many travelers across the nation venture forth to go on a "foliage trip." They stroll past varicolored trees and trek up and down mountains, such as Seollaksan, Naejangsan, Odaesan and Jirisan, or on Namiseom Island, treading on the crisp, fallen leaves.
To indulge in such perfect autumn feelings, one needs to go no further than Seoul. Trees across the mountains of Bukhansan and Namsan are rushing to change their colors, while some of their siblings are still showing off bits of green here and there with thick leaves.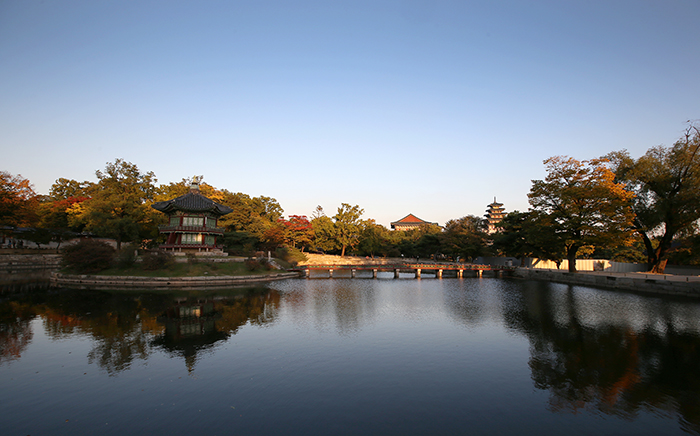 Ginkgo trees that emerge between the high-rise buildings in the heart of Seoul also exude a yellow color, manifesting the exceptional atmosphere of the season.
The main palaces from Joseon times (1392-1910) are some of the best places to glimpse the history and ancient lifestyle of the nation. This autumn, too, they allow visitors to indulge themselves. The beautifully dyed leaves on palace grounds create a picturesque scene, in parallel with the dancheong, the traditional multicolored paintwork on the palace's wooden buildings and eaves.
Changdeokgung Palace, which houses the famous rear garden of Huwon, is definitely the place to go. Red-dyed maple leaves turn the garden into a striking watercolor painting.
Water striders stalk through the fallen leaves on the pond, while a family of raccoon dogs looks for food across the palace grounds, a sight that might make one completely forget about the hustle and bustle of the city.
"The trees around Changdeokgung Palace and its rear garden have just started to change color," said an official from the palace on October 22. "Around early November, you will find yourself surrounded by a beautiful glow of autumn leaves here."
Purple eulalia at the Sky Park in Sangam-dong, northern Seoul, also draw people to their rippling silver ocean of grass. A five-minute walk up the 450 stairs takes people to the eulalia field, where they can see each blade of silver grass dancing in the wind.
In the field, some of walkers are seen hand-in-hand with their loved ones. Others are taking pictures of the panorama of Seoul from the nearby observatory, adding one more moment to their bank of autumn memories.
By Jeon Han, Sohn JiAe
Photos: Jeon Han
hanjeon@korea.kr