Non-Koreans take center stage on entertainment TV shows
A group of young non-Korean men from 11 countries have shown up on a Korean TV show. They debate a wide range of current affairs, such as the younger generation immersing itself in only creating new entries on the resume, the fact that people care about family and relatives when it comes to marriage and interpersonal relationships that become increasingly difficult with age. All these topics are highly sympathetic issues for most people. The debate is carried out in Korean. The show is "Informal Summit Talk" (unofficial translation), a talk show aired on JTBC, a nationwide cable TV network.
All 11 members of the debate panel are non-Koreans who have lived in the country as long as 15 years or as short as four years. Accordingly, they have some knowledge about their adopted home. They give their opinion on things Korean, and sometimes their answers are so stereotypically "Korean" that the audience laughs. They also offer many objective and bitter criticisms, giving everyone something to think about.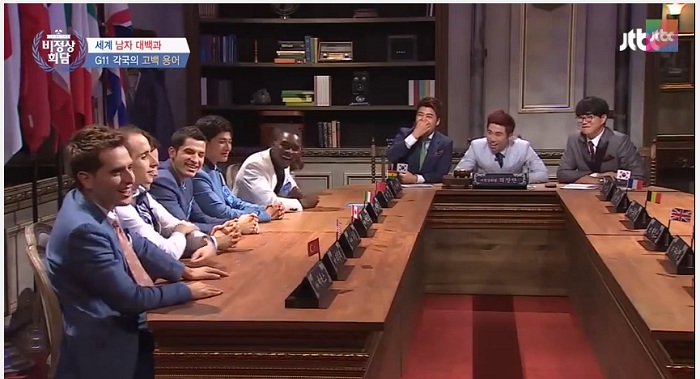 Recently, a growing number of TV shows have used non-Korean actors and actresses, an emerging trend in the entertainment industry. Viewers have given a positive response to this trend, saying that it is new, fun and reliable, as the panelists offer their own genuine perspective, not merely an invented story. With this rising popularity of non-Koreans on TV, formats for new programs are becoming more and more diverse.
The trend actually started earlier this year with MBC's "Real Men," a variety show featuring a group of male celebrities as they experience life in the military. The show features actors running through military drills, as they build comradery together. The show is particularly popular among Korean women, surveys say, as it helps them to understand better the military service undergone by their brothers, husbands, boyfriends and fathers. The casting on the show has been surprising, too. Two unexpected actors, Australian Sam Hammington and Canadian Henry, both played a role in the program's success.
Hammington showed himself to be well-accustomed to the new military environment, managing the men under his command as naturally as the others, prompting people to laugh. Meanwhile, Henry, who shows up on the show starting in season two, has made viewers pity him, as he is unaware of the strict hierarchical system in the military, and he has shown unpredictable behavior during important moments.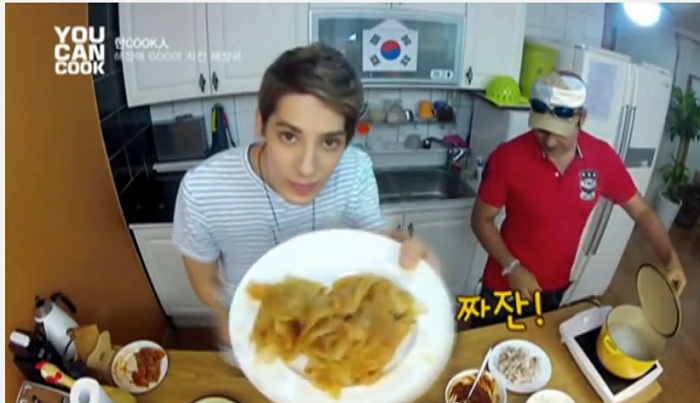 JTBC has another popular program called "I am Going to School," which is about competitive high schools. This program stars singer Kangnam, from the pop group M.I.B., who grew up in Japan. His rude words and behavior livens up the mood as his classmates are all stressed out about the upcoming university entrance exam.
MBC's show "I Live Alone" reflects the trend that an increasing number of young single people do, in fact, live alone. It stars Fabien, a 20-something Frenchman. Many people feel affection for him as they watch him cook various Korean dishes all by himself.
The fact that a growing number of non-Korean youth around the world are taking an interest in things Korean has led the production companies to cast more and more non-Koreans in their reality TV shows. This trend has shown itself through a number of official statistics. These actors are fluent in Korean, possibly due to Korean pop music and soap operas, most of which is widely available worldwide. Their fluency enables them to continue to expand the number of cross cultural exchanges and communication opportunities available to Korean viewers.
This casting trend is being received by a Korean society that is undergoing a change in atmosphere itself, partly due to the influences of globalization.
In the past, Korea was proud to view itself as being a nation with one single ethnicity, where such interactions and communication with non-Koreans was simply beyond the pale. Today, however, people no longer view non-Koreans as curiosities. The change can be seen as an important signal indicating that people are ready to accept non-Koreans as full-on members of the community, as well as that they are willing to learn about cultural diversity and communicate each other's different perspectives. These efforts are bringing new energy into society and into life today.
By Lee Seung-ah
Korea.net Staff Writer
slee27@korea.kr