Autumn nights at Jarasum Int'l Jazz Festival
Visitors to the 11th Jarasum International Jazz Festival will be able to enjoy performances by some of the world's best jazz, Latin and rock 'n' roll musicians. The festival this year will run from October 3 to 5 and features 51 groups or solo artists from 30 nations, including the U.K., Cuba and Norway.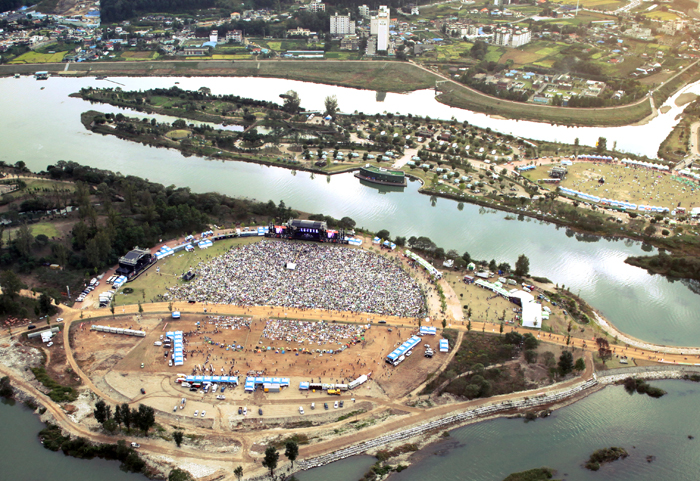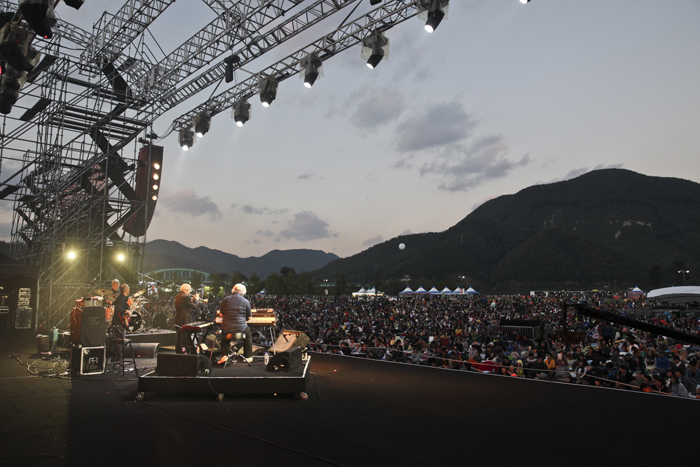 The 11th Jarasum International Jazz Festival is held in Gapyeong, Gyeonggi-do (Gyeonggi Province), from October 3 to 5 this year.
This year's festival focuses on Norway and features renowned artists from the Scandinavian nation, including guitarist Thrje Rypdal and master pianist Ketil Bjornstad. Another Norwegian performer, Arild Andersen, will also perform as part of a trio with two other artists.
Among the major guests, Cuban saxophonist Paquito D′Rivera is a Latin jazz master who has received a number of Grammy awards. D′Rivera will perform with the Corrente trio on the first day of the festival, October 3. D′Rivera and Corrente collaborated for the album "Song For Maura," which was chosen as the Best Latin Jazz Album at the Grammy Awards earlier this year. Thrje Rypdal and Ketil Bjornstad will also appear on stage. The Yellow Jackets, a fusion jazz band based in Los Angeles, will also meet fans that day.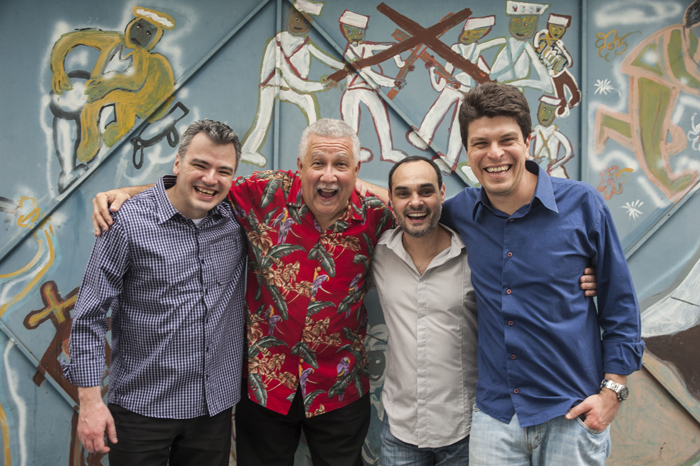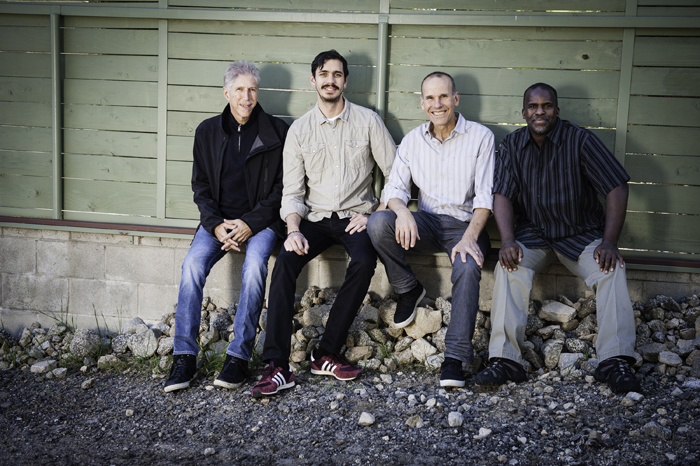 (Top) Paquito D′Rivera (second from left) will perform with the Corrente trio. (Bottom) Fusion jazz band the Yellow Jackets.
The highlight of the second day, October 4, is legendary artist Maceo Parker. A saxophonist and a singer, Parker is a punk jazz master and still active on the music scene though he is over 70 years old.
Visitors will also be able to see Joachim Kuhn, one of the most successful jazz pianists in Germany. He plays a range of repertoires, from classical and jazz through to electronica and folk music. Jazz fans should not miss Gregoire Maret, the renowned harmonica player. Maret will perform with Jan Lundgren, a Swedish pianist who performs lyrical piano music.
On the festival's final day, October 5, Allan Holdworth will perform with drummer Gary Husband and bassist Jimmy Haslip. Holdworth, dubbed as the teacher of all guitarists, plays both rock 'n' roll and jazz. Jazz fans will also be able to see Argentinean guitarist Dominic Miller on stage. Miller is known for co-composing the song "Shape of My Heart" for Sting.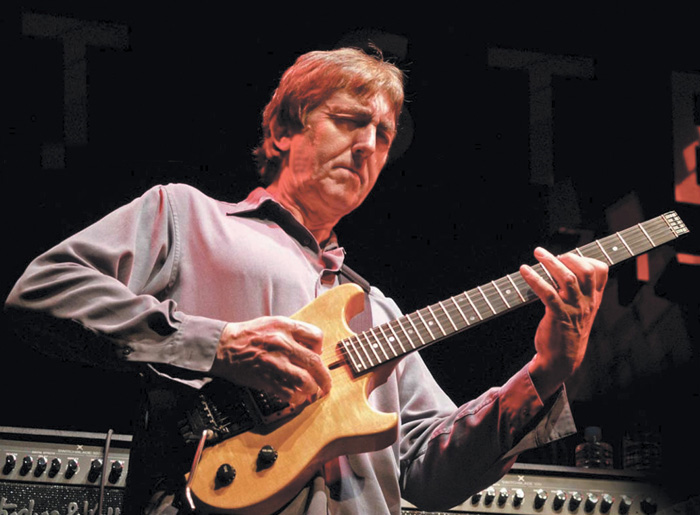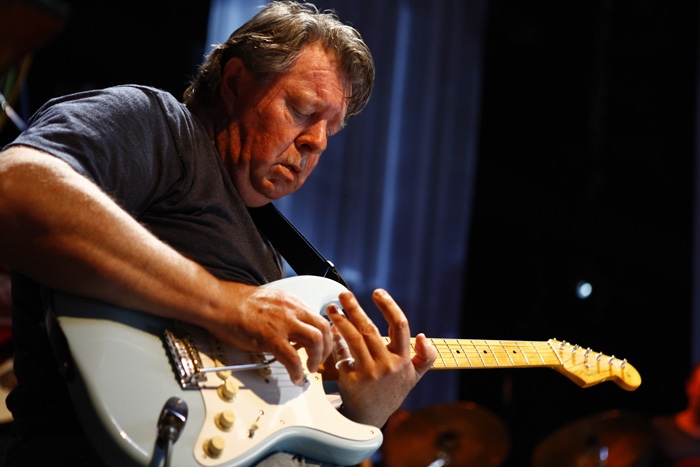 (Top) Allan Holdworth performs both rock 'n' roll and jazz. (Bottom) Norwegian Thrje Rypdal performs on October 3.
Most concerts at the Jarasum International Jazz Festival are free, except for those on the Jazz Island (A) Stage and the Party (B) Stage. Tickets to those two venues cost KRW 50,000 for adults and KRW 30,000 for adolescents.
Via ITX train service, it takes an hour to get from Yongsan Station in Seoul to Gapyeong Station in Gyeonggi-do (Gyeonggi Province). It takes 40 minutes from Cheongnyangni Station. By bus, it also takes about an hour from Dong Seoul Bus Station to Gapyeong Bus Terminal. For more information, call 031-581-2813~4 or visit the homepage (www.jarasumjazz.com).
By Limb Jae-un
Korea.net Staff Writer
Photos courtesy of the Jarasum International Jazz Festival
jun2@korea.kr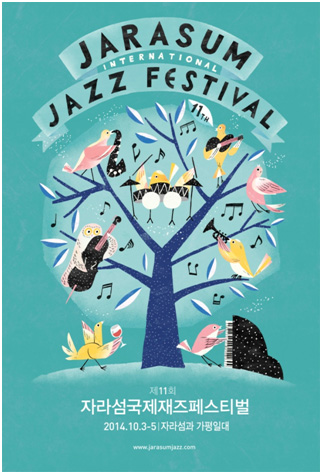 A poster for the Jarasum International Jazz Festival