New submarine Internet cable connects 9 Asian nations
The upcoming construction of new underwater Internet cables will connect nine nations and regions across East Asia, covering Korea, China, Japan, Hong Kong, Taiwan, Vietnam, Singapore, Thailand and Malaysia.
The new undersea cable system will help to accelerate Internet connection speeds across the region, making them at least twice as fast.
Allowing the nine Asian nations and regions to more rapidly communicate and to exchange information over the Internet will help to strengthen cross-cultural ties.
In fact, almost 99 percent of the data which the East Asian neighbors consume online passes through an existing East Asian submarine cable system, a network that has been constructed beneath the waves and which spans approximately 19,000 kilometers, finally reaching that last kilometer to appear on the consumer's device.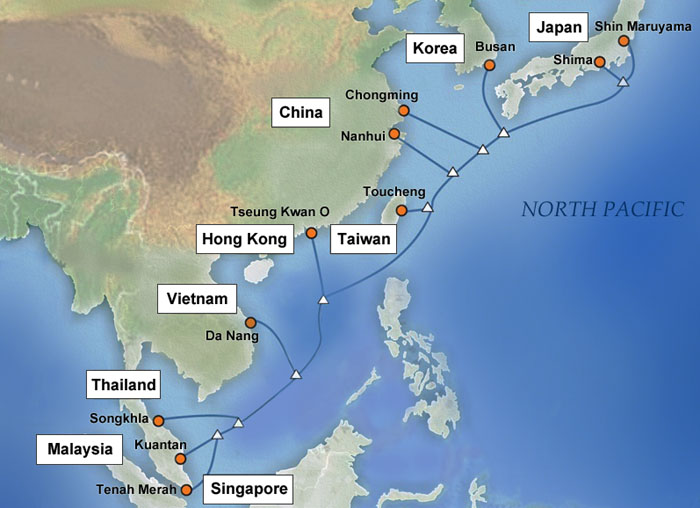 To make the data transfer rates much faster and more stable, 11 communication service providers from the nine countries have joined forces. The 11 agencies, including Korea's KT, Japan's NTT Communications and Taiwan's Chunghwa Telecom, will cooperate to set up the new Asia Pacific Gateway (APG) undersea cable system by early 2015.
The APG network, spanning a total of 10,000 kilometers across the sea, will be able to hit speeds of up to 38.4 terabits per second (Tbps), a considerably higher speed compared to the existing submarine cable system, which reaches speeds of only 2.56 to 7.68 Tbps.
According to KT, the new higher speeds are equivalent to transmitting 7,200 movies, each of 5 GB, in one second. When the APG comes into effect, users will see overseas East Asian Internet addresses loading at twice the current rate, the utility said.
The APG project kicked off in 2012, three kilometers off the beach in Haeundae, Busan. A team of underwater divers were mobilized to bring the cables ashore.
"The new system passes through a more stable route, distinct from previous cables, as well as has upgraded speeds, which will minimize damage from natural disasters, such as undersea earthquakes," said KT's network department. "This will also meet the demand for global Internet content that has been on a constant rise."
By Sohn JiAe
Korea.net Staff Writer
jiae5853@korea.kr