Sharing a passion for Korea
It 's almost one week ago since I got back from another exciting trip to Korea with some of my hapkido students. 
After my first trip to Korea, in 1994, I couldn't imagine that this country would have this great of an impact on me.
Since 2000, I really fell in love with the country, its traditions and culture, the cuisine and its nature. As a hapkido master, I travelled to Korea quite often over the past 20 years. My students were always curious as to why Korea is so attractive to me, aside from Korean martial arts.
Even though I did my best to explain, it is still difficult for me to explain what is so exciting about Korea to people who have never visited the country. 
So last year, I started a blog and a Facebook fan page related to Korea. Since then, many of my students have gotten interested in Korea. Some even encouraged me to organise a new trip to Korea. So we did, eight years after the last trip, in 2006. Five of my students registered for this trip, among them two who already visited Korea before and three newbies. Tickets were booked in January 2014 and from that time onward we looked forward to our departure. First of all, however, we had to make a plan. 
Even with 20 years of travel experience in Korea, making a plan was not that easy. Korea has so many things to offer and we had only limited time. So we had to pick our destinations carefully, to offer a well-balanced mix between traditional, historical and cultural spots combined with our students' participation at the hapkido championships.
To enjoy as much of this trip as possible, we motivated our students to learn some information about Korean history and some general facts about Korea. To test their knowledge, we set up a daily quiz during the trip.
On July 16, six Belgians, among them five men and one woman, left Belgium from Brussels in the direction of Incheon Airport, via Frankfurt. It took 11 hours to get there. After picking up our luggage, an airport limousine bus took us in the direction of Pyeongtaek City. On the first night, we had a dinner with my wife's family. For our students, it was a good occasion to deal with local Korean people.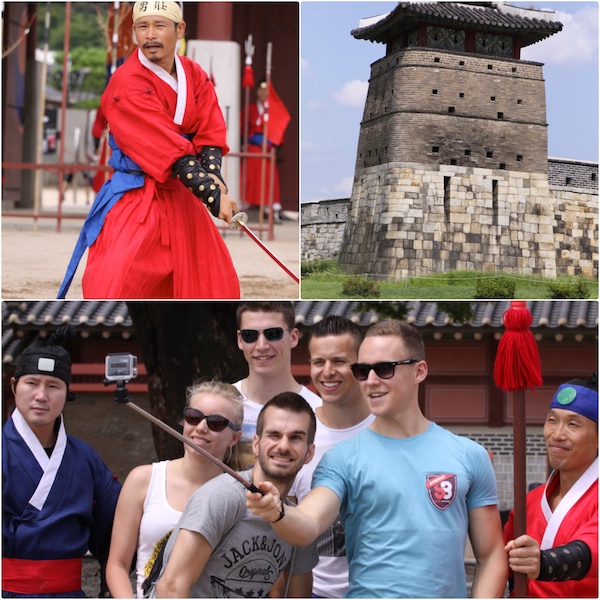 On day two, we start touring and exploring Korea, starting with a short trip to Suwon where we visited the famous Hwaseong Fortress, a UNESCO World Heritage site, and attended a traditional martial arts performance, Muye 24 ban, at the Hwaseong Haenggung Palace. At the fortress, we also enjoyed the experience of traditional Korean archery. It's not as easy as it seems.
The next day, my sister-in-law drove us to Gongju, where we visited the local fortress and took some time to take pictures in our dobok, our traditional martial arts uniform. In the afternoon, we visited the beautiful Magoksa Temple. We ended our day at the Oeamni Folk Village where we ate delicious haemul pajeon with refreshingdongdongju. On the way home, all of us slept in the van, being tired from the trip and the jetlag.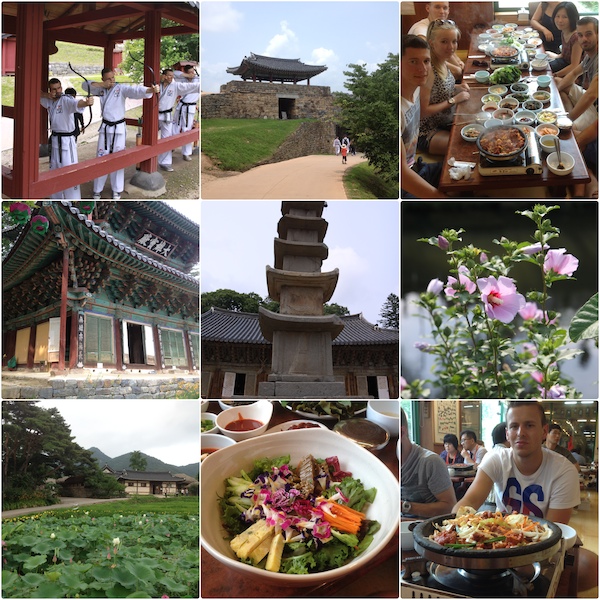 Sunday July 20 we took the subway for almost 90 minutes to get to Seoul. Our students took their time to fill out the daily Korea quiz. Our first stop was at the new Seoul City Hall and the starting point of the Cheonggyecheon Stream. Our students experienced all kinds of traditional games and made their own calligraphy. Passing by Admiral Yi Shin Sun and King Sejong on our way, we arrived at Gyeongbokgung Palace to watch the changing of the guards. Like almost every other weekend of the year, it was very busy. Hours later, we left the palace for Bukchon in search of the Hanok that we booked in a small alley near Changdeokkung Palace. We ended our first day in Seoul in a traditional restaurant in Insadong.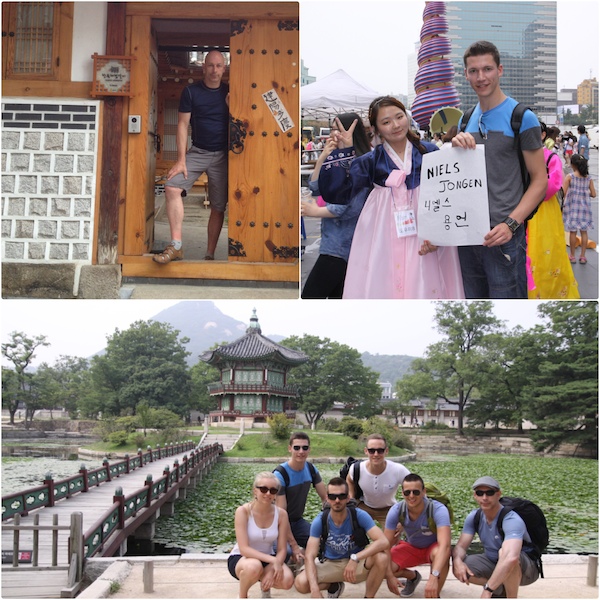 Monday July 21 we left early and had breakfast at Dunkin Donuts. After buying some souvenirs near Jogyesa, we took the subway to Jamsil to visit the Lotte Departement and Gangnam. Our students didn't want to skip the unique opportunity to do some ice skating at the Lotte World indoor ice rink. Later on, we visited COEX, which is still under renovation, and the nearby Bongeunsa Temple. This was the first big temple our students ever visited and they were hugely impressed by its beauty and peaceful surroundings in the middle of this busy city. Before going back to Pyeongtaek by bus, we ate at a Japanese restaurant in Gangnam.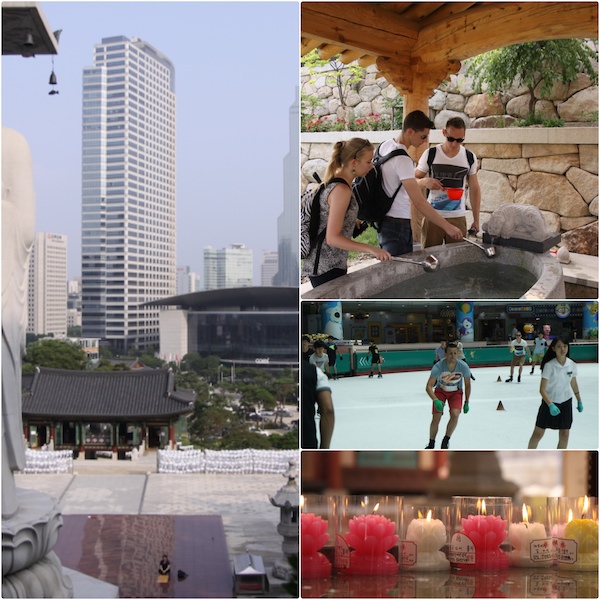 On Tuesday July 22, we took the Saemaeul train to Daegu and from there we took the KTX train to Gyeongju. After our arrival, we ate bulgogi before we checked in at another Hanok hotel located in the middle of the city and near Tumuli Park. This Hanok, owned by a female artist from Seoul, was amazingly beautiful. In the afternoon, we took a long walk, visiting Tumuli Park, the Cheomseongdae Observatory Tower and the old house of the family Choi. At night, we enjoyed the Anapji Pond and the nearby lotus ponds. This was another great day!
The next day, we took a taxi to the Bomun Lake Resort to spend some time relaxing. It was very quiet there and it allowed us to visit Bulguksa Temple earlier than we planned.
The bus dropped us at the parking lot near the local shops and restaurants. After a delicious lunch, we checked in for the templestay programme at Korea's most renowned temple. We were warmly welcomed by an English speaking guide and a Korean monk. It was the start of two days full of surprises and probably the two most remarkable days of our journey. We'll report more about this in the next blog post.
The next day, we woke up early in the morning to attend the daily services in the Main Hall at 04:00 a.m. Sharing the experience of waking up all together with the monks in this amazing temple was just awesome! After the services, we spent time on meditation and we had a great kuksundo class on stretching and pressure points. The last part of our stay brought us to the Seokguram Grotto, also listed as a UNESCO World Cultural Heritage item and currently under renovation. At 12:00 p.m., we said goodbye to our guide and to the monk who gave us an unforgettable templestay experience. From here we went to Gyeongju station and took the train back to Pyeongtaek.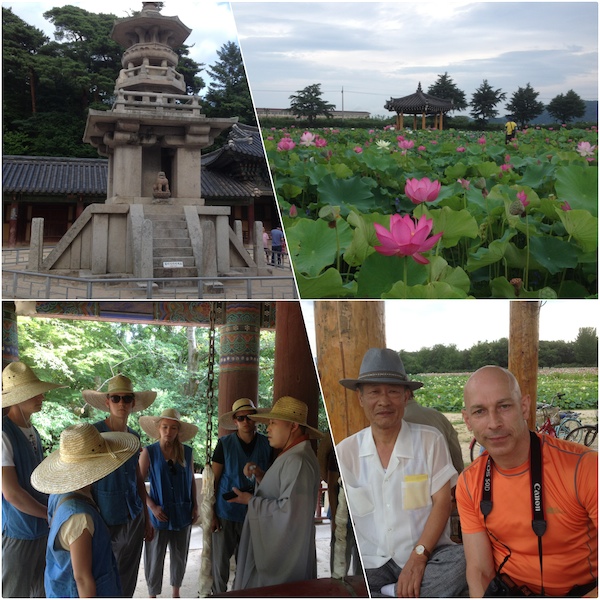 Friday July 25 we were expected in a dojang in Anyang to meet some Korean hapkido grandmasters and also some of our hapkido friends from Russia, Germany, Austria, Canada and  Hungary. So we had quite a relaxed day before the championships. We ended up in a typical Korean barbecue restaurant together with our Austrian friends. Our students loved the food over there.
On Saturday July 26, our students took part in the 22nd Daelim University Hapkido Championships at Daelim University in Anyang. They gave a really nice performance of their self- defense skills, which resulted in 2 gold medals, 1 silver and 1 bronze medal, in different categories. At the end of the day, we got on a touring bus for Byeonsanbando. We arrived at midnight and immediately started a barbecue. It was very welcome after an exhausting day. No need to say that we went to bed very late. But at 10:00 a.m. we went to the nearby beach where we had some great photoshoots.
Our Korean friends started to cook lunch and after the meal we went to Byeonsanbando National Park to take some pictures. On the way home, we passed along the 33 kilometer– long impressive Saemangeum Seawall.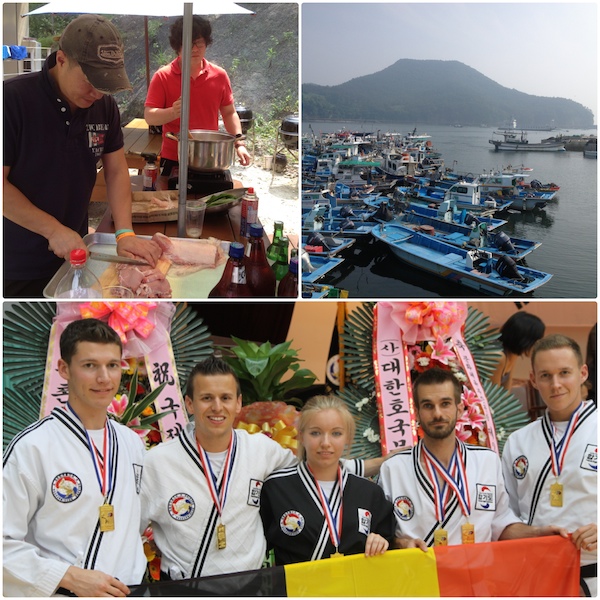 On the morning of Monday July 28, we went to Namdaemun where we checked in at the Seoul Backpackers hostel. We visited the Namdaemun Market and Myeongdong for some shopping. In the late afternoon, we went to the foot of Namsam Mountain where we took the cable car up to the N Seoul Tower. As usual, there were many tourists, many of them admiring the many love locks on the fence. The incoming fog made it difficult to have a good view of Seoul. When it became dark, Seoul became really well-lighted. We came down, walking down the stairs. We drunk some Korean beer at a hof near Namdaemun and had a nice talk with the Korean barkeeper.
Tuesday July 29 was our last day in Seoul. We walked along the Cheonggyecheon Stream and visited the Korea Tourism Organization to pick up some posters and other useful information for our next trips. After we left, we went to Jongak to take some pictures of the Boshingak Pavillion. At the Chongno Tower, we took the elevator to the 33rd floor to enjoy an amazing view of Seoul. From here, we headed toward our last destination, Dongdaemun.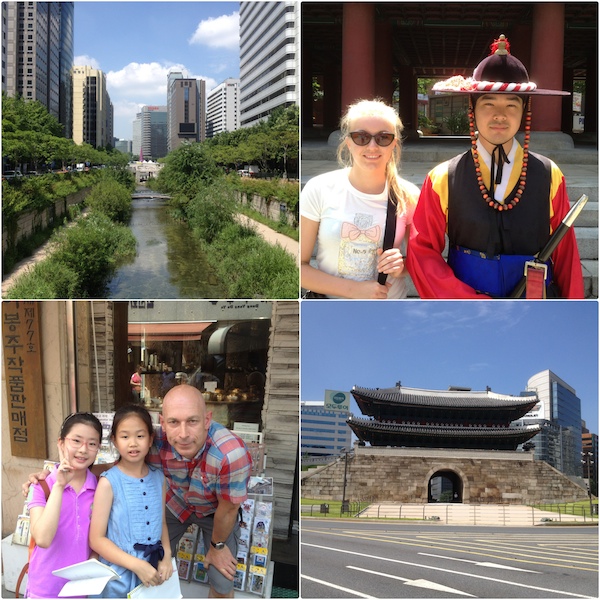 On our way to Dongdaemun, we had a glimpse of the traditional Gwangjang Traditional Market. Our students liked the atmosphere of this cosy market, where all kind of traditional stuff, from food to Hanbok, can be found. At Dongdaemun, our students visited the Doota Tower and the surrounding clothing markets. With full bags and empty wallets, we went back to Insadong for our last Korean meal in one of the traditional restaurants.
At the restaurant, we had an extensive talk about our trip, which was about to come to an end. We discussed the three best memories we each had of the trip. The templestay at Bulguksa, with the experience of the 108 bows, was their best memory. They were also deeply impressed by the beauty of the Korean countryside and the cheap and convenient transport system, but most of all by the kindness and hospitality of the Korean people. They were all very happy to be part of this group visiting Korea and to show their appreciation, they surprised us with a nice gift: a bronze statue of the Buddha and a beautiful Buddhist bracelet.
The next day, we took the express train to Incheon International Airport where we left for Belgium, packed with nice memories and already looking forward to our next Korea visit. Some days after the trip, one of my students sent me a text message to tell how impressed they were and that they finally can understand my excitement about Korea. I was happy to read this, but I was even more happy to share my longtime passion for Korea with them over the last 14 days.
About the Author – Worldwide Korea Blogger for the Korea Blog


Guy KUSTERS, from Belgium, came in touch with Korea by studying  Korean martial arts since 1984. He travelled to Korea for the first time in 1994 to train in hapkido. On his next visit in 2000, he fell in love with the Korean countryside, the traditions, the culture and the cuisine. He holds black belt ranks in different Korean martial arts and he was a guest member of the Korean hapkido demo-team. So far, he has visited Korea more than 20 times for training, traveling and guiding people around. His interests related to Korea are food, Buddhism, music, language, photography and promoting Korea by sharing his Korean experiences. From September 2014, he will start living with his parents-in-law in Korea.