Bukhansan Mountain reveals Seoul's hidden beauty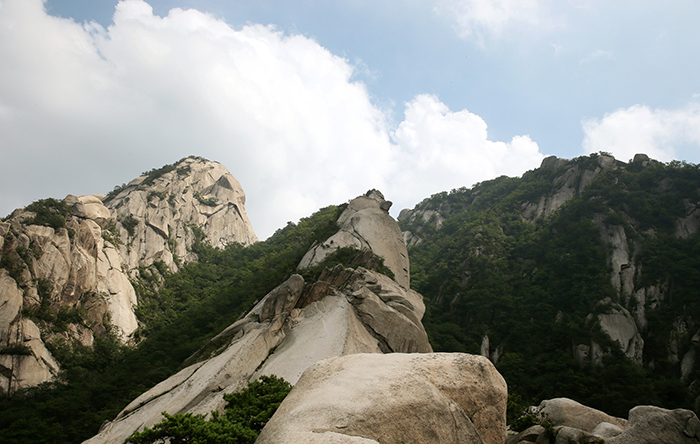 Seoul, the capital city, got its original shape when Joseon Dynasty (1392-1910) founder Taejo Yi Seong-gye (1335-1408) ordered Jeong Do-jeon (1342-1398), one of his key allies in court, to lay out a new city. The center of Seoul is surrounded by mountains, in consideration of feng shui and with a thought to defending the new capital. 

There are so many mountains in Seoul that a resident can visit any of them within 30 minutes, from anywhere in the city. A total of 18 mountains have a registered address in Seoul. These mountains include Namsan, a must-visit site for tourists, as well as Ansan, Inwangsan, a mountain close to Gyeongbokgung Palace, Bukaksan, Gwanaksan, Umyeonsan, Achasan and Suraksan. These mountains all offer weekend hiking trails and walking paths for Seoul's people. 

Bukhansan Mountain is located in northwestern Seoul. This mountain is designated as a national park. It is known for its scale and for the many hiking trails that crisscross the park. People used to call it "Samgaksan Mountain" or "Sambongsan Mountain," as it is shaped like three triangles: the three peaks of Baekundae, Insubong and Mangyeongdae. It is not a high mountain, but it pleases hikers at both beginner and advanced levels with its various trails and paths, such as the Dule-gil.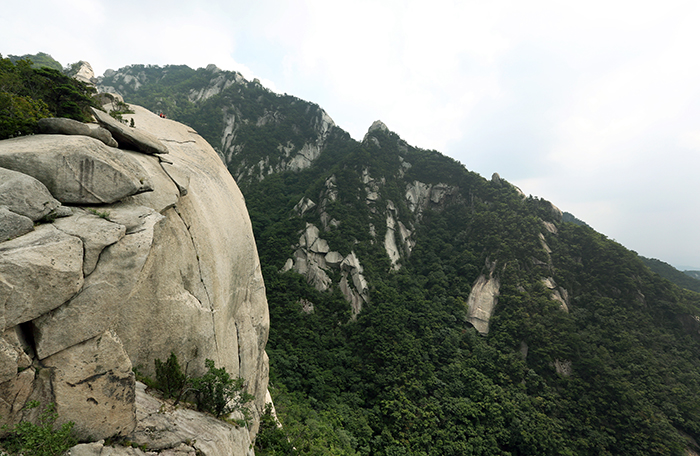 There are 14 official hiking trails on Bukhansan Mountain, according to the Korea National Park service. Hikers can select a trail according to their ability, rather than all of them having to follow a single pathway. Also, they do not need to begin and finish hiking at the same point, as the park wraps around many parts of Seoul. 

Among the many hiking trails, one of the best scenic views can be gotten from the Hidden Wall trail, according to many hikers. This trail begins at the Bamgol in Bukhan-dong, in Goyang-si (city), Gyeonggi-do (Gyeonggi Province). It is not an easy course. People will find a steep ascent early on. They have to pass rocks and valleys. Those who prefer a simple and easy trail would be better off choosing a different course. For those who know the charms of climbing an untamed mountain path, however, this trail can reward them with one of the best views of the mountain and a sense of grand satisfaction.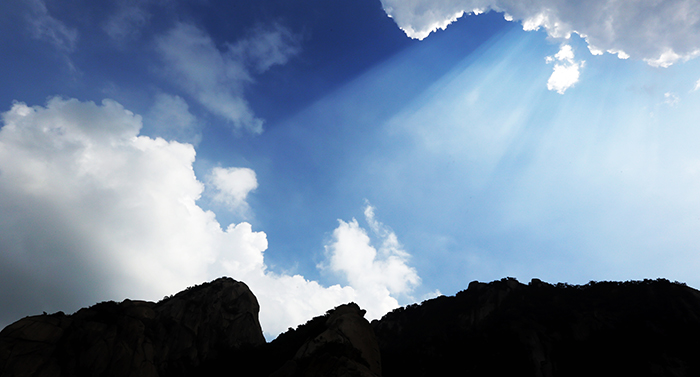 >



The Hidden Wall got its name as it is situated between Baekundae and Insubong peaks. The huge, singular rock makes people realize the magnificence and greatness of nature, even though they are still within Seoul city limits. Once atop the rock, people will forget about the path's difficulty and enjoy the picturesque view of Insubong and Baekundae peaks and the cool mountain breeze. Also, when they get to the rock, they can fully enjoy the view of the two mountain summits.

Many hiking clubs heading up the mountain said the Hidden Wall trail is the second most difficult climbing trail of the mountain. They also agreed that the trail offers the best scenery on the mountain, despite its difficulty. Other hikers advised those heading to the mountain for the first time to take the Hidden Wall trail and that they should wear appropriate hiking boots, as the trail requires crossing many valleys and rocks. They also advised people to bring enough water, as there are no water sources in the middle of the trail. 

By Jeon Han, Yoon Sojung 
Korea.net Staff Writers
hanjeon@korea.kr