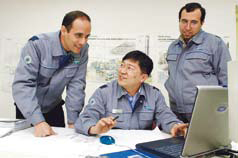 The employment structure of South Korea has undergone remarkable changes since the beginning of industrialization in the early 1960s. In 1963, workers in the agricultural, forestry and fishery sectors accounted for 63% of the total labor force. However, this figure dropped to 6.6% in 2010. By contrast, the share of the tertiary industry (service sectors) grew from 28.3% of employed people in 1963 to 76.4% in 2010.
In the latter half of the 1970s, the Korean labor market went through a series of important changes. Korea emerged as a competitive country in the global market with its labor-intensive industries such as textiles and footwear. In the 1970s and 1980s, the government focused on the cultivation of a skilled workforce and provision of job placement services for low-skilled workers to help ease labor shortages resulting from industrialization.
Starting in the latter half of the 1980s, policy emphasis shifted to promoting welfare and enhancing equality, which led to the legislation of the Minimum Wage Act (1986), the Equal Employment Act (1987) and the Act on Employment Promotion and Vocational Rehabilitation for the Disabled (1990) as well as other measures.
A heavy industry training center teaches foreign engineers about power station construction and operation
In the early 1990s, in order to systematically cope with unemployment problems caused by a slowdown in economic growth, the government passed several major laws, including the Employment Insurance Act (1993), the Basic Employment Policy Act (1995) and the Vocational Training Promotion Act (1997).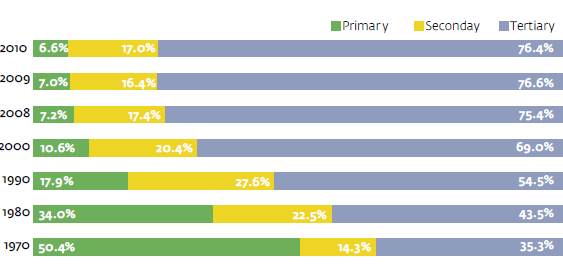 Composition of Employment by Industry
Note: The term "Primary" refers to the agricultural, forestry and fishery sectors; "Secondary," the mining and manufacturing sectors; and "Tertiary," social overhead capital (SOC) and other service sectors.
Source: Statistics Korea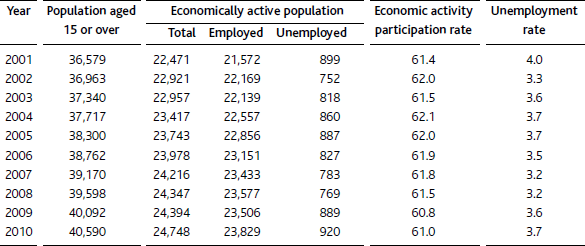 Employment Trends
Unit: Thousand persons, %  /  Source: Statistics Korea
In October 1999, the government also strengthened the social safety net to cope with unemployment by extending the coverage of employment insurance to all workers, including part-time and temporary workers.
Individual Action Plans (IAPs) for recipients of unemployment benefits have been expanded to cover both young people and the elderly to assist them in their search for new jobs.
Also, in response to growing demands for lifelong competency development, the government has gradually expanded investment in vocational training. Reacting to the trend of low fertility rates and an aging labor force, various measures have been implemented to increase the employment rate of women. They include such measures as reducing discrimination in employment and supporting the compatibility between work and family life as well as tackling the problem of career breaks caused by pregnancy and childbirth. A variety of other measures have been implemented to expand and stabilize employment of the elderly, such as extending the retirement age, reforming wage systems and reducing discrimination based on age.
As in other countries, industrialization in Korea proceeded in parallel with urbanization. In 1960, only 27.7% of Korea's population lived in cities. In 2000, 88.3% of Korea's population were urban dwellers. But this trend has receded, and 81.5% of Korea's population lived in cities in 2005.
This rapid population growth in urban areas led to a housing shortage and spiraling land prices in cities. In order to solve the housing shortage and stabilize housing costs, increasing the supply of land available for residential construction and the building of small housing units have been among the top priorities of the government.
To this end, it will ease regulations on redevelopment and rebuilding. The plan to supply "Bogeumjari" housing established in 2008 will also be implemented to provide 1.5 million units by 2018.
The government has already supplied 600,000 to 700,000 housing units annually between 2000 and 2008. With rising land prices and a marked preference for modern lifestyles, the rate of people living in apartment buildings has continued to increase. In 1985, only 13.5% of housing units were apartments, but in 2005, 52.5% of all housing units were apartments. In Korea, most apartments, like condominiums in America, are owned by individual families.
Health and Medical Services
Along with Korea's success in economic development, the overall health of Koreans has improved significantly over the past four decades. In 1960, the life expectancy was 51 years for men and 54 for women. These figures have increased to 77 for men and 83.8 for women in 2009. The infant mortality rate has likewise declined sharply, along with maternal mortality as well. These improvements are directly related to improved diet as well as health and medical services. National health expenditure per capita, which was 85,000 won in 1985, increased to 1,266,000 won in 2007.

Number of Licensed Medical Personnel Per Person
Unit: persons  /  Source: Ministry of Health & Welfare  
Note: Medical personnel include physicians, dentist, Oriental medical doctors, licensed pharmacists, midwives and nurses.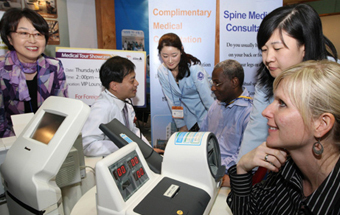 Health care in the form of medical insurance and medical assistance was first introduced in 1977. However, the coverage rate was only 29.5% until 1980. As of Dec. 2008, 96.6% of the population had access to health insurance, with the remaining 3.4% entitled to direct medical assistance.
The supply of hospitals and medical personnel has continuously increased. The total number of hospitals and clinics in the nation (including traditional herb medicine hospitals and clinics) was 11,183 in 1975. It increased to 52,914 in 2007. Meanwhile, the number of licensed doctors, which totaled 19,588 in 1975, increased to 116,693 in 2009.
Korea boasts outstanding top-quality medical services in areas such as stomach cancer treatment, liver transplants, and cosmetic surgery. The combination of highly advanced medical technology and reasonable medical costs has resulted in a marked increase in the number of foreign patients visiting Korea for medical treatment. The Korean government has also provided support for the building of an infrastructure which will make it possible for international patients to receive one-stop services through a medical call center. The Medical Call Center provides international patients with consultation services available 24 hours a day in 5 languages (Tel. No. 82-15777-129) to address complaints of inconvenience and malpractice while they are being treated in Korea.
A foreign patient getting a check-up as part of medical tourism (Photo: Yonhap News)
Various systems related to social security have been implemented since the late 1980s. These included expansion of medical insurance and medical aid to cover the entire population in principle, introduction of National Pension Service in 1988, and the introduction of an Unemployment Insurance System in 1995. The government has thus provided the basis for building a comprehensive social safety net. All persons who reside in Korea and are aged between 18 and 60 are automatically included in the National Pension Service system, and this regardless of their income.
While the primary goal of the above systems is to provide minimum guarantees to the economically active population, there also are a variety of welfare programs for economically inactive people. These public subsidy programs consist mainly of two parts: subsidies for living expenses and medical assistance.
The Four Social Insurance Programs

 Source: Four Social Insurance Program official website
Due to elevated living standards and improvement in health and medical services, the average age of Koreans has increased rapidly, which means that the number of elderly people has increased significantly over the years. In 1960, the population aged 65 or over comprised 2.9% of Korea's total population. By the end of 2009, this ratio had increased to 10.7% and is expected to rise to 14.3% by 2018.
Policies have been implemented to improve the welfare of the elderly by providing direct subsidies to families whose income is under the subsistence level and expanding employment opportunities for older people by developing suitable jobs and opening job placement centers. Health care systems for the aged have been strengthened with examples including the long-term care insurance system for the elderly and the opening of various types of public facilities for them. Under the basic old age pension system introduced in January 2008, those over the age of 65 who belong to lower-income classes are now eligible for a pension. Meanwhile, the long-term care insurance system for the elderly launched in July 2008 is designed to improve the overall health of the elderly and reduce their financial burden, especially for those suffering from senile dementia and paralysis.
With the strengthening of social security measures, great improvements have also been made for the welfare of the disabled. Disability is classified into 15 categories. In 2008, some 2.43 million people out of the total population of 49 million were registered as being disabled. The government has started releasing disability allowances to both adults and children and also made efforts to increase jobs for the disabled.
Korea is already a party to the UN Disability Rights Convention. In this regard, the Disability Discrimination Prohibition Law which went into effect in April 2008 secured Korea's status as only the second country in Asia to promulgate such a law.
Koreans have traditionally placed great importance on education as a means for self-fulfillment as well as for social advancement. Modern schools were first introduced in the 1880s. After the founding of the Republic of Korea in 1948, the government began efforts to strengthen the modern educational system, making six years of elementary school attendance mandatory. Today, Korea boasts one of the highest literacy rates in the world. An emphasis on education is often cited as a foundation for Korea's rapid economic growth over the past four decades as it has produced an educated labor force as well as the scientists, engineers and specialists needed for various professional fields.
The school system in the Republic of Korea consists of one to three-year pre-schools and kindergartens, six-year elementary schools, three-year middle schools, three-year high schools, and four-year colleges and universities offering B.A.'s and B.S.'s.  In addition, there are also graduate study programs for M.A., M.S. and doctoral candidates. There are also two- to three-year junior colleges and vocational colleges. Elementary schooling is compulsory with an enrollment rate of nearly 100%. Three more years of compulsory middle school education have been implemented nationwide since 2004.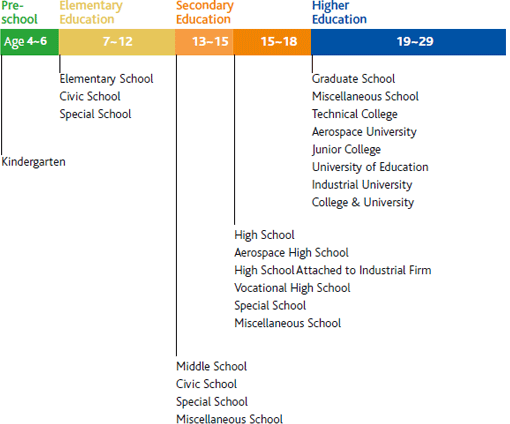 Education System
As of 2010, there were 411 institutions of higher learning in Korea, with a total of 3.64 million students and 77,697 faculty members.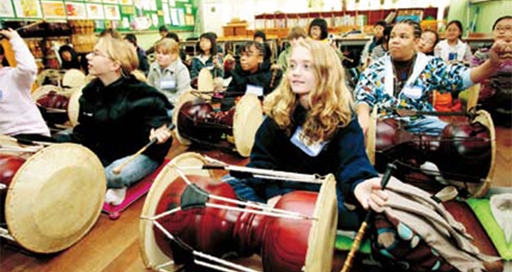 The term Korean Studies emerged after national liberation in 1945, with the academic community's efforts to enhance research on Korea, including its history, society, culture, and political system. Academic research on Korea had been suppressed during the 35-year Japanese colonial occupation.
With an increasing number of foreign scholars engaging in Korean Studies in recent years, the government has been supporting research and education activities through the Academy of Korean Studies established in 1978 and the Graduate School of Korean Studies, which opened two years later within the Academy. As of February 2010, the state-run academy had produced 567 master's and 299 doctorate degree holders in four divisions  Humanities, Culture and Arts, Social Science, International Korean Studies. During the school year, the academy has 220 Korean and foreign students enrolled in its master's and Ph.D programs. Foreign graduates return to their home countries where they are active as professors or researchers of Korean studies.
Korean Studies attracts increased attention overseas, and related courses are now available at some 735 universities in China, Japan, the United States, Russia, France, Germany, Thailand, Vietnam, Poland, Denmark, Switzerland, Ukraine, Hungary and elsewhere.
Korean culture classes help students from abroad pick up the beat of traditional music
Newspaper and News Agencies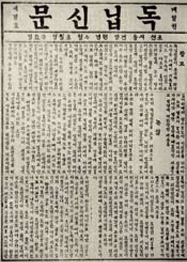 The modern Korean press is well over a century old. Korea's first modern newspaper, the Dongnipsinmun (Independence Newspaper), was founded in 1896 by Dr. Philip Jaisohn (Seo Jae-pil in Korean). The Dongnipsinmum was a bilingual paper with 300 copies of four tabloid pages printed three times a week, the first three pages in Korean and the last page in English. 
Over the following decades, Korean newspapers found their greatest challenge in upholding the nationalistic spirit of the Korean people and opening their eyes to the rapidly changing world. The newspapers played an important role in independence movements during the Japanese colonial period. (1910-1945). The Chosun Ilbo and the Dong-a Ilbo are the two oldest newspapers in Korea, both were inaugurated in 1920 in the wake of the March First Independence Movement.
Korean newspapers have made significant investments in modern press facilities and equipment in recent years. Most national dailies operate computerized typesetting and editing systems with multicolor printing capability. In addition, Yonhap News Agency maintains 49 overseas bureaus in Europe, North America, the Middle East, Southeast Asia, and South America.
The first edition of the Dongnipsinmum (The Independent) Published on April 7, 1896, it was Korea's first privately-owned, all-Hangeul newspaper.
Television broadcasting in the Republic of Korea began in 1956 with the opening of a privately-owned and commercially operated station in Seoul. This first TV station, however, was destroyed by fire in 1959. In December 1961, KBS-TV was inaugurated by the government as the first full-scale television service in Korea. The Munhwa Broadcasting Corporation established MBC-TV, another nation-wide network in August 1969. SBS (the Seoul Broadcasting System), a private channel, began broadcasting in 1990.
The KBS, MBC, SBS and EBS television networks launched digital broadcasting in the Seoul metropolitan area in the latter half of 2001. The service was expanded to the greater Seoul and surrounding areas in 2002.
Cable TV started experimental services in 1990. As public demand for more information and a greater variety of entertainment increased, demand for cable TV has been on the increase.  As of the end of 2009, 15.2 million subscribers were able to view about 120 cable channels broadcasting programs.
The development of IPTV (Internet Protocol Television) has also paved the way for Korea to become one of the leaders in the field of information technology.  According to the Korea Communications Commission (KCC), there were 3.086 million IPTV service subscribers as of the end of 2010.