Traditional markets are window into the lifestyle of the people
Koreans use the expression saram naemse, "the smell of the people," to express the feeling of being surrounded by humanity. This sense of being together as one with a crowd, even in the absence of a relationship between each individual, is an important part of Korean culture. When people seek this scent of humanity, one of the first places they go to is the local sijang, or market.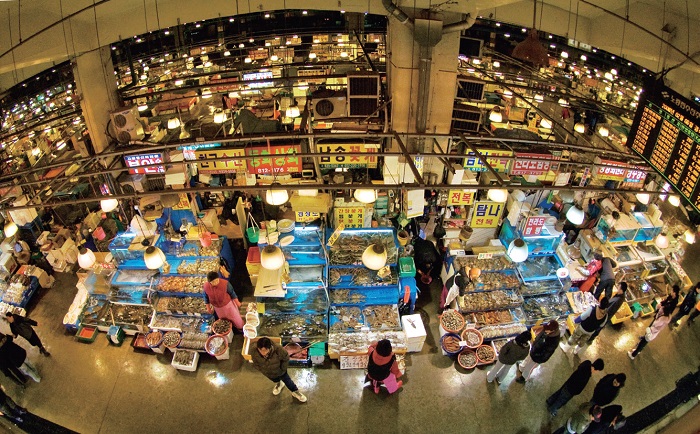 Markets have always been a gathering place where people engage with each other, whether it's by trading tales or trading merchandise, and Korea's markets remain a vibrant part of the social and commercial scene today. From the gigantic Jagalchi Seafood Market in Busan to the technology-driven Yongsan Electronics Market in Seoul to the tiny neighborhood markets that dot cities and towns all across Korea, they are a place to truly appreciate the "smell of the people." By bringing together the people who grow and make things with the people who will use them, markets build a sense of unity and tie together people and products into one community.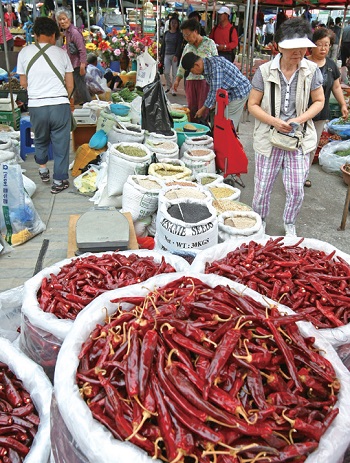 The Art of Haggling

Korean markets, whether large or small, require some special skills. As fixed prices have become the norm and big box stores can be found everywhere, the art of bargaining may not be exercised much in contemporary life. However, it's alive and well in the marketplace. While initially intimidating, negotiation is expected. Instead of being an adversarial encounter, though, it's usually a friendly exchange. A good but not greedy haggler commands respect, and merchants enjoy the back-and-forth as they explain their wares and justify their prices. Sellers can also offer tailored suggestions, whether it's the right fabric for a suit or the best kind of bean paste for a particular sauce. The social nature of the marketplace brings both sides together as friends for a few moments, and many merchants reward repeat shoppers with the pick of the lot or a little extra thrown in.

Marketplaces are often lively with noises and sounds that are hard to find in contemporary cityscapes. Fresh produce piled together gives off enticingly earthy and green smells, and seafood markets bring inland the tangy brine of the sea. The sounds are also specific, since many peddlers and vendors use song, rhythmic clapping and chanting to advertise their wares. All vendors have their own unique calls and patterns. Imploring passersby to buy, they sing out the specials on offer, clapping to make enough noise to be noticed above the general bustle. Even outside the markets, chanting, calling and clapping has become part of advertising. From the small trucks that roam urban neighborhoods with food and produce to even the employees of big box and department stores. They all try to recreate the busy hum found in traditional markets.

The Development of the Traditional Market

Before the use of currency became widespread, markets functioned as a way people could arrange the trade of goods and services, saving time and effort. They also became places for people to share news and gossip. Markets grew with cities and towns, and soon people began to move around to sell goods at different markets, leading to the rise of professional peddling. These peddlers were essential sources of news and information in the days before the spread of modern media.

The tradition of markets and market days has carried into the present. Especially in Korea's smaller towns and in the countryside, weekly markets remain an important part of rural life. Usually meeting every five days, these markets are often filled with a variety of produce and agricultural items, along with a variety of sundry items for daily living, such as clothes, pots, pans, soap and cleaning supplies.

These five-day markets are still one of the most lively and colorful ways to experience country life firsthand. Most local areas in Korea have at least one, and many areas host several different markets on different days. People flood into town to enjoy themselves in the festive atmosphere a traveling market brings. Sleepy spots come to life as roving peddlers, local merchants and ordinary people come together to shop, gossip and bask in the energy the market brings. It's also a chance for each area to highlight its specialty products and foods, as well as to introduce these products to a wider audience.

The subtropical island province of Jejudo has some ten markets of this type, with vendors traveling between the main cities of Jeju and Seogwipo, as well as smaller villages around the island, often hitting a different market each day.

Visitors might run into a market anywhere from a remote fishing port to the middle of downtown Jeju, but should never pass them up, because each offers an unsurpassed chance to really mingle with the local scene and to get a glimpse into how the people of Jejudo really live. Jejudo isn't the only place to find these markets, however, as they make the rounds of every province in Korea. Moran Market in Seongnam, Gyeonggi-do, is the largest of these five-day markets, with more than 1,200 vendors regularly gathering to sell everything from flowers to livestock. The schedules for markets across the nation are now often posted online, allowing both residents and visitors to make plans ahead of time.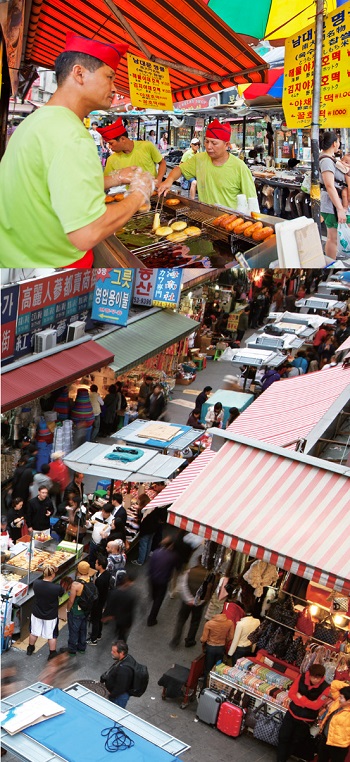 The Heart of Commerce: Major Markets in Seoul

Traditional markets in Korea aren't just limited to the traveling five-day variety. Throughout the country, permanently situated markets improve people's lives by making shopping not just a chore to be accomplished, but a fun adventure. Instead of waiting five days to experience the excitement of a market, a quick trip downtown will satisfy most people's shopping needs with more color than any normal grocery or department store could ever manage.

Seoul is home to several of the country's most famous traditional markets. Namdaemun is the largest of all, housing more than 10,000 separate stores, with some 6,000 featuring clothing, such as furs, outdoor wear, shoes, accessories and even traditional outfits. The market can be a veritable maze, with different alleys and buildings specializing in belt-fish soup, imported goods, glasses and contact lenses, kitchen supplies, home decor, traditional bamboo crafts and even fresh flowers. While it can seem chaotic and confusing at first, like most traditional markets, the entire area is laid out so that similar retailers are clustered together. The market opens during the daytime to sell items individually, but as night falls the trade turns to wholesale. Many of the items are produced directly by the vendors, so Namdaemun functions as a distribution point to bring goods to the rest of the country. Many people also stop to sample some of the market's delectable edible offerings, such as the fried, caramel-filled cakes called hotteok.

The most fashion-forward Seoulites can be found frequenting Dongdaemun Market. Located near the historic eastern gate of Seoul, it dates back to 1905 and includes 20 different shopping malls. While some parts of the market's sprawl specialize in baking supplies, used books, army surplus or even sporting goods, fashion remains the focus. Fashion-watchers searching out the latest look dominate the market by day, while designers, distributors, retailers and other professionals take over at night when the wholesale market opens. Many of the items are designed and made right in the market itself, making a visit one of the best ways to take the pulse of the Korean clothing industry while picking up some bargains. The market is also home to tailors who design and sew everything from suits to traditional Hanbok clothing.

Because of their size and popularity, Namdaemun and Dongdaemun markets have taken extra steps to be friendly and accessible, especially to the millions of tourists that pass through Seoul each year. Tourist information centers are scattered throughout, stocked with maps and pamphlets. The centers also feature multilingual staff to help tourists in languages such as English, Mandarin and Japanese. Volunteers clad in red vests also roam the markets to help direct people through the maze of streets and alleys.

Smaller in size than either Dongdaemun or Namdaemun, Gwangjang Market is one of the oldest market associations in Seoul. Situated along the Cheonggyecheon Stream in downtown Seoul, it specializes in fabrics, accessories and bedding. However, it may be most loved for its food. With different alleys offering up street foods like tteokbokki, rice cakes in spicy sauce, and sundae, blood sausage, along with more refined fare like yukhoe, seasoned raw beef flavored with Asian pear and egg yolk, and seafood, Gwangjang Market stands out as one of Seoul's premier gastronomic areas. Perhaps the biggest draw, though, is the market's many restaurants and stalls featuring bindaetteok, mung bean pancake, where the atmosphere hums until late into the evening. Other people skip the restaurants and do their grocery shopping in another wing of the market, choosing from its extensive collection of homemade side dishes and sauces. Meanwhile, the second floor always draws fashionable bargain hunters with an eye for the old, thanks to a collection of vintage clothing stores.

Everything under the Sun

Nestled between Dongdaemun Market and Gwangjang Market is one of the more unique markets in Seoul: the Dongdaemun Medical Supply Market, home to both to an impressive number of pharmacies and a large collection of stores that specialize in medical supplies. Wheelchairs, canes, prosthetic limbs, bandages, stethoscopes and a whole host of other devices meant to keep the body functioning and well are on sale here. People who would prefer a more traditional treatment, however, usually head out to Gyeongdong Market, where traditional Oriental medicine doctors, acupuncturists, pharmacists and herb sellers congregate. Located alongside a thriving agricultural market, Gyeongdong Market has more than 1,000 vendors of herbs for traditional medical treatments, including Korea's famed ginseng and red ginseng. A walk here is an aromatic pleasure as the normal scents of the city recede in favor of heady bursts of mugwort, cinnamon and myriad herbs and spices. People looking for antiques and vintage items can search where the dealers do, at the Seoul Flea Market near Sinseol-dong Station or Janghanpyeong Antiques Market near Dapsimni Station. Other specialty markets in Seoul include the Yongsan Electronics Market, Yangjae Flower Market and Noryangjin Fisheries Wholesale Market. These specialty markets often have a dual purpose, inviting everyday people to visit and pick up a few items, while also providing centralized distribution for professionals. Regular folk and florists can choose from the same flowers, newbies can purchase the same electronic parts as IT experts and restaurants and home cooks peruse the same ingredients.

Seoul isn't the only place where people can enjoy the busy pleasures of large-scale traditional markets. Just about every major city, from Gwangju to Daegu, can boast of at least one large marketplace, and specialty markets spring up around major points of interest, like the Punggi Ginseng Market in Yeongju and thesprawling Yangdong Market in Gwangju. Busan's Nampodong International Market features local goods alongside those of major international retailers. The most famous market in Busan, though, is Jagalchi Market, one of Asia's largest fish markets. Because of its location directly next to Nampo Port, the fish sold there are amazingly fresh, having been swimming in the sea only hours before. Chances are you've enjoyed seafood from Jagalchi Market, since many restaurants from around the country depend on the market for their own menus.

Challenges and Innovation

Modern life and conveniences have chipped away at the role of markets in Korean culture. Most people now shop online or at major retail stores. Big box stores offer a large variety of merchandise in one location and eliminate the need for bargaining, while online shopping makes it possible to find almost anything at any time and get it shipped directly to your door. The consequence, however, is that there's no direct contact with the people who make things, as well as a diminished sense of community and a loss of cultural space. In response, the government, local communities and businesses are working to reverse this trend and are looking for a new place for markets in the country's contemporary life.

The government has taken an active role in promoting traditional markets by conducting advertising campaigns, introducing special vouchers and creating tours. Another major measure that has helped boost both traditional markets and local independent stores is the introduction of legislation limiting the operating hours of major retailers to promote smaller businesses. The government has also stepped in by providing help to renovate aging buildings and improving infrastructure, while still preserving the local atmosphere.

Markets themselves are taking some innovative steps to reconnect with the communities around them and to be revitalized as local centers. Tongin Market in Seoul has introduced several new programs, like hosting art projects and community classes, while their innovative "lunch box café" concept has helped bring new life to the market. During lunch hour, visitors purchase a bowl of rice and tokens that can be exchanged for individual portions of side dishes from participating vendors. This gives diners an easy way to try traditional foods and specialties, and has increased traffic through the market. Even though it's just a small local market, Tongin Market's campaign has made it an important part of the community and lets people rediscover the joys of shopping for what they need in their own neighborhood.

Traditional markets have historically been places where ideas ferment, especially culinary and cultural ideas. Andong jjimdak, a spicy braised chicken dish, emerged in Andong's old marketplace as local restaurants were trying to figure out a way to compete with Western-style fried chicken franchises. Sinpo Market in Incheon helped start the trend for dakgangjeong, sweet-and-spicy Korean-style fried chicken. Meanwhile, Nangman Market in Chuncheon, Gangwon-do, has gone another direction by incorporating the arts, using murals and paintings to decorate the physical space while performance artists take advantage of the crowds to find an audience. At the Onyang Hot Springs Market, people can enjoy a radio show produced in and by the market, using modern technology to return the market to its traditional role as a center of gossip.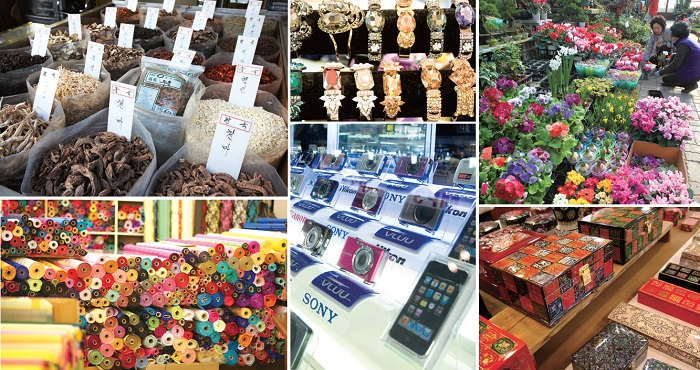 New Markets and New Ideas

Not all markets in Korea fit the traditional mold. Combining old and new, farmers' markets have been springing up to help small-scale and organic farmers bring their produce directly to urban consumers. These farmers also often join forces with artisan food producers, craftspeople and artists to create a neighborhood market. There is the Marché held in Seoul's Daehangno district, the weekly combined citizens' flea and farmer's market in Gwanghwamun Square, and the Hongdae Free Market. The latter requires vendors to only sell original, handmade pieces, letting people meet the artist directly and learn about the creative process. This invaluable connection between maker and consumer helps customers understand the real value of what they buy, while makers find joy in knowing the things they have worked so hard to produce will be appreciated. The IT sector has stepped up to make traditional markets more accessible and efficient. KT sent out teams to help train merchants in social media, to extend their presence online. They also help vendors manage supplies using smartphones and bring their technology up to date so they can compete with large retailers. Some markets have started using touch-screen displays to help people find their way around. Apps like "Our Charming Market" help people find what's available at their local traditional markets, provides notifications about upcoming events and specials, keeps track of points from merchants that can be redeemed for discounts and can even be used to arrange for home delivery.

Traditional markets aren't just a part of Korea's history, but a vibrant and particular part of the present and future. They tie together traditional culture and experiences with people's modern lives, while also tying individuals and communities together. To visit a market is to get a real sense of people's daily lives and to truly inhale the scent of humanity.

* Article from Korea Magazine (July 2014)[/vc_column_text][/vc_column][/vc_row]