'Cultural Partners' bridge different cultures
On July 12, all spotlight was focused on a group of international musicians as they started playing unfamiliar, exotic musical instruments on a domestic stage. 

Their instruments, including Uzbekistan's stringed gijjak, similar to a violin, Mongolia's morin khuur, a violin-sized string instrument, the Nigerian sekere, a type of shaker and bata drum, a double-headed hourglass-shaped drum, created one united, harmonious sound. 

The musicians were invited to Korea, as part of the Cultural Partnership Initiative (CPI), a cultural exchange program launched by the Ministry of Culture, Sports and Tourism (MCST).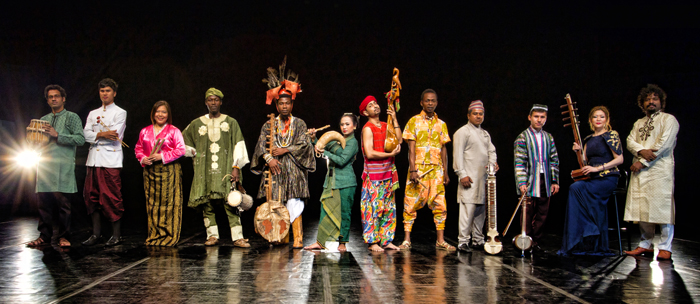 The National Theater of Korea brought together those 12 musicians from 11 countries, Bangladesh, Cambodia, Indonesia, Mongolia, Nepal, Pakistan, the Philippines, Uzbekistan, Congo, Ghana and Nigeria, last month. 

Consisting of traditional players, musical directors and music professors, the so-called "cultural partners" will stay here for five months and learn how to play traditional Korean instruments. They will introduce their own music to the domestic audience, too. 

This year's program, in particular, takes the participants to middle and high schools in major cities across the nation, where they will introduce their native traditional music to young students. In September, they will show off their playing skills at a special concert set to be held in Gwangju. They will continue to take part in the two biggest festivals in October, the Jeonju International Sori Festival in Jeonju, Jeollabuk-do (North Jeolla Province) and the Seoul Arirang Festival in Seoul. 



The Korea National University of Arts (K-Arts), too, has joined in on this year's CPI project, by inviting three experts, two from China and one from Bangladesh: Cui Yun Peng, who teaches animated and digital content at the Communication University of China; Chan Yee Man, a former CEO of the City Contemporary Dance Company of Hong Kong; and lastly, Abdus Sattar, a professor in painting at Dhaka University in Bangladesh. 

The three will take part in a variety of programs that focus on expanding their expertise and giving them a glimpse of the university's system and curriculum. Cui Yun Peng, one of the participants, will undertake training in illustration and animation at the university and will herself give a lecture to the students. He will also help develop a 3D animation game on the theme of "the life of a Korean guy." 

Chan Yee Man will participate in a project to publish an illustration book that portrays many aspects of the city of Seoul. Abdus Sattar, meanwhile, will explore the education system and curriculum of the department of fine arts at the K-Arts' School of Visual Arts. In November, he will also hold a solo exhibition. 

The roughly five-month schedule for the trio does not focus only on academic things. They will have the opportunity to experience Korea's culture and arts, as well.

"Through this program, I hope to explore a variety of content that gives the essence of Korean culture, not just K-pop or K-drama that have swept across my home country now," said Chan Yee Man. "I'd like to experience the 'real Korea,' by hitting little-known corners across the city, and traditional markets and by meeting Korean people to hear their real stories, not just its popular culture and tourist spots." 




Other organizations, too, such as the Korea Copyright Commission, the Korea Cultural Heritage Foundation and Kukkiwon, or the World Taekwondo Headquarters, have brought home "cultural partners" from other countries to help them share their culture with their Korean counterparts and learn more in their field. 

By Sohn JiAe
Korea.net Staff Writer
jiae5853@korea.kr