Modern artworks manifest 'fullness in emptiness' in Shanghai
An array of monochromatic paintings have been flown from Korea and hung at the Shanghai Oil Painting and Sculpture Institute (SPSI) Art Museum, in Changning District, Shanghai. Nearby, moon-shaped jars put on airs of elegance. 
It's a scene from the "Fullness in Emptiness: Material and Spiritual Properties in Korea's Modern Art" exhibition that kicked off on June 27. 
Hosted by the Korean Cultural Center, Shanghai, the special exhibition spotlights the artistic and aesthetic properties of Korean-style monochromes and moon jars, jars based on the tradition and style of white porcelain jars from the Joseon Dynasty (1392-1910). 
A total of 79 paintings on exhibit are creations by 11 painters including the late Kwon Young-woo, Kim Taek-sang and Moon Beom. The featured moon jars are by five artists including Kwon Dae-seop and Kim Ik-young. 
Monochrome is an abstract painting method using only one color or the shades of one color. Moon jars, meanwhile, embody "the beauty of space" and are without any patterns on them. 
Both have limited colors, shades or hues and embrace "paradoxical" aesthetics in "filling up by emptying out."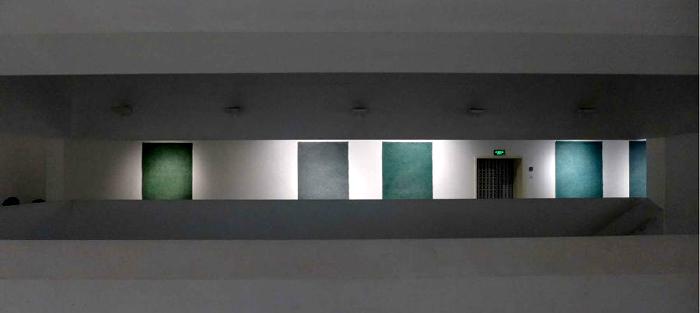 The three-week exhibition has garnered a variety of reactions from local museum-goers: "They seem so simple, but up close, they are not," "These paintings show brushworks that could only be earned after years of training," "They seem to express the painters' spirits metaphorically," and "Korea has a lot more than just K-pop or K-food." 
"You might think that the paintings and the jars look too simple and too monotonous, but as you take more time to appreciate them, you will get to know that there is something in them, something that is right from the spirits of the artists," said the director of the SPSI Art Museum. "Such spirit of art embedded in the artifacts here leaves the viewers in a peaceful state of mind." 
The show will continue until July 18 and then move to Beijing, Hungary, Poland and Germany, to meet a wider worldwide audience. 
By Sohn JiAe
Korea.net Staff Writer
jiae5853@korea.kr