Digital comics recognized for speed, technology
These days, most students encountered during the morning commute are seen busy with their smartphones. They are reading online comic strips, or "webtoons," comics updated online in real time. They have to finish today's strip before they meet their friends because it is one of the major topics of daily conversation. 
The same applies to adults, too. Recently, a number of online comic strips have won popularity among office workers, such as "Misaeng" and "Gauss Electric." The cartoons touched a chord in their readers by portraying the agony and difficulties of white-collar office workers.
With its explosive popularity, reading online comic strips on the way to and from work has become a new fad among the city's millions.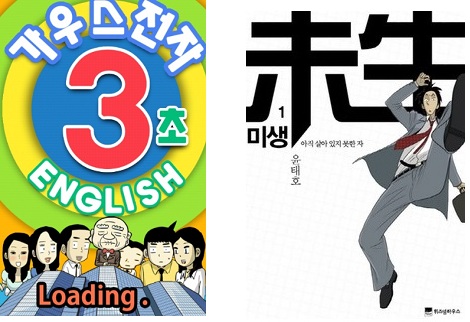 Today, society is wild with its love for webtoons. Naver, Korea's largest search engine, attracts the largest number of webtoon fans, clocking in at 6.2 million readers daily and 17 million readers per month. Naver Webtoon has provided online comic strips for over a decade, since June 2004. Over the years, it has tightened its publishing prerequisites, too, for instance making it a rule that the content be updated on specific dates of every week. Another tweak to the software allows readers to post their own creations. 
Today, there are nearly 520 separate online comic strips posted in the search engine's webtoon section. 
Behind the decade-long popularity of webtoons is more than just the large number of postings and constructive storylines. The publishing speed and the combination of traditional art and technology in producing the comics have also played a key role in their recognition and acclaim. Domestic portal companies are now challenging themselves to make inroads into global markets with these popular comics.
Tapas Media CEO Kim Chang-won said, "Both cartoonists and international readers are impressed by the speed of Korean webtoons. They look astonished at seeing Korean cartoonists producing a weekly edition, each with more than 70 panels." In fact, constant updates is one of the most sought after elements by online cartoon fans. It can possibly be translated into global success for Korea's webtoons. 
On June 23, Radio France Internationale (RFI) shone the spotlight on an exhibition titled "All Webtoon," hosted by the National Library of Korea from May 27 to August 24. RFI pointed out that the key element to Korea's digital comic success is the excellent Internet infrastructure and the higher rate of smartphone penetration across the nation. 
Speedy Internet and advanced online technology allows readers to scroll down to see the comic. On many other platforms, readers have to flip the page of the digital cartoon, from left to right, due to low connection speeds. Scrolling down, indeed, can offer more curiosity and excitement. Including not only vertical scroll-downs, webtoons have a lot of appeal to global comic fans, including Flash animations and coloring.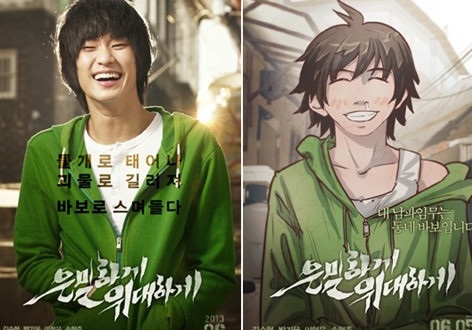 Already, Korean webtoons have received a lot of attention across the globe. Last October, Naver Webtoon had an exhibition on the sidelines of the Frankfurt Book Fair in Germany. It attracted more than 20,000 visitors and several dozens of firms are now interested in publication rights for some of Naver's comic strips. 
This July, Naver launched LineToon, a service that combines webtoons and chat, using Naver's in-house chat program "Line," a communication app that allows customers to make free voice calls and text messages. Naver also plans to make inroads into markets in North America, in partnership with Tapas Media, which is based in the U.S. To make it happen, Naver has been studying popular genres and cultural features of each target market. 
The Korean government, too, works to promote the webtoon industry. It recently announced a long-term plan to help develop and promote such creative industries, scheduled to roll out from 2014 to 2018.
In sum, webtoons are something that can create higher commercial value. In addition to the storyline and dialogue of the cartoon, other business lines such as model figurines, movies and soap operas can also be developed. Such "One Source Multi-Use" creative properties are the life-blood for many comic strip artists and designers. 
With a strong foundation of ten years and growing, we can now see the influence of webtoons spreading across the rest of the creative industries.
By Lee Jeong-rok, Lee Seung-ah 
Korea.net Staff Writers 
jeongrok@korea.kr