World Cup host Brazil rocks with K-pop
Brazil, host of the 2014 FIFA World Cup, danced the night away with a K-pop performance on June 8. Some 15,000 fans crowded the HSBC Stadium in Rio de Janeiro to watch the "Music Bank in Brazil" concert, organized by KBS. 
Joon, from the boy band MBLAQ, and Jung Yong-hwa, of CNBLUE, emceed the show, introducing the K-pop stars one by one. Fans cheered and waved their light sticks and held aloft the Brazilian national flag and the Taegeukgi, the Korean national flag. Stars like B.A.P, CNBLUE, Infinite, Ailee, M.I.B, MBLAQ and SHINee all performed on stage, one after the other, in front of the screaming fans. The background featured giant screens showing the 32 national flags of the countries taking part in the World Cup.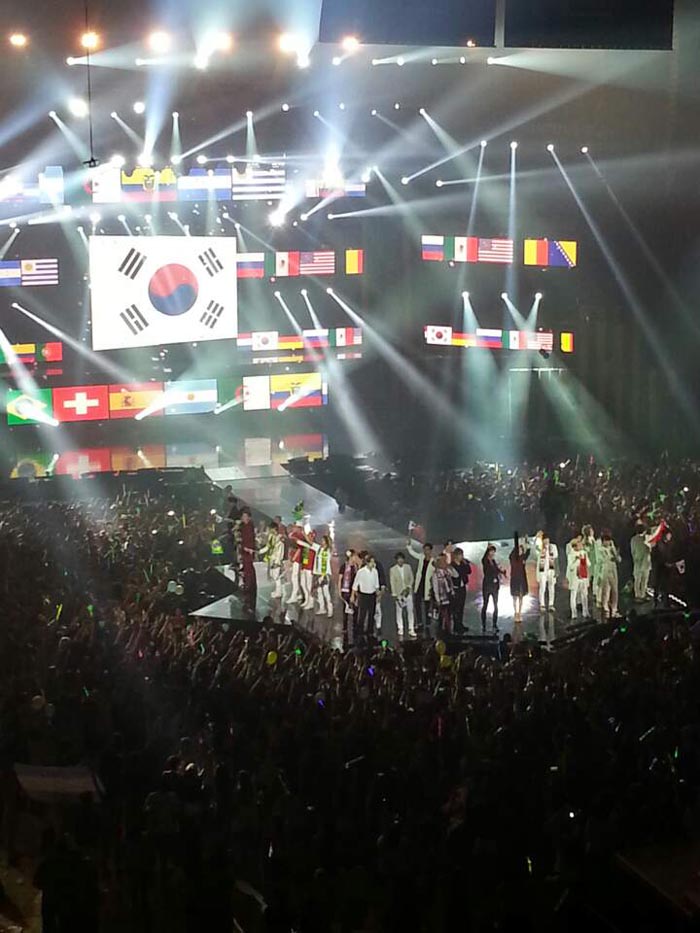 B.A.P, a six-member boy band, was first to take to the stage. They sang their hit song "1004" and danced their signature hip hop moves. "It is nice to see the faces of Latin American fans up close," said the band. They finished with "One Shot." 
Ailee, the only female performer in the concert, wore golden hot pants and sang "Aquarela do Brasil," showing off once again her explosive voice. 
Infinite, another boy band, were neatly clad in white and showcased an almost perfect group dance as they sang their songs. When the boy band appeared on stage, fans were in tears and held their Korean-language banners high. The crowd sang along with Infinite, showing their love for their favorite group. 
In the middle of the concert, all the stars came on stage and sang a bossa nova medley. They also gave away soccer balls to the fans and delivered a message of support for a successful hosting of the World Cup. 
Fans cried out for their favorite group and sang along in Korean, as they started a wave around the stadium. Some fans wore the Korean national soccer team's jersey. There were even a few families in the audience, showing K-pop's cross-generational appeal. 
SHINee, clad in black and white, owned the stage as they sang their hits "Lucifer" and "Why So Serious."
For the finale, all the stars came on stage and sang "Run To You," closing the three-hour concert.
Over 1,000 fans waited in line for hours before the concert. Some particularly enthusiastic fans slept near the HSBC Stadium for a few days before the concert. Many fans flew several hours, from cities like Manaus or Fortaleza, to see the concert, and there were audience members from neighboring countries, like Peru, Argentina and Chile, too. 
Brazil's biggest media outlet, Globo, and others reported on the event and the "Music Bank in Brazil" concert will be transmitted to 114 nations across the world during the World Cup. 
By Limb Jae-un
Korea.net Staff Writer 
jun2@korea.kr