Evolution of libraries highlights values of books
Libraries are in transformation. From a library open around the clock to one specialized in travel books, new types of libraries are opening up across Korea.
The Forest of Wisdom library, which will open in Paju, Gyeonggi-do (Gyeonggi Province), on June 19, and the Hyundai Card Travel Library in Cheongdam-dong, southern Seoul, are leading the library's evolution. These two libraries awaken readers to the value of books, the cradle of wisdom, in an era of overflowing information from the Internet and smartphones.
The Forest of Wisdom library, located in the Asia Publication Culture and Information Center in Paju, has 3.1 kilometers of bookshelves, one following after the other. Books are densely packed, up to the ceiling, in a total floor space of 86,000 square meters, creating a forest of books. Bookshelves of different shapes and colors hold not only sleek new books but also well-thumbed, decades-old editions.
The library ultimately aims to store 1 million books. It has secured 500,000 books and 200,000 of them are already on the bookshelves. These books are donations from local publishing companies, including Gimmyoung Publishers, Minumsa and the Munhakdongnae Publishing Group, as well as 24 individuals, including Seoul National University professor Lim Hyun-chin. Large bookstores, research institutions and museums, including the National Museum of Korea, the Academy of Korean Studies, the Institution for the Translation of Korean Classics, the Advanced Center for Korean Studies and the Kyujanggak Institute for Korean Studies, also donated books.
Books are sorted by publisher in a manner so that many books, including timeless collections from certain publishers, are located in a single section. The individual donor sections show the donor's taste and life history and allow a peek into their old study. There are not only Korean language books, but also high quality Chinese, Japanese and English books.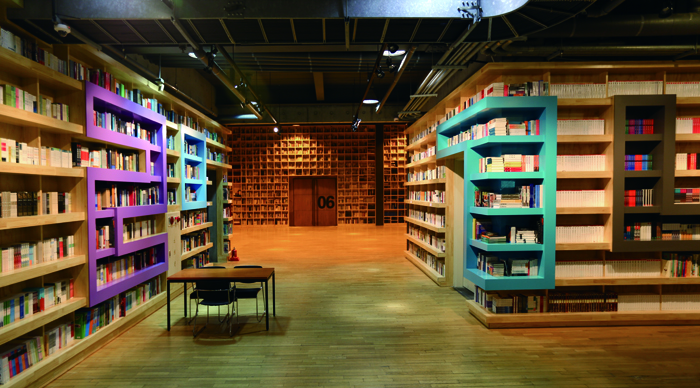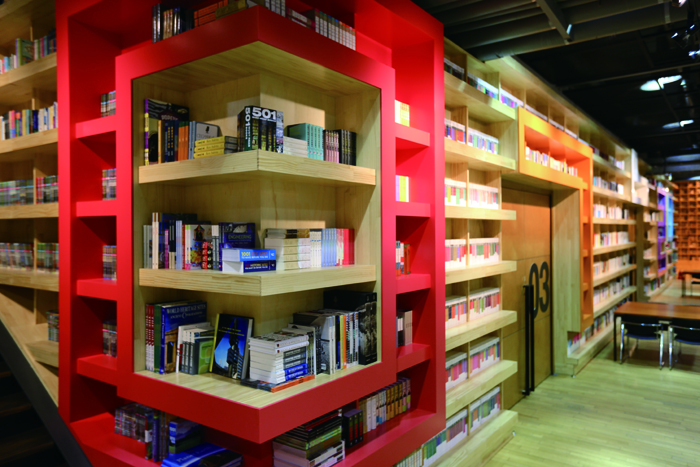 What is peculiar about the library is that it aims to be open 24 hours a day, or, "as long as there are readers." Unlike other libraries, its books are not sorted in the normal method for catalogue searches. The Forest of Wisdom encourages visitors to wander around and to meet new adventures. The library also has librarians who introduce and recommend books and different sections according to the reader's tastes and interests. Visitors can select and read a book at their leisure, but they cannot borrow them. The library is preparing various kinds of other programs, including lectures, exhibitions and performances.
"The Forest of Wisdom library is designed to prolong the life of books in the midst of the print media crisis and will be a tool to promote readership," said an official from the Bookcity Culture Foundation.
To reach the Forest of Wisdom library, take bus No. 2200 from the bus stop outside of exit No. 2 of Hapjeong Station, on Lines 2 and 6. 
For more information, visit the Bookcity Culture Foundation homepage (www.pajubookcity.org/english/) or call at 031-955-0050 
The Hyundai Travel Library
The Hyundai Travel Library, which opened in Cheongdam-dong, southern Seoul, on May 19, provides the thrill of travel and the different points of view found around the world. This is not only a place where people can gather information, but they can also find a tourist destination itself or come across an unknown world. 
There are 14,761 travel books arranged as unconventionally as its interior. Books are sorted into 13 different themes and regions. The themes include Art and Architecture, Adventure and Travel Photos, and the regions are divided into 196 countries.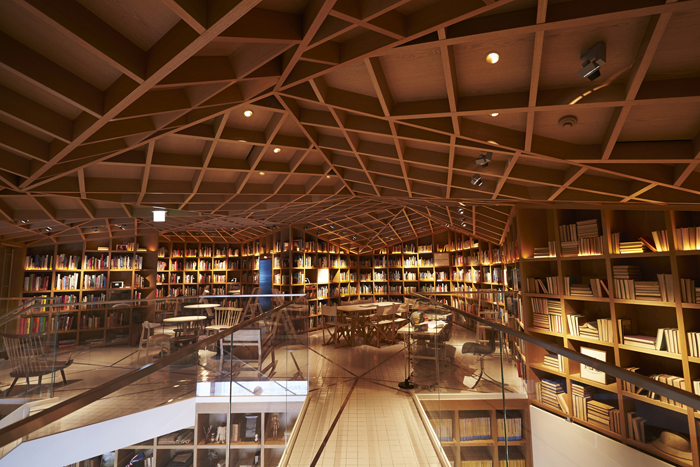 It took over a year for the four book curators, including professional travelers and editors, to form the vast collection. The library has the entire collection of National Geographic magazines, which has 126 years of history, and the Imago Mundi international journal for cartography. There are also museum books showing the latest trends in contemporary museums from across the world, and many copies of world literature written by literary giants, through which people can learn about different cultures. For example, for those who are interested in architecture, the library has copies of "1000x Architecture of the Americas," "Paris Vertical," and "Gaudi Pop-ups." There are also 111 different language dictionaries and maps of 90 major cities from around the world.
The interior and atmosphere of the library itself is phenomenal. The unique interior was designed by Masamichi Katayama, known for designing the Uniqlo Store in the Soho District, New York. The bookshelves, made with acrylic and wood, change every hour according to natural light and continue through the first and second floors. The spiral stairway that connects the first and second floors is covered with white tiles. The ceiling is made of wooden panels shaped like bookshelves, to make the whole place look like a cave of bookshelves.
There are many distinctive decorations and objects in every corner of the library. There are antiques, including a flight information board, a globe and animal-shaped chairs made in Africa.
"With its unique space, the library, situated in a trendy commercial district, can suggest the idea of travelling, by which people meet new adventures," said a Hyundai Card manager. "With an overflow of data, people can now quickly find information, but there are fewer chances to find inspiration. I hope that people can find new discoveries and get inspired by reading the books at their fingertips without haste."
The library does not allow visitors to borrow or copy books, only to buy them. Also, only holders of a Hyundai credit card can enter the library. To reach the library, get off at Apgujeong Rodeo Station on the Bundang Line, exit No. 4, and walk 300 meters straight before turning left onto the Seolleung-ro 152 alley.
For more information, please visit the Hyundai Card Library homepage (https://library.hyundaicard.com/main.hdc) or call at 02-3485-5509.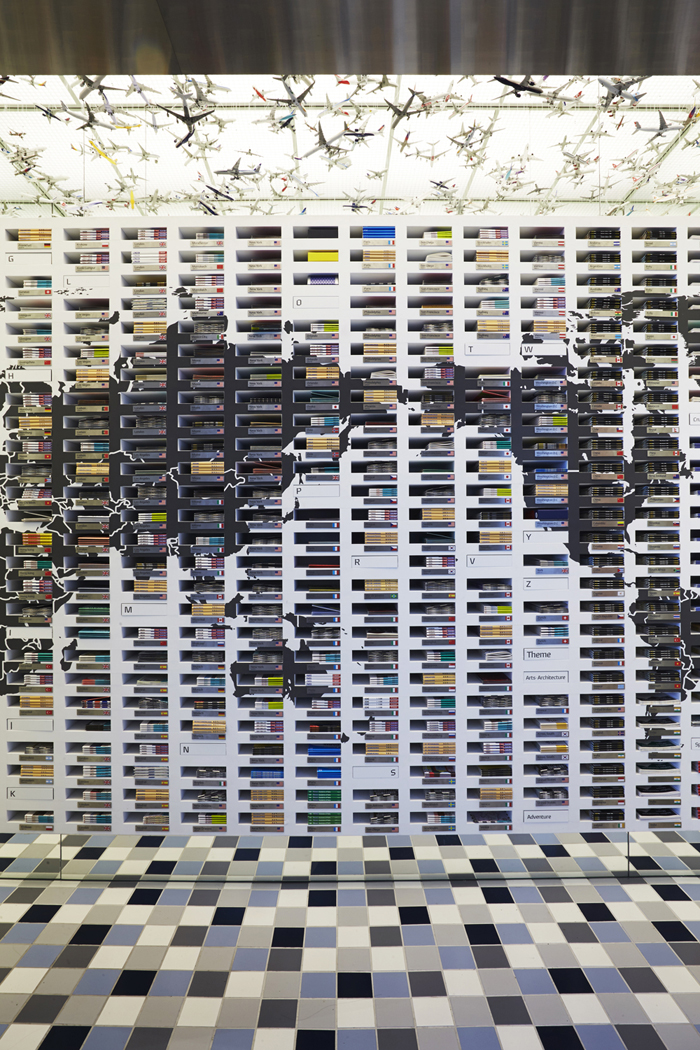 By Limb Jae-un
Korea.net Staff Writer 
jun2@korea.kr