Yangban Gim(양반김): from side dish to snack
When it comes to staple side dishes on the Korean table, many people would think of kimchi. There is, however, another side dish that appears on tables as frequently as kimchi. It's seasoned gim, a type of laver, or edible seaweed. The dish, only appearing in East Asian cuisine, is salty and has a crunchy texture.
To produce seasoned laver, the ocean plant has to go through a process of being dried and then roasted with salt and sesame oil.
As seasoned laver has won more and more popularity over recent years, a growing number of tourists are seen purchasing packets of laver in Korea on their way home. Many people are likely to see the side dish as a healthy "marine snack," low in calories and high in nutrients.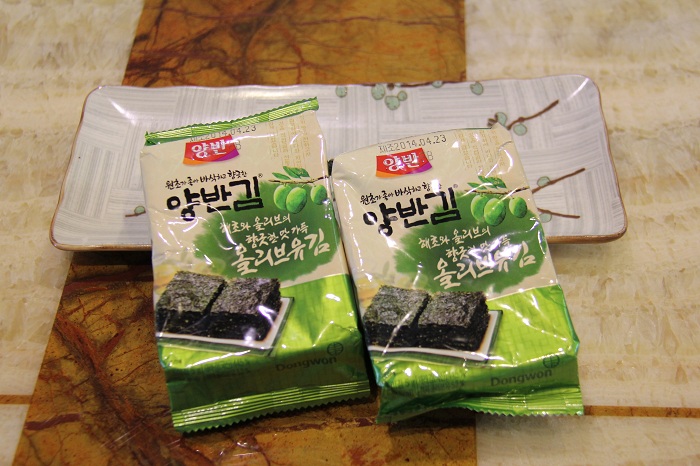 The history of edible laver dates back some 1,800 years. The first historical record about consuming seaweed is in the "Samgukyusa," or the, "Memorabilia of the Three Kingdoms," particularly the section that tells the tale of Yeon-o-rang and Se-o-nyeo. Yeon-o-rang, it is said, went out to sea to gather some seaweed. 
The export of packaged laver, however, is not as old. In 1989, Dongwon F&B, a food processor, released its line of Yangban Gim packaged laver, with a traditional roof tile motif and Korea's traditional garment, hanbok, on the packaging. It was the first attempt in the industry to commercialize packaged and processed seasoned laver. 
Laver is both nutritional and healthy. It contains nearly 40 percent of the recommended daily intake of protein and is also rich in fiber, potassium and vitamins A, B and C. It has almost zero fat content. In addition, it has eight types of amino acids, including taurine and alanine, effective in helping children grow as well as in preventing some adult diseases.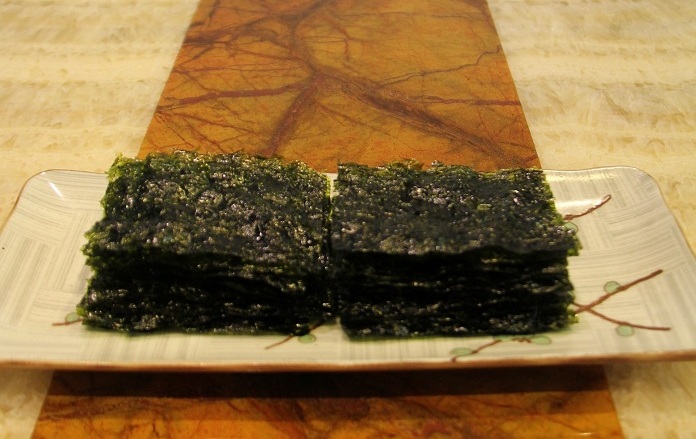 As its high nutritional value is widely known, and as overseas sales have risen, Dongwon's marketing strategy has also become more specific. The food company rolled out black pepper, bulgogi and garlic flavors in the Japanese market, winning popularity beyond its expectations. Today, Yangban Gim accounts for 30 percent of the Japanese seasoned laver market, and it is rapidly becoming a sought-after dish. Moreover, Dongwon established a marketing tie-up with Asahi Breweries to produce two more flavors of laver: kimchi and wasabi. The two additional options, a little spicier than previous ones, are beloved and are considered to be the perfect snack to go with a beer. The spicy seaweed is now going global, with exports to Russia, Thailand, Mongolia, Vietnam and Singapore. 
For Chinese and Southeast Asian markets that are not accustomed to the mixture of laver and rice, Dongwon has come up with another option: Kimmy. Marketed as a snack rather than as a side dish, Dongwon has reduced the amount of salt and enhanced the crispiness of its new Kimmy line of seasoned laver. 
In 2011, markets in the U.S. and Canada saw a new brand of laver, Sea Veggies, available in three different flavors: original, pepper and chili. With its nutritional quality, crunchy texture and low calories, the seaweed snack has attracted parents who are concerned about the health of their children. 
The growing popularity of seasoned laver has resulted in more partnerships for Dongwon in the U.S. Since earlier this year, Sea Veggies has been easily available on the shelves of 2,700 Kroger Group stores and 3,000 Ralphs locations.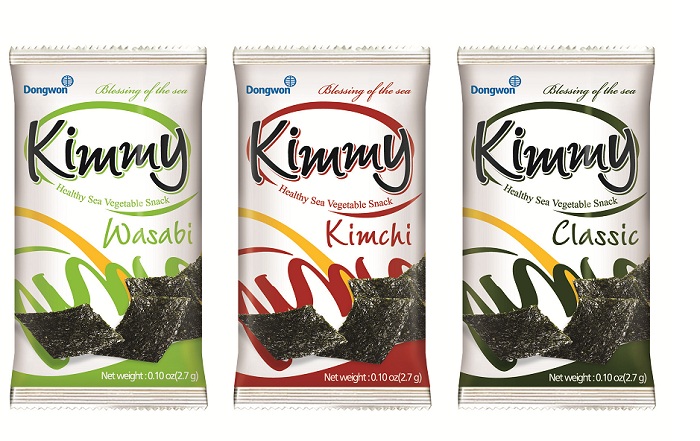 In regard to the merits of Dongwon's Yangban Gim, its main brand of seasoned laver in the domestic market, a representative of the company said, "It is a strict rule of the company that we purchase high quality seaweed, grown in pristine sea waters and harvested during the peak of the season." In fact, the company employs an official seaweed taster, with more than two decades of experience in inspecting and managing the quality of the sea plant the company purchases. Every year, he visits every laver factory across the nation after harvest season.
"Roasting the laver two times is another one of Dongwon's strategies to enhance the taste. We make the most of our quality control systems, including a metal detector, a weight grader and debris filters," explained the spokesperson. 
Of all the products that Korea exports, Yangban Gim is one of the top-three niche players that take the largest share of the global market in its product category. It has also been selected by the Ministry of Trade, Industry and Energy as one of the 100 best-selling Korean products over the past decade. 
More information about packaged laver is available at the Dongwon homepage.
https://www.dongwonfnb.co.kr/english/index.htm 
By Lee Seung-ah
Korea.net Staff Writer
slee27@korea.kr