Korea, Uruguay mark 50th anniversary of friendship
Korea and Uruguay hosted their fifth Joint Economic Commission on May 13 in Seoul in commemoration of this year's 50th anniversary of bilateral diplomatic relations. This year's commission was attended by Second Vice Foreign Minister Cho Tae-yul and his Uruguayan counterpart, Luis Porto. 
The two ministers noted at the meeting that bilateral trade and investment between their two countries has been growing on a steady basis, and they pledged to further expand such business activities by taking advantage of their potential for complementary economic cooperation.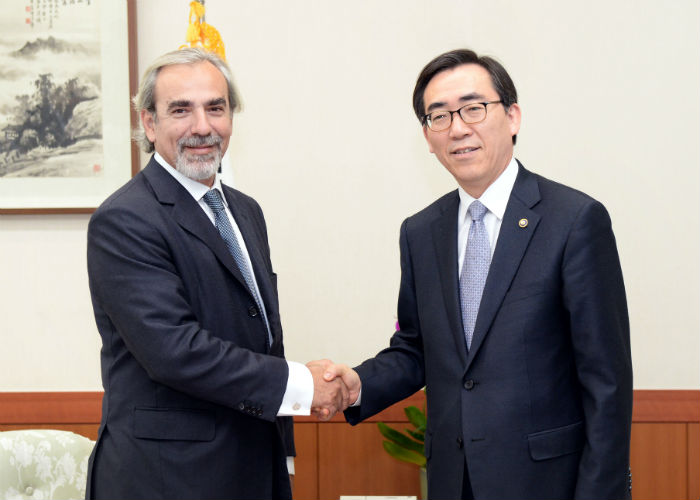 Vice Minister Cho praised the efforts of Korean companies working on energy infrastructure construction projects in Uruguay, including the building of combined cycle power plants and LNG storage facilities. Based on such achievements, he hoped to further strengthen their mutually-beneficial economic cooperation. In response, Vice Minister Porto hoped to see more active participation from Korean companies in harbor development and the shipbuilding industry, areas in which the Uruguayan government is actively working. 
Vice Minister Porto expressed his satisfaction on the resumption of Uruguayan beef exports to Korea last year and offered to further strengthen government support to expand such bilateral exchanges. He also proposed to increase bilateral cooperation in information and communications technology, bio-industry and aerospace information, in a bid to promote the development of Uruguay's science and technology sector. In line with this, he proposed more exchanges between experts and students and the sharing of training programs. 
In addition, the two sides agreed to hold a wide variety of cultural programs and events this year to mark the 50th anniversary of their diplomatic friendship, to enhance mutual understanding between the people of the two countries and to promote bilateral exchanges. They also exchanged opinions on regional and international situations and decided to solidify their bilateral cooperation on the international stage. 
As part of the upcoming cultural events, Uruguayan performance troupes gave performances on May 14 and 15 at the National Theater of Korea and at Duksung Women's University, respectively. Vice Minister Cho expressed his gratitude for the efforts of the Uruguayan government to celebrate the occasion. Korean troupes will leave for Uruguay to visit San Jose as well as the capital Montevideo, to perform on May 27 traditional gukak, taekwondo and modern b-boy dances. 
By Lee Seung-ah
Korea.net Staff Writer 
slee27@korea.kr