Der Spiegel highlights K-pop
The German magazine Der Spiegel has shone its spotlight on K-pop and Korean hip hop and pop culture. In a three-page April 28 article, "Soundtrack eines Wunders," or "Soundtrack of a miracle," the magazine reported that stars like Girls' Generation and PSY are sweeping Asia and that Korea now holds an important place in the world's pop culture scene. 
The article elaborated that for many years, hip hop and pop music was something that was produced in the West, especially in the U.S. and Britain, and was a sub-cultural extension of Anglo-American power. Every country has its own pop, but the common language was English. Then, however, the German weekly noted that Korean hip hop and pop music is made in the Korean language and that it has been enjoying huge popularity across Asia. 
"The world map of pop is changing rapidly… All of this is happening across the world, probably nowhere as much as in Asia. Japan and China have one thing in common: the youth loves Korean pop music," the magazine wrote. 
The magazine also mentioned the huge international success of PSY's dance sensation "Gangnam Style," whose music video on PSY's official YouTube channel has received almost 2 billion hits so far. "From the West's point of view, this mocking song came to life out of nowhere. In fact, Korea has built one of the most successful cultural industries in the world. Still dozens of other stars are waiting behind PSY and Girls' Generation," it reported.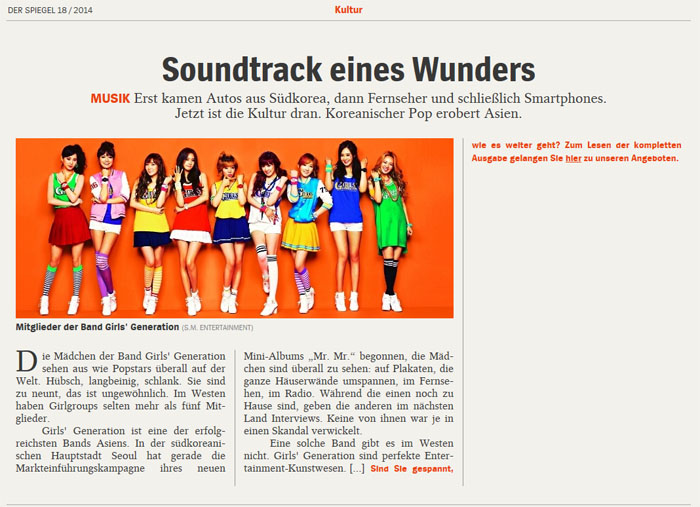 The magazine wrote that South Korea today still stands in the media shadow of its cousin to the north. It wrote that the country had been known for hosting the 1988 Summer Olympics in Seoul and the FIFA World Cup Korea-Japan in 2002, and for exporting cars, televisions and phones, but that South Korea is now seen in a new light as Korean hip hop and pop music has started to grab the world's attention, launching the hallyu, or Korean wave. 
"The Korean wave started with television dramas in the late 1990s and spread to China, India and Latin America. Then came K-pop," it reported. 
The magazine had an in-depth analysis of the Korean pop industry. It wrote that the Korean music scene has both Eastern and Western cultural elements, as well as influences from American hip-hop and European dance and house music. It also said that K-pop producers are following the latest trend and are even asking Swedish musicians to compose new songs for them. 
Der Spiegel explained that Korea has a high Internet and smartphone penetration rate and that this is also shaping the world of mainstream music. "Music is downloaded and streamed. Its medium is the smartphone, which works well in a country like South Korea, as it has one of the best network coverages in the world," the magazine wrote. "Music videos are also produced and K-pop is visualized on a scale that was common in Western pop in the 1990s, at the height of the power of music television. In the music video, the stars often change costumes and dance in a fantasy landscape." 
The magazine interviewed Minister of Culture, Sports and Tourism Yoo Jinryong and JYP Entertainment CEO Park Jin-young and wrote that much mass-produced popular music in Korea contains a message of success, as reflected in Korea's successful economic development. The message is heard not only in television dramas, but also in many hip hop and pop songs, it wrote. 
Finally, the article said that the worldwide success of PSY's "Gangnam Style," a song that is not typical of the industry, is attributed to the singer's loving clownishness and his rebellious character, and that the perfect, overly beautiful and customized Girls' Generation may be still a bit hard for Westerners to fully embrace. 
By Limb Jae-un 
Korea.net Staff Writer 
jun2@korea.kr