Royal flower artistry comes to life
During the Joseon era (1392-1910), the royal court never plucked any real flowers to decorate their feasts. Instead, they created artificial silk flowers, or chaehwa.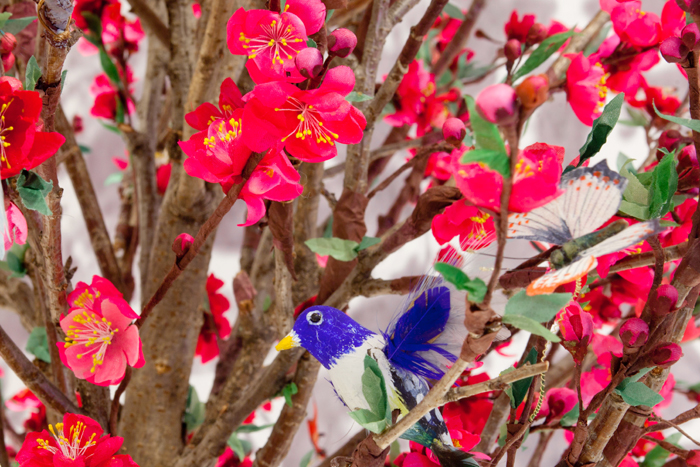 Royal silk flowers, or chaehwa, are used to decorate court events during the Joseon era. (photo courtesy of the National Palace Museum of Korea)
An array of royal flower decorations can now be appreciated at the National Palace Museum of Korea at Gyeongbokgung Palace in Seoul. Such Joseon artistry varies in shape, from peonies and apricot flowers to even butterflies, bees and birds. It is believed that ice or paper was also used to create such artworks, especially in summer. 
All the majestic flowers on display at the museum were hand-crafted by Hwang Suro, a master of making royal silk flowers. The artisan has brought back to life court flower artistry in a sophisticated manner, particularly focusing on the flowers that decorated the palace back in 1829.
That year, a huge banquet was held to mark the 30th anniversary of the 23rd Joseon monarch King Sunjo's (1790-1834) accession to the throne, and at the same time the king's 40th birthday. 
"Although a variety of flowers was present around Joseon era palaces, the residents there would never pick them," said the artisan. "As they respected every form of life, the court instead made artificial flowers utilizing a variety of natural materials."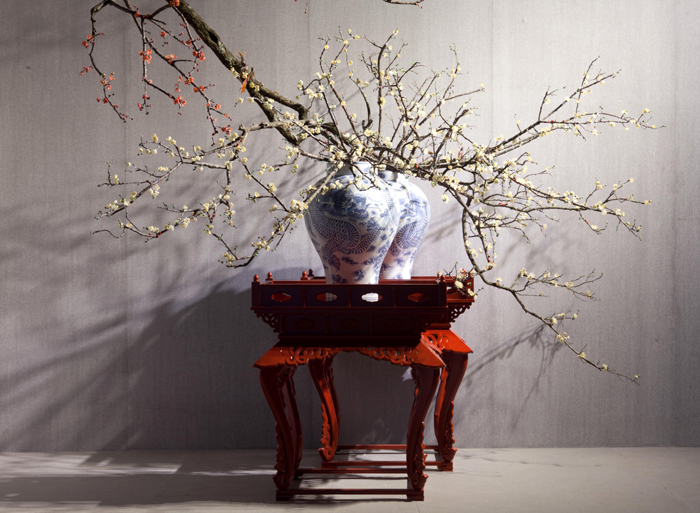 The rebirth of wax-made apricot flowers as used during Joseon era royal events. (photo courtesy of the National Palace Museum of Korea)
Among the exhibits on display are vases of apricot flowers made from melted wax, made in the same style in which the royal courts created the flowers to decorate a feast for a current or former official. Each petal was dyed to look like a real one. This fabrication is known to have been created and appreciated by the literati, as well as by the royal family. 
Also, a bountiful banquet set for a prince comes to life in paper. Varied dishes displayed on a table are adorned with silk-made flowers. Each branch of the fabricated flowers, some of which are lotuses made of paper, stick out from the food, beautifying the table as a whole. 
"This exhibition will be a rare look at the flower artistry found at a feast from the Joseon era, where you can get an aesthetic appreciation of the ancestors' spirits and their artistic sense," said an official from the National Palace Museum of Korea.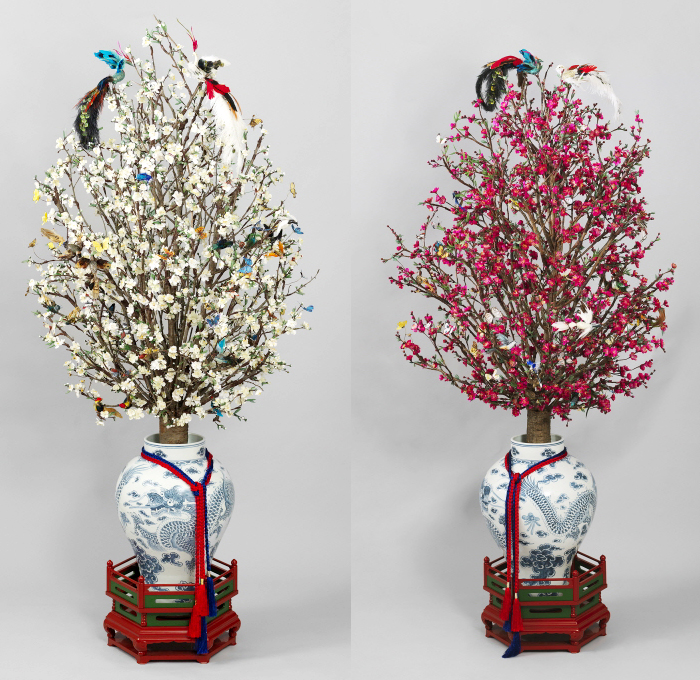 A recreation of the royal flowers, hand-crafted with silk, that were placed at the side of the front pillars of the palace during court feasts. (photo courtesy of the National Palace Museum of Korea)
The exhibition lasts until April 25 and entry is free. 
By Sohn JiAe
Korea.net Staff Writer
jiae5853@korea.kr