Korea, Australia to strengthen cooperation on trade, security
President Park Geun-hye held summit talks with Australian Prime Minister Tony Abbott on April 8 at Cheong Wa Dae. The two leaders shared their in-depth opinions about common issues of interest, such as the free trade agreement (FTA) and the security condition on the Korean Peninsula and across Northeast Asia. This is the second summit between the two leaders. After the summit, they adopted a vision statement. Titled as the "Vision Statement on a Secure, Peaceful and Prosperous Future between the Republic of Korea and Australia," it contains 22 clauses and sets a new milestone in the future direction of diplomatic cooperation between Korea and Australia. 
In the statement, the two leaders expressed their will to closely cooperate on joint responses to various security challenges and discussed a blueprint for cooperation in security and defense. They agreed to strengthen cooperation in regional security forums through the East Asia Summit and the ASEAN Defence Ministers Meeting (ADMM) and to make an effort toward joint Korea-Australia cooperation.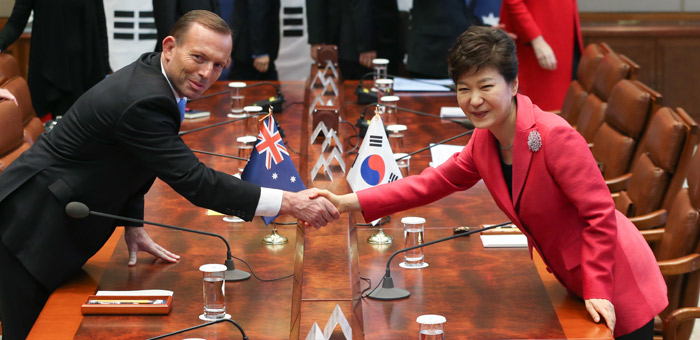 Both leaders also agreed to bolster cooperation on deregulation, the non-proliferation of weapons of mass destruction, cyberspace and security and peace keeping operations. They further agreed to substantially boost cooperation on national defense, especially in the areas of ocean security, humanitarian aid and disaster relief. President Park and Prime Minister Abbott also agreed to review the signing of a memorandum of understanding (MOU) to expand cooperation on national defense and to enhance cooperation on defense science technology and the defense industry. 
In regard to North Korean issues, President Park said, "Both of us clearly reaffirmed that North Korea's nuclear weapons program is unacceptable and poses a grave threat to international peace and security, as well as peace and security on the Korean Peninsula. I explained to Prime Minister Abbott that cooperation and support from the international community is essential if Seoul is to open an era in which we can move toward peaceful unification. Prime Minister Abbott expressed his strong support for Seoul's vision of unification and its North Korean policy." 
Prime Minister Abbott valued the fact that the Korea-Australia FTA is the first FTA signed by the Park Geun-hye administration and that his administration highly values the free trade pact. The Australian leader said that freer trade will benefit both countries and generate more jobs, which will improve the friendly relations. He said that the Korea-Australia FTA would be very important in further deepening and strengthening the already-strong economic bond. 
after holding the Korea-Australia summit. (photo: Cheong Wa Dae)
The Australian leader said that he views bilateral relations as being greater than just an economic relationship, and that friendly relations can be possible only on the basis of shared values. For this reason, he expressed his gladness that the Korean government will participate in the New Colombo Plan starting next year. The New Colombo Plan supports Australian university students who are studying in countries across the Asia-Pacific region, helping them to boost their understanding and knowledge about Asia and become regional experts. 
By Wi Tack-whan, Yoon Sojung 
Korea.net Staff Writers 
whan23@korea.kr