Traditional crafts showcased in Milan
A modern reinterpretation of traditional Korean crafts will be showcased in Milan, Italy. The "Constancy & Change in Korean Traditional Craft 2014″ exhibition will take place at the Triennale di Milano, a design museum, over six days starting April 8. This is the second such exhibition since a similar event was held in the same venue last year. It features 174 pieces of metal, mother-of-pearl, textile, ceramic and hanji, traditional handmade mulberry tree paper, crafted by 21 master artisans. 
This year's exhibition is much bigger than last year's and covers more refined and at the same time broader themes. The five different types of traditional crafts demonstrate simple and minimalistic beauty created with the use of traditional and environmentally friendly materials. 
174 metal, mother-of-pearl, ceramic, textile and hanji crafts to be shown 
In ceramics, Lee Kang-hyo's buncheong ware, a grayish blue powdered celadon, and Lee Gee-jo's white porcelain will be displayed. Buncheong ware and white porcelain may look unrefined at first glance, but give a feeling of antiqueness and humbleness. Buncheong ware features geometrical shapes, while white porcelain boasts stylish and structural beauty. Lee Kang-hyo's works are on the theme of nature. Natural elements, such as water and wind, are expressed in his works.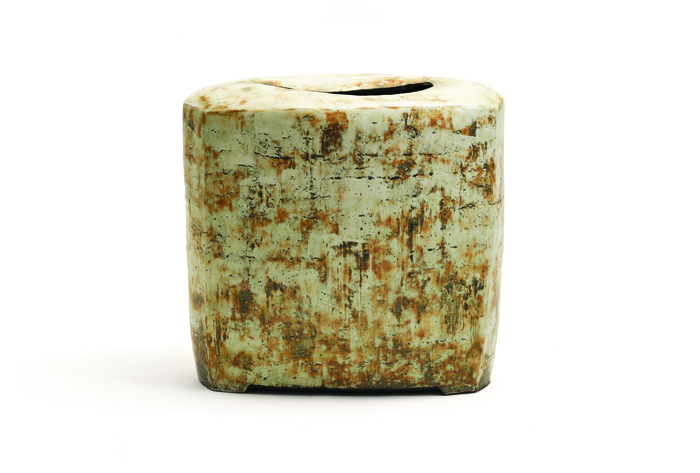 In the hanji exhibition, a range of wood and hanji paper chests will be on display. These hanji-plastered three-tier chests have the entire surface, except for the beams of the frame, plastered with two layers of hanji. The paper is also applied to the edges of the doors. The hanji-plastered chests with lamps installed on the inside are an attempt to apply the traditional concept of bringing furniture, hanji and light together. The chests display the soft touch and milky color of hanji, and projects the silhouettes of the items inside the chest. The hanji chests were originally used as cupboards, designed to store food, due to their well ventilated structure. The wooden frames were made by Park Myeong-bae and the hanji work was done by Han Kyung-hwa. 
There are also hanji paper-string crafts on display, a technique known as jiseung. The paper-string bowls and paper-string baskets and containers made by Kang Seong-hi show the versatility of traditional mulberry paper. Paper-string weaving is an art of time. It takes time for the mulberry tree to grow and it takes a long time, too, to go through the whole process of cutting down the tree until, ultimately, producing, threading and weaving the sheets of paper.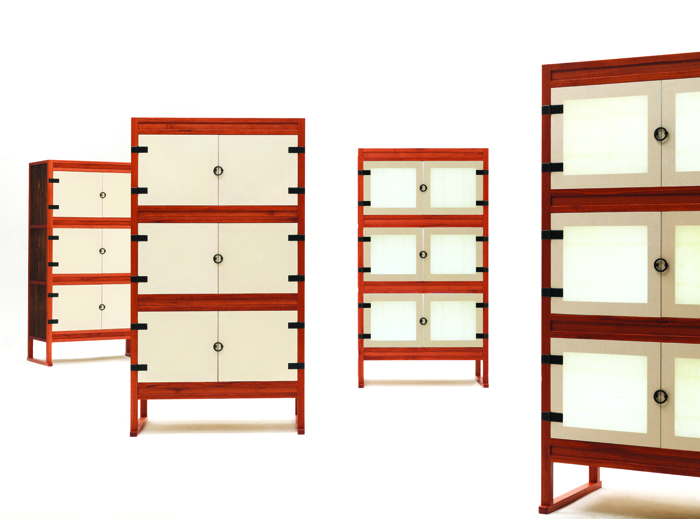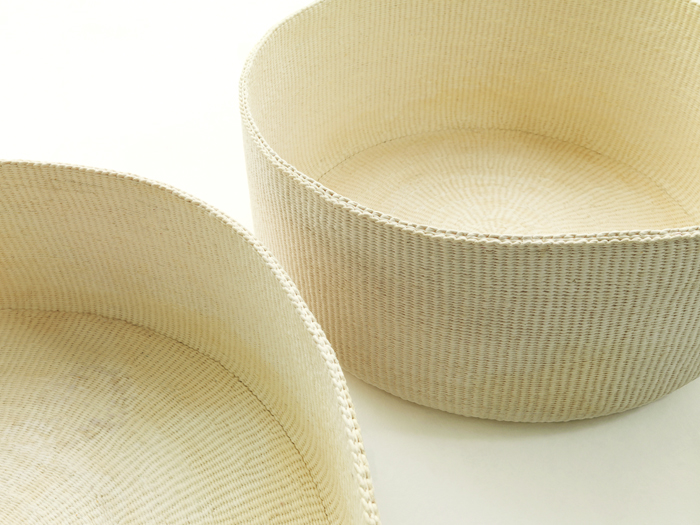 (photos courtesy of the Korea Craft and Design Foundation)
In the textile exhibition, nine craftsmen, including Kim Hyo-jung, will present the "Hansan Ramie Patchwork Wrapper." Patchwork wrappers, jogakbo, made of fabric scraps, were widely used by commoners during Joseon times. A total of 100 large and small patchwork wrappers will be shown in the exhibition hall. Jogakbo, made either by hand or with a sewing machine, are patchwork wrappers created with fine needlework. The finely sewn patchwork leaves little spaces between the stitches. In order to create a contrast in color and shape, thick brown ramie cloth, washed brown ramie cloth and bleached white ramie cloth were all used together. 
In the metal exhibition, Lee Bong-ju's "Bangjja Meditation Bowl Bells" will be presented. A bowl-shaped temple bell, often called a "singing bowl," is smaller than a main bell. Hand-beaten brassware, or bangjja, are made with a tin and copper alloy. The hand-beating technique creates a grand, long-lingering sound when the bells are tolled. There are modern works made with hand-beaten brass, too, including Lee Gyoung-dong's "Brass Tableware." 
In the exhibition of lacquerware inlaid with mother-of-pearl, there will be "Pebbles" on display, a collection of stools that have been lacquered and inlaid with mother-of-pearl by Hwang Sam-yong. The surface of the stones was made by cutting the mother-of-pearl into slender strips and breaking it into regular lengths, one of the most sophisticated traditional techniques. "Box with Character Patterns, Inlaid with Mother-of-Pearl" by Lee Sung-woon, and the lacquered container with a cover, "Donghae," or "East Sea," by Chung Chang-ho, are also made using this technique.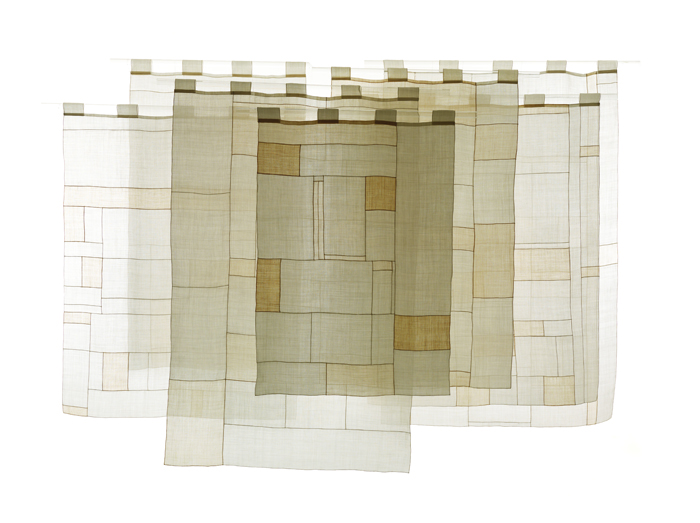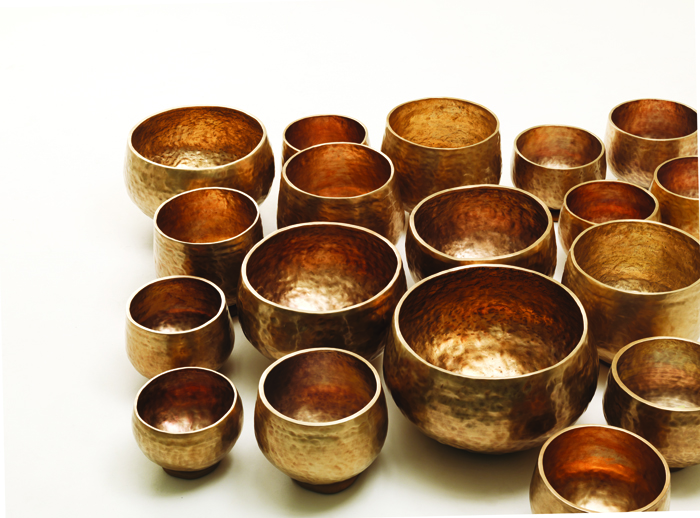 The "BangjjaMeditation Bowl Bells" were crafted by Lee Bong-ju. (photos courtesy of the Korea Craft and Design Foundation)
Look ahead to the future, keep contact with the past 
The Origoni & Steiner Studio is in charge of the overall design and direction of this year's "Constancy & Change" exhibition. Gillo Dorfles, Aldo Colonetti and Cristina Morozzi are responsible for commentating on the event. "The exhibit… reminds us of a 'material culture' concept we ought to preserve, lest we lose our own expressive and linguistic identity," said Dorfles in a conversation with Colonetti, who is also director of Ottagono, a design magazine. "The exhibit emphasizes with great clarity and charm that this country hasn't severed its ties with its past, all the while keeping an eye on the future." "It's plain to see that those handmade fabrics show unparalleled thinness and subtlety," said Colonetti. "What's more, one of the most striking traits of these remarkable fabrics is their unusual asymmetrical pattern and design, which has never been achieved anywhere in Western Europe at any given time in history." "They recount the skilled hands which made them. They reveal the process of their own design and making," said Morozzi. "The artifacts on display as a whole tell the exemplary story of long-ago wisdom and knowhow which may be adapted to the present while preserving the ancient tradition of a country which is rapidly moving into the future."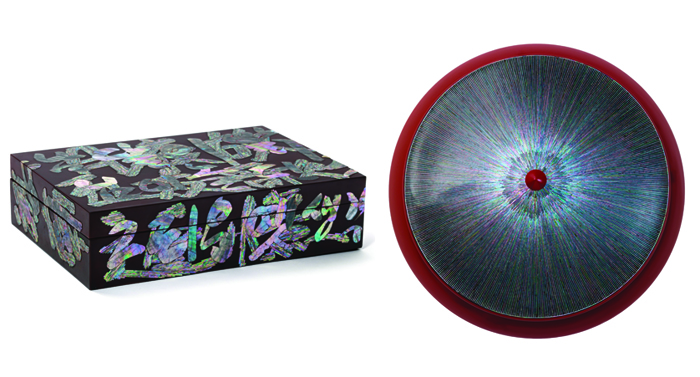 "East Sea," is made by Chung Chang-ho. (photos courtesy of the Korea Craft and Design Foundation)
The Cosmit-Salone Internazionale del Mobile, an international furniture exhibition with 300,000 annual visitors, and Milan Design Week will be held at the same time as the "Constancy & Change in Korean Traditional Craft 2014″ exhibit. Milan Design Week will take place in and around the city, with various exhibitions of fashion, electronics, cars and telecommunications. 
The previous "Constancy & Change in Korean Traditional Craft" exhibit was held in April 2013 and was well-received by Italian and other European media outlets. The event moved to Taipei, Taiwan, for four days beginning in November 2013, as part of the Taiwan International Cultural and Creative Expo 2013, at the invitation of the Taiwanese government. It continued on to the National Museum of Saudi Arabia in Riyadh under the title "Hidden Match: An Exhibition of Korean Craft."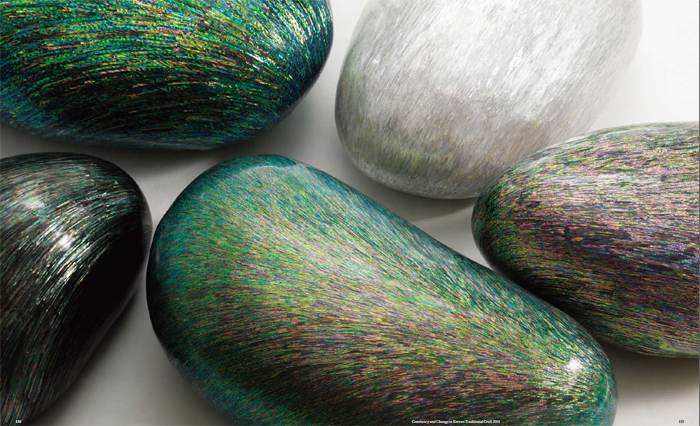 By Limb Jae-un 
Korea.net Staff Writer 
jun2@korea.kr