'The Elixir of Love' hits Seoul stage in joint Korea-Italy production
The comic opera "The Elixir of Love" will be appearing on stage in Seoul, produced hand-in-hand by Korean and Italian opera companies. It will be a new opportunity for Seoul classical music aficionados to once again show their love for Italian music, which always ranks high on lists of Koreans' favorite classical music. The co-production of the opera was prepared in celebration of the 130th anniversary this year of the establishment of diplomatic ties between Seoul and Rome. 
"The Elixir of Love" by Italian composer Gaetano Donizetti (1797-1848) is being jointly prepared by the Sol Opera Theater of Korea and the Teatro dell'Opera di Roma, or the Rome Opera House, and will be on stage from April 3 to 5 at the Seoul Arts Center for the Performing Arts.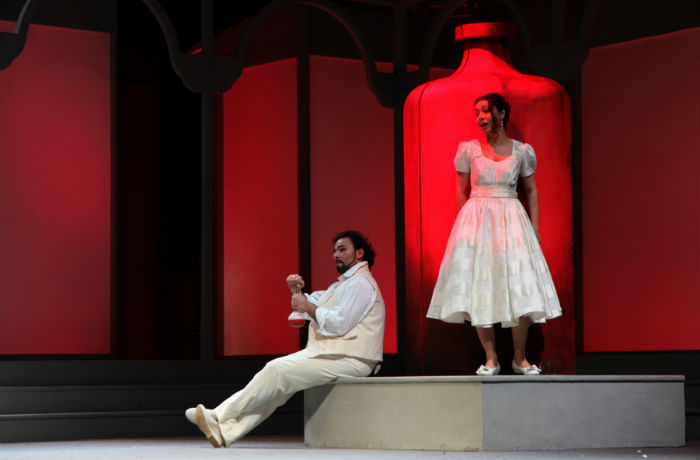 Since its premiere in 1832 in Milan, "The Elixir of Love" has been adored by opera fans for around 180 years. The comic opera is said to be based on an early piece of English literature, "Tristan and Iseult." Donizetti, a great master of bel canto opera, is known to have composed a parody of the tragic story in a more comic and pleasant manner. He is said to have finished the work in just two weeks.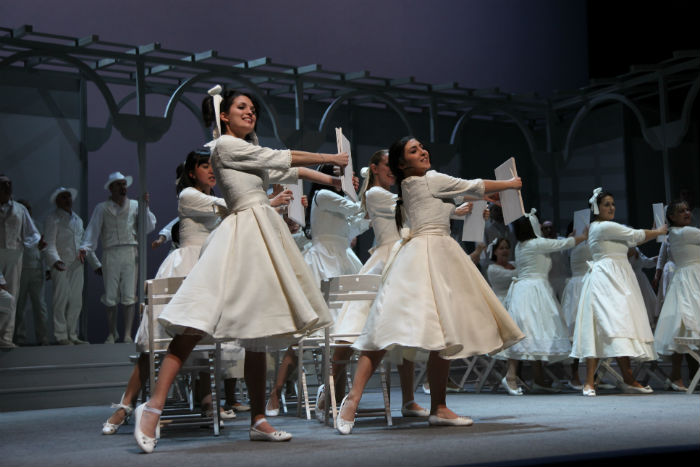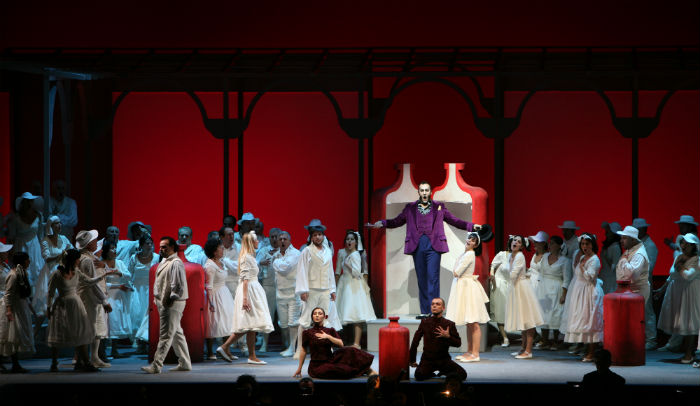 The highlight of the opera is the aria "Una furtiva lagrima," translated as "Tears in Secret," performed by the lead tenor. The aria expresses a moment of joy and happiness when Nemorino finally achieves his long-cherished love, Adina. The emotional yet elegant melody captures the hearts of anyone who hears it. Tenor Luciano Pavarotti (1935-2007) mentioned that the role of Nemorino was his favorite among the more than 30 roles that he played. With such soul-touching melodies of love, "The Elixir of Love" has become one of the most popular and frequently featured operas, on stages both worldwide and in Korea. 
The opera shows everything that the 130-year-old Teatro dell'Opera di Roma has to offer: the splendid stage settings and beautiful costumes, as well as the outstanding skills of the cast and crew. In particular, the new attempt to display a gigantic medicine bottle, tinged with red, at the center of the stage lends an atmosphere of modernity to the production. 
The role of Nemorino will be performed by tenor Cataldo Caputo, known in many of the major theaters in Europe. Top Italian soprano Daniela Bruera will take the role of Adina. The production has double-casted the main roles with tenor Jeon Byung-ho and soprano Kim Hee-jeong. The opera will be directed by Antonio Petris, who has built a diverse resume in direction but also in scriptwriting, stage design and dress design. Conductor Giancarlo de Lorenzo, with his extensive experience from across the world, will lead the whole team. 
The opera will be on stage at the Seoul Arts Center from April 3 to 5. More information can be obtained at the Sol Opera Theater homepage. 
(Photos courtesy of Sol Opera Theater) 
By Lee Seung-ah
Korea.net Staff Writer 
slee27@korea.kr