DMZ to become symbol of peace
President Park Geun-hye visited the Berlin Wall on March 27, a symbol of Germany's unification and freedom. Looking at the wall's paintings while walking 20 meters along the East Side Gallery, President Park said, "I have a vision of Korea's demilitarized zone (DMZ) becoming a symbol of peace." The president agreed with the chairman of the Artists Initiative, Kani Alavi, who hoped that such an exhibition could be held one day in Korea's DMZ. President Park said she would work hard to make that day come true. Situated in central Berlin, the East Side Gallery, part of the Berlin Wall destroyed in 1989, is a 1.3 kilometer-long open-air exhibition venue where wall paintings by 118 artists from 21 countries are shown. It used to be considered a place of tragic separation and pain, but it has become a place of joy and pride thanks to unification.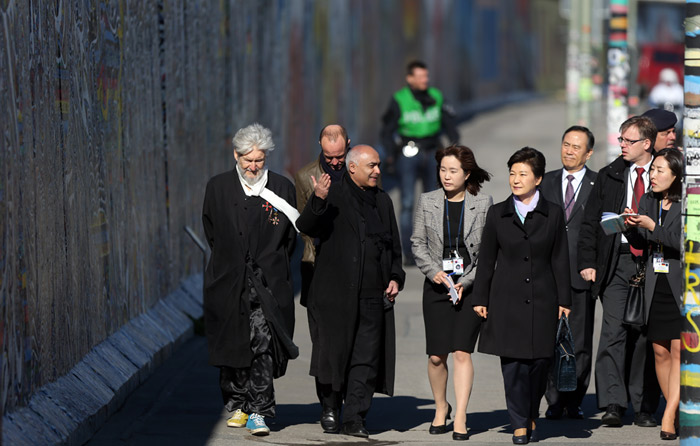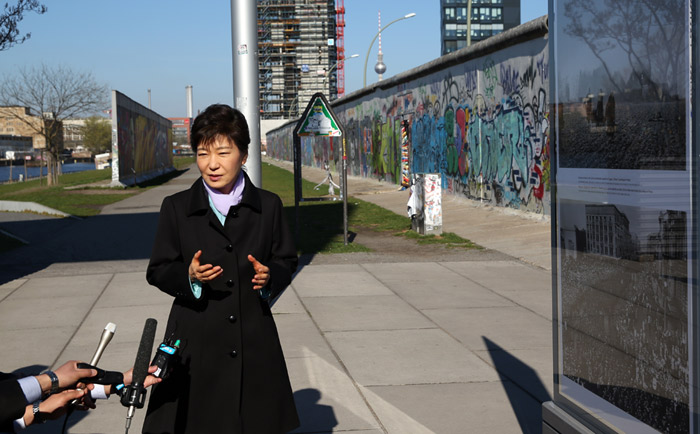 Guided by Chairman Alavi, President Park visited a photo exhibition titled "Beyond the Border" at the Grünes Band, an area of the border which used to separate the eastern and western halves of Germany, equivalent to Korea's DMZ. Since unification, this border area has become an ecological park, overcoming the painful separation and successfully transforming itself into an area of peace and nature. The photo exhibition will last until April 7. 
"This place now represents hope and pride thanks to the unification of Germany. It is very meaningful to host an exhibition on the DMZ here, as this area has become a symbol of unification and freedom, overcoming the painful division," said the president. 
President Park was accompanied by Achim Freyer, a German stage and opera director and producer. The world-renowned artist dramatically escaped from East Germany in 1972. He pioneered so-called "pansori opera" in 2011 when he directed "Sugungga," one of the five well-known Korean traditional pansori epic songs, at the National Theater of Korea. Other influential figures in German culture and arts, including the director of the National Gallery in Berlin, Udo Kittelmann, were also present during President Park's visit to the photo exhibition.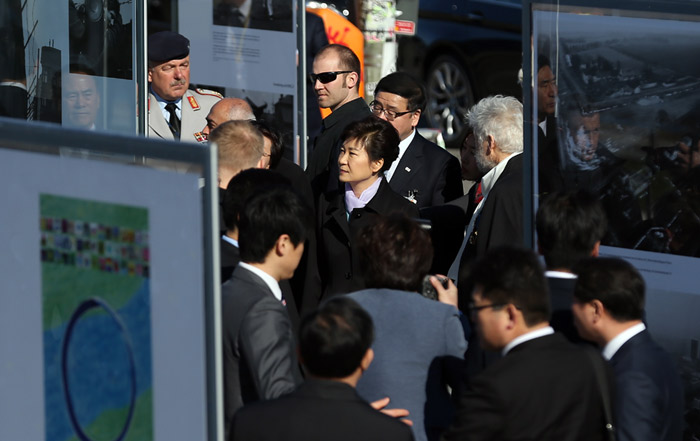 The exhibition is composed of four parts. The first and second parts show photos related to the DMZ and to the national separation of Korea, the Grünes Band and Germany's separation and unification. The third part shows works created by Korean artists concerning the issues of national separation and unification. The final part displays "Flash Wall," an installation piece by Korean artist Park Gi-won made with silver wire, cotton balls and post cards carrying messages of hope. 
The exhibition also shows some photos taken by world-famous photographers, including Alfred Eisenstaedt of LIFE Magazine, David Douglas Duncan who published a photograph collection on the Korean War (1950-1953), "This is War," and Robert Capa, who founded Magnum Photos. It also involves many Korean photographers, including the founder of the Photo Artist Society of Korea Lim Eung-sik, DMZ photographer Choi Byung-kwan, Kim Nyungman, who used to take photos in Panmunjom, the inter-Korean truce village, and Lim In-sik, a war photojournalist from the Korean War. 
The exhibition holds significance as it is being held at a venue which symbolizes the unification and freedom of Germany, a country that experienced separation and achieved unification, said Cheong Wa Dae. The president's office said that this exhibition brings a message of hope that the DMZ could also become a place of unification and co-existence, no longer being a space of conflict and division. 
By Yoon Sojung 
Korea.net Staff Writer 
arete@korea.kr
DMZ / JSA Tour