Toku – More like a Cuisine, Not a Side Dish
No complicated recipes, no huge cooking devices in Toku. It's a big pleasure they serve a delicious cuisine made of fresh daily-ingredients, said the chef of Toku, Ji Min-Ho. He seeks the natural flavored healthy food. Food in Toku with his food philosophy is quite different with usual Izakaya menus.
Whole fried crab roll covered with a slice of radish with wasabi and mayo sauce, very thin sliced flatfish with truffle sauce, salmon teriyaki based on classical teriyaki sauce, fresh and bouncy squid karaake. He sometimes surprises regular customers with lamb steak, which is not on menu, that he always loved to eat in Australia. Other than that, fresh vegetable salad for each season, various beverages getting along with all the menus are available. Specially tomato and Japanese apricot drink 'Sawa' is a source of pride at Toku.
The name Toku, Japanese pronunciation of 'talk', was given by Chef Ji Min-Ho to wish this restaurant to be a place people gather and talk about food at. His food with his passion tells people there some stories.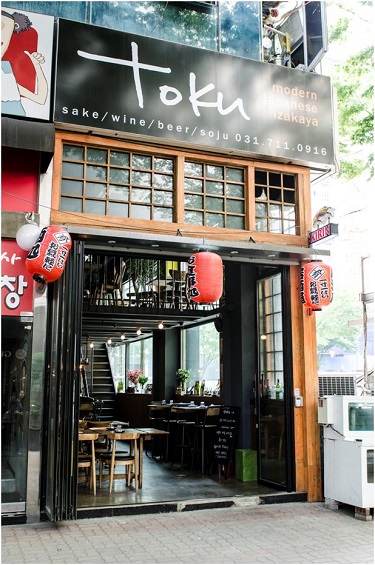 Type / Specialty Menu

Modern Japanese Izakaya / Roll, Teriyaki
Contact
+82-31-711-0916

Hours of Operation
12:00 – 22:30
Menu / Price
Truffle pon's sasimi 19,000 won
Fried crab roll 9,000 won
Salmon teriyaki 14,000 won
Squid karaake 6,000 won
Fresh water shrimp 8,000 won
Miso grilled mero(fish) 15,000 won
Spicy yaki noodle 16,000 won
Nato wasabi 7,000 won
5 different skewered food 12,000 won
JeongJa-dong 23-1, Bundang-gu Seongnam-si, Gyeonggi-do