Girls' Generation hits the top with comeback album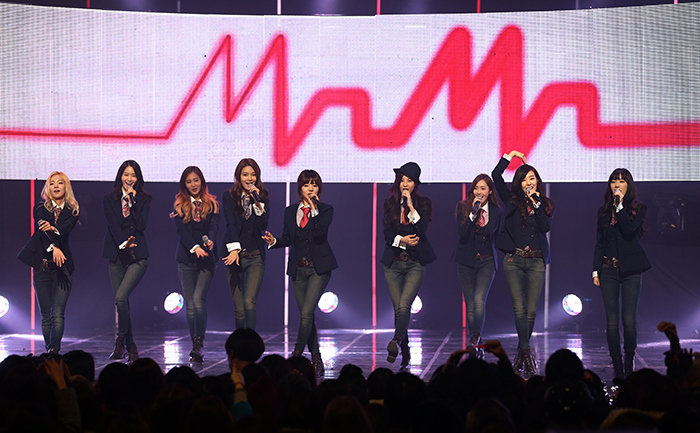 Girls' Generation (SNSD) showed that they still got it, reaching the top of M.net's M! Countdown on February 6. The "comeback" concert was their first show in over a year. During the live show, the girls group showcased their new single, "Mr. Mr.," and showed off their perfectly choreographed dance moves.
Boyishly dressed, in formal black with top hats, the girls charmed their fans, who have been awaiting their comeback for one year and one month. A first since their debut, Girls' Generation had male backup dancers sharing the stage with them this time, portraying once again their powerful yet synchronized signature group choreography, just as their stage attire suggested.
Before revealing their title song "Mr. Mr.," Girls' Generation started by flaunting their femininity with "Wait a Minute," also on their newly released mini-album. Unlike the boyish charms of "Mr. Mr.," "Wait a Minute" had flowers adorning the stage and saw the girls dressed in heart-dotted blouses matched with flared leather miniskirts, giving them a cute yet lovely air.
After showcasing their two diametrically opposite songs at M.net, Girls' Generation will now head for the stage at KBS's Music Bank, MBC's Show! Music Core and SBS's The Music Trend, amongst other variety music shows.
The lineup for M.net's M! Countdown included Park Ji Yoon, LYn, NELL, TVXQ!, Sunmi, Soyu & JungGiGo, CNBLUE, BTS, BTOB, 1PS, Melody Day, LUNAFLY, LADIES` CODE, BESTie, GOT7 and Tae. 1, all of whom put on great live performances.
For more high-res pictures of Girls' Generation's and the M.net M! Countdown, come backstage with Korea.net's Flickr feed: https://www.flickr.com/photos/koreanet
By Jeon Han, Paik Hyun
Korea.net Staff Writers
hanjeon@korea.kr