UNESCO recognizes kimjang, Korean culture of sharing
Korea's kimchi, a range of seasoned vegetable dishes, and kimjang, the making and sharing of kimchi, have both recently received much international recognition as UNESCO has inscribed kimchi and kimjang onto its list of intangible cultural heritage items. UNESCO made the final decision at its Intergovernmental Committee for the Safeguarding of Intangible Cultural Heritage, held from Dec. 2 to 7 in Baku, Azerbaijan.
"Kimjang allows Koreans to practise the spirit of sharing among neighbours, while promoting solidarity and providing them a sense of identity and belonging; Inscription of Kimjang could contribute to the visibility of intangible cultural heritage by enhancing dialogue among different communities nationally and internationally that practise foodways that similarly make creative use of natural resources," said the committee in regard to its decision to add kimchi and kimjang to the list. Thanks to the decision, Korea now has a total of 16 items on UNESCO's list of intangible cultural heritage items, including taekkyeon, a traditional martial art, and the weaving of mosi, or ramie, a fine hemp-like fiber from the Hansan region.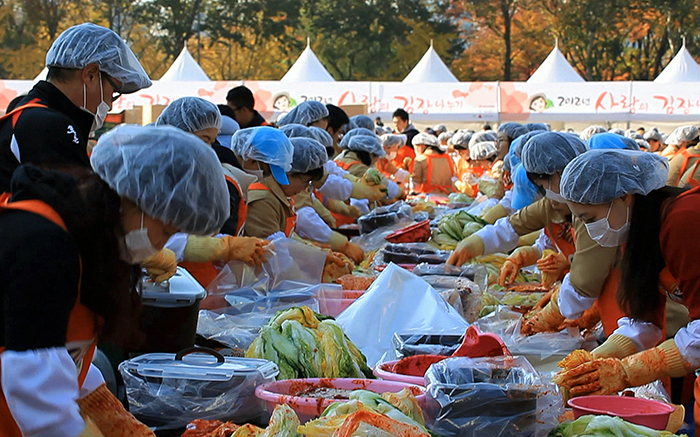 According to Korean dictionaries, kimjang is, "the making or the result of making a large amount of kimchi, dongchimi, a juicy radish kimchi, or kkakdugi, a pickled radish kimchi, before or soon after the onset of winter, allowing people to eat from winter to spring." The onset of winter is known as ipdong. It is the 19th division of the 24 solar divisions of the lunar calendar year. It represents the start of winter and in 2013 ipdong fell on November 7.
As can be seen from this meaning, the word "kimjang" itself infers a lot of human effort in order to make a large quantity of kimchi with the family in one sitting. Kimjang implies not only a big family affair that requires all members of the family to participate, but also an important event for a village where all the neighbors gather together to take part.
Though the whole family participates in kimjang, elements of kimchi preparation have traditionally fallen upon the female members of the household. Ways to make and store kimchi can vary according to region, but before winter comes, in every region, mothers and mothers-in-law make kimchi and pass down their own, individual recipes to their daughters and daughters-in-law, from generation to generation. Traditionally, kimjang kimchi, or kimchi made during kimjang, is stored in jars and then preserved by interring the jar almost entirely underground. Women would make the kimchi while the men usually did the digging. On kimjang day, women offered boiled meat and made geotjeori to share with the others who helped with the kimjang procedure. Geotjeori is a fresh cabbage kimchi salad made with radish and cabbage mixed with salted fish, chillies and other spices.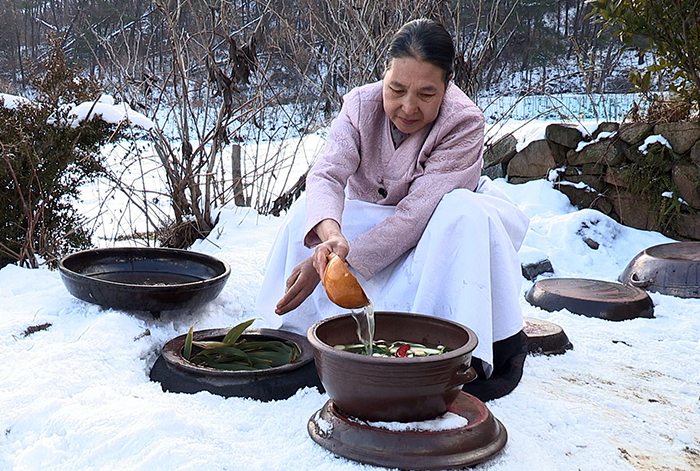 Kimjang kimchi, or kimchi stored underground after being made during kimjang, is delicious and offers a tasty chewy texture throughout the winter.
(Photo courtesy of the Cultural Heritage Administration)
It is not precisely known when exactly Koreans started making kimchi, but, Yi Gyu-bo (1168-1241), a renowned literary servant and scholar during the Goryeo Dynasty (918 – 1392), wrote, "They dip the leaves of white radish in paste to prepare for summer and salt them to prepare for winter." This was written in his Donggukisanggukjip (東國李相國集), a large collection of poems and essays composed of 13 books and 53 volumes. In the Dongguksesigi (東國歲時記), a book about Korean seasonal customs, Hong Seok-mo (1781-1850), a scholar from the Joseon Dynasty (1392-1910), wrote in 1849 that, "Making soy sauce in spring and doing kimjang in winter are some of the most important yearly plans of the Korean household."
Among the thousands of varieties of kimchi, many people regard kimjang kimchi as the best. Any kind of kimchi stored underground retains its freshness with a unique chewy texture and deep flavor, as it is stored at a consistent, cool temperature despite the extremely cold weather aboveground. So for many people, the first thing they have in mind when they think of kimchi is kimjang kimchi, mostly made with napa cabbage. For this reason, fridge manufacturers have introduced a special line of kimchi refrigerators or incubators: an appliance equipped with separate sealed storage drawers and controls that can recreate the ideal underground conditions needed to mature, ferment and store kimjang kimchi at the right temperature and pressure.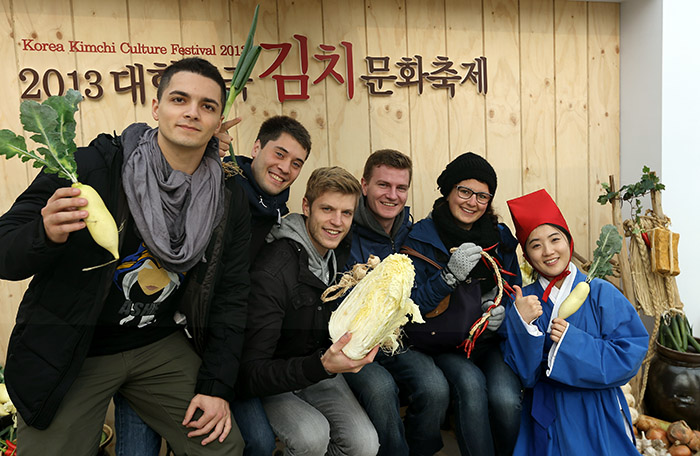 ourists pose for a photo during the Korea Kimchi Culture Festival 2013 held at Gyeongbokgung Palace in central Seoul on December 5. (Photo: Jeon Han)
In the past, most people made their kimchi during kimjang, as most of them lived with a large number of family members, often with more than three generations under one roof. But today, a growing number of people purchase kimchi rather than make it themselves during kimjang, as the size of individual households has gotten smaller. Such trends can be clearly seen in Seoul and other metropolitan areas.
In contrast to this urbanization, however, according to a survey from the Nonghyup Economic Research Institute released on December 5, more than 41 percent of the 500 respondents from the metropolitan area said they will make their own kimjang kimchi. Also, more than 25 percent said they would receive kimjang kimchi from their relatives or family members. This shows that more than 66 percent of respondents consume kimjang kimchi. Breaking it down by age, 83 percent of respondents aged over 50 said they make kimjang kimchi themselves. This shows that many people still prefer the consumption of kimjang kimchi. In light of this, many firms and communities make kimjang kimchi for needy neighbors and welfare recipients as a way to share the love at the end of the year.
By Jeon Han, Yoon Sojung
Korea.net Staff Writers