HAERANG: The Korea Cruise Train
The first of a two-part series about Korail's new luxury train service. HAERANG: a luxury train trip across the peninsula
Korea is such a small country that it can't even top 100th in the world when it comes to geographic area. Its eight provinces, however, have diverse and vibrant regional characteristics. The lifestyles and local cultures cultivated in each region offer visitors something different to see, eat and hear.
The peninsula has diverse topographical characteristics, surrounded by water on three sides. Mountains take up almost 70 percent of the peninsula, as well as lowlands, such as the plains of Honam in the southwest and the plains of Gimhae in the southeast. Climate is varied, too, from subtropical to temperate. Depending on all these different topographies and climates, each region creates a unique landscape.
Korean tourism tends to center around tours in the metropolitan areas, especially Seoul, generally over a short period of time. For those who wish to escape the urban center, however, and experience every corner of the "real Korea," Korea Railroad (Korail) has developed a railway "cruise" travel option: its Haerang service.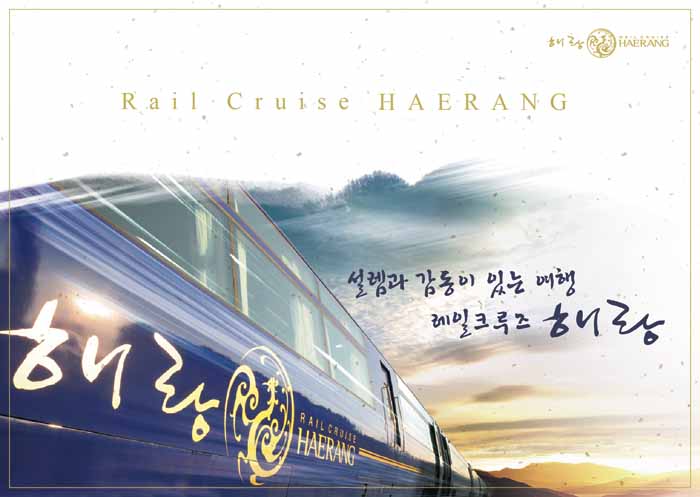 "Haerang" means "together with the sun" and, launched in November 2008, Korail's Haerang service has been providing Korean and non-Korean travelers alike with a romantic luxury rail trip option.
The Haerang service currently covers three different luxury rail trip options: the Aura, Haeorum and Ssimile lines. The Aura line is a three-day week-day journey that departs Seoul every Tuesday and returns on Thursday. Both the Haeorum and Ssimile lines are two-day weekend trips.
Korea.net boarded the Aura line to experience a rail trip across the peninsula. The train departed on time from Seoul Station at 8:26 a.m. on Tuesday December 3. The Aura starts its journey at Seoul Station and passes through four regions–Jeolla-do, Gyeongsang-do, Gangwon-do and Chungcheong-do–making stops at Suncheon, Daegu, Gyeongju, Jeongdongjin and Danyang. Finally, it returns to Seoul Thursday evening. It offers travelers with a tight schedule a good chance to experience four regions of the country in just three days.
Upon departure, Haerang passengers are given some time to unpack their luggage and to catch their breath. After a while, a voice comes on the speaker, asking people to come to the event room. Thus comes the first encounter between Haerang staff and passengers.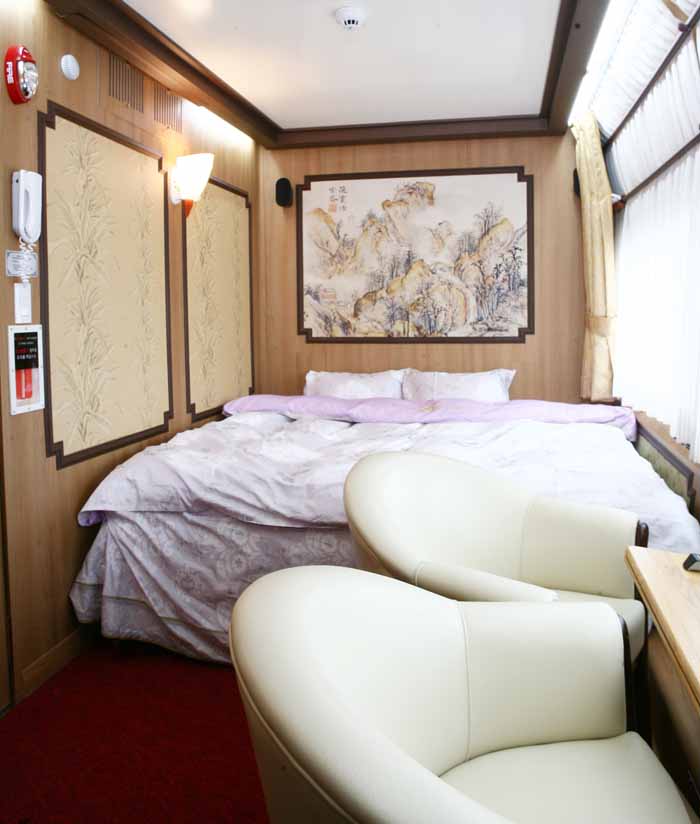 Suite room for two people (photo courtesy of Korail)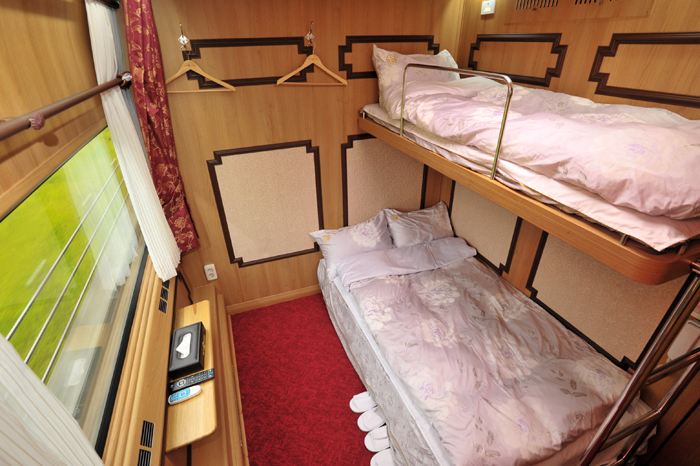 One Haerang ticket is pretty much all that a passenger needs for the three days of the trip. They rarely need any additional expenses. The train provides comfortable sleeping beds equipped with an assortment of conveniences. Local specialties are served while in each of the four regions. Also, trains call at must-go travel destinations in each province.
Every room in the train has a bed, a shower, a television and a DVD player. The common space offers limitless free snacks and all types of beverages, including beer, wine and juice. Laptops and Wi-Fi are available, too.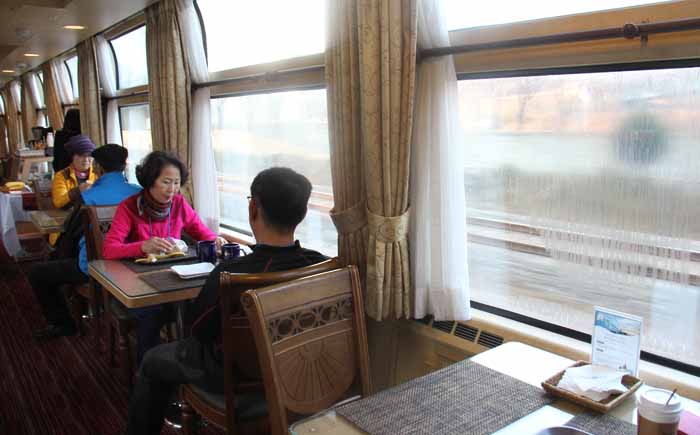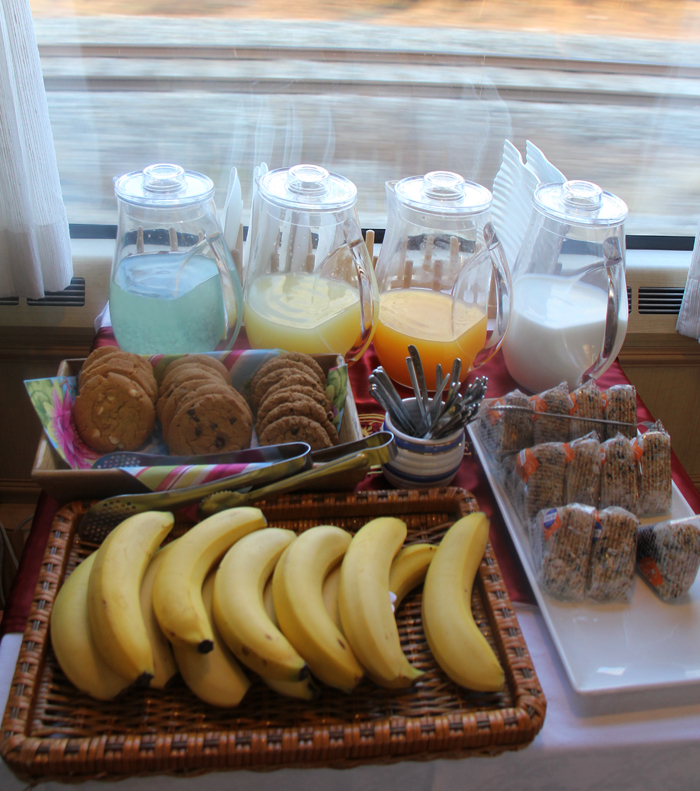 The Sunrise Café in the fourth car offers limitless snacks and beverages.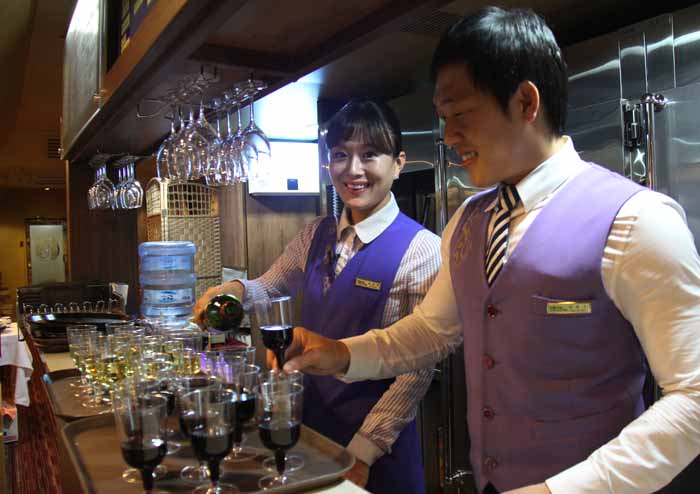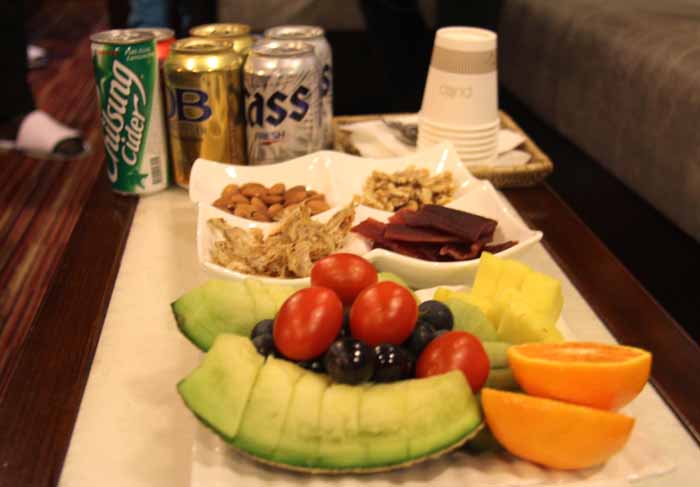 During the first five hours out of Seoul, on the way to Suncheon, most Aura line passengers lounge in the Sunrise Café to enjoy the passing landscape, chat with other passengers and sample the endless table of free fruits and biscuits.
Once all the passengers are assembled in the cafe, a group of eight rail attendants, all clad in the Haerang service's purple uniform, come out and welcome the new group of travelers. They will take care of the passengers during their three-day itinerary. They not only help with conveniences, they also brighten up the atmosphere. Wishing a safe and pleasant trip, the eight members sing together a cappella. Sitting on a comfortable sofa with snacks in their hands, the travelers get soaked in the vibrant festive mood.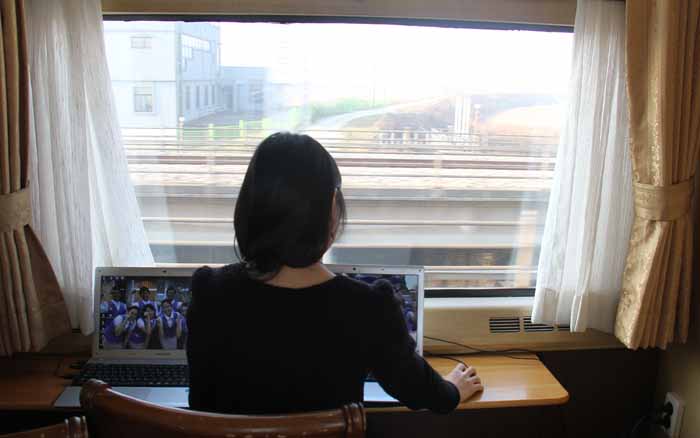 During Korea.net's trip, the train carried a total of 48 passengers. A married couple in their 70s came on board thanks to their five children who teamed up to send their parents on the trip in celebration of their 50th wedding anniversary. There was a Seoulite travelling across the nation and a romantic couple in their 40s where the husband planned the trip as a surprise present. Sharing each other's stories, they become a little group of fellow voyagers.
While the travelers enjoy the trip, the attendants promptly proceed with their tasks, divided into two groups. The first group accompanies the travelers, functioning as guides, while the other group is responsible for cleaning the train and preparing for the nighttime's events and performances.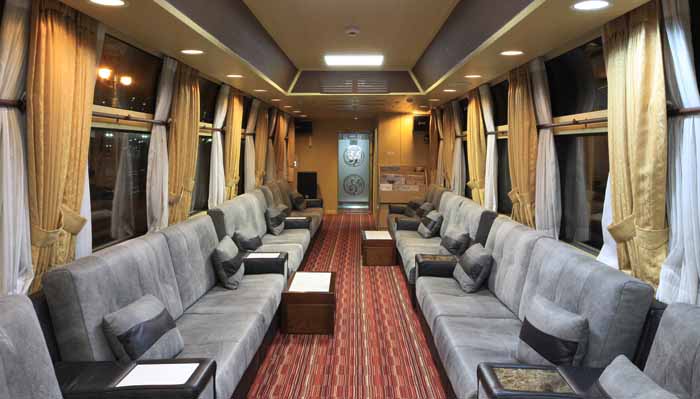 The Four Seasons common room is host to a variety of events and performances.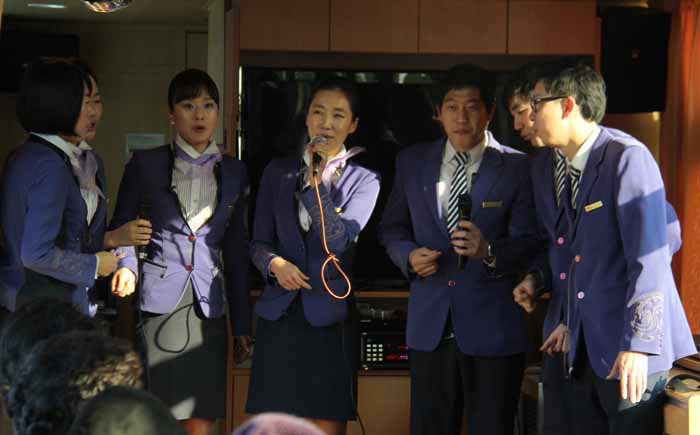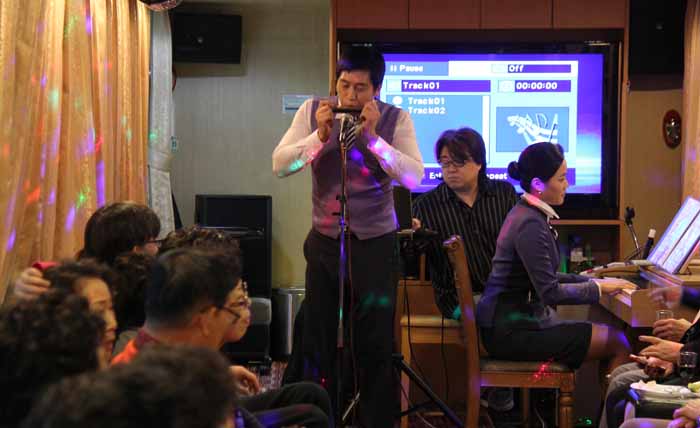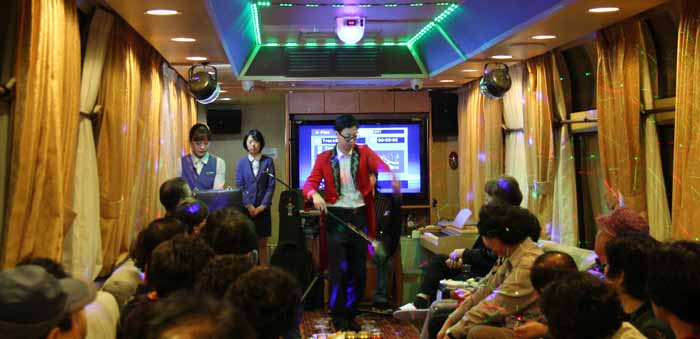 Upon arrival at each station, a tour bus and a guide are waiting for the travelers. The guide shares interesting stories related to each region. It doesn't even compare to the barebones of online information.
The luxury Haerang service seems to read the passengers' minds. Whenever they feel hungry, they can find a snack basket fully-stocked with mouth-watering cheese cake, fruit and all kinds of beverages. In addition, before travelers get bored from the long journey, the attendants prepare a small variety show. On the last day, on their way from Gyeongsang-do to Seoul via Chungcheong-do, travelers are given time to make balloon animals and to take part in a true-or-false quiz. The quiz competition helps the visitors deepen their knowledge of each region. For example, Jeongdongjin Station, visited early in the dawn, has been recognized in the Guinness Book of World Records as the train station closest to the sea. Is that true or false?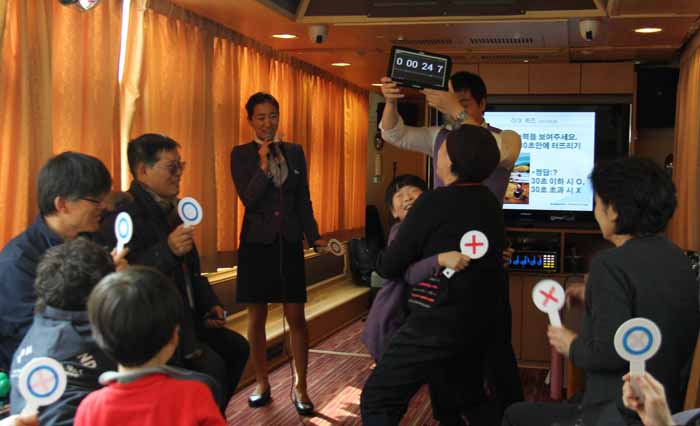 During the three days, train attendants capture memorable moments on their cameras. At the end of the trip, each passenger gets a USB stick with all the pictures on it.
On the last day, a photo collage video of all the pictures is screened on the large monitor in the Four Seasons room. Those who want to say a few words are encouraged to do so by writing a brief letter and putting it in a red post box. A male passenger in his 40s sent a message to his parents saying, "We should take a Haerang trip again and bring along all 30 of our family members." A female in her 50s wrote, "I should thank my niece for sending all five of our sisters to this special trip. I really had a wonderful time with my sisters."
All Haerang Aura trip itineraries end on Thursday night. The voice comes from the speakers, saying we are approaching Seoul Station. Passengers say their goodbyes to one another and also to the car attendants.
The car attendants provide friendly service to the last, guiding travelers to the subway entrance. The three days of luxury train travel have come to an end.
By Lee Seung-ah
Korea.net Staff Writer
 ※ Interview with Haerang crewmembers Chang Suc-kyu and Kang Joon-soo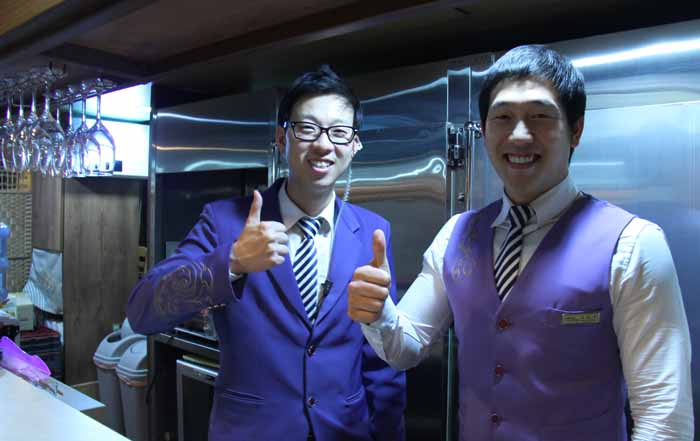 Chang Suc-kyu (left) and Kang Joon-soo
Q1. What sort of passengers is most attracted to Korail's Haerang service?

A: The two-nights-and-three-days Aura line usually attracts the elderly, while the one-night-and-two-days package is sought after mostly by families with children and young people.
Q2. Are there any special services you provide, especially for foreign tourists?

A: The nine crewmembers on board are on standby around the clock to meet passengers' needs. Every member has basic foreign language abilities, covering English, Japanese and Mandarin. If we have foreign passengers, we make announcements in the corresponding language. We also offer brochures in their language to help them better understand the historical sites at which we stop during the trip.
Q3. Tell our readers how to reserve a spot on a Haerang train.

A: You can book via email at either ask@korailtravel.com or yangjiseok@korailtravel.com, or simply call +82-2-2084-5777 Our staff, who speaks English, Mandarin and Japanese, will kindly help you. However, due to increased demand, you are advised to make a reservation one or two months in advance.
Q4. It's been almost five years since Haerang service has been running. How have the passengers reacted?

A: What our passengers like most about this train is that they don't have to bother to check in or check out. All they have to do is hop on the train, and the train will then bring them all the way around the nation. Also, they really love it when they have all kinds of healthy regional specialties to sample while traveling.
Q5. We know the winter and summer routes are different in planning and program. How different are they?

A: Yes. In chilly winter, we visit many interesting sites that can be enjoyed indoors, while in warmer weather we have more outdoor activities, like basking in the warm sun on the beach or hitting a spa.
Q6. You also entertain passengers by performing a little bit. How do they react?

A: They really love it. We also throw a dance party during weekend trips. We always try to come up with different unique and interesting shows. We take time out of the tight schedule and practice and practice. It always pleases us to see people enjoying our shows and laughing out loud.
Q7. What is the most rewarding part of this job?

A: It is definitely when we see repeat customers. They approach us and say that they bought again, not only because they have beautiful memories of the last trip, but because they missed us and our services. Repeat passengers account for almost 40 percent of our clientele.
By Sohn JiAe
Korea.net Staff Writer