French Town in Seoul exudes exotic beauty "Seorae Village"
For a proper taste of traditional Korean culture, there is nothing like Insadong in Jongno District. But those who seek a more exotic atmosphere in Seoul would probably love Seorae Village in Seocho District. Restaurants , open-air cafes, wine bars, and bakeries all decked out in classic French style line both sides of main street of Seorae Village, reminiscent of a quaint European city. Seorae Village, often nicknamed Montmartre after the famous French enclave, is home to about half the French residents of Korea.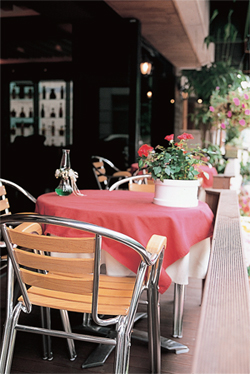 The French community began to form there in 1985 when international French school Lycée Français de Séoul moved to the area. Nearby business center Gangnam District as well as leisure spots such as Yangjaecheon Stream, Han River Park, and Umyeonsan (Mt. Umyeon) have been attracting new attention from a growing number of foreign residents of various ethnic backgrounds, garnering great reviews for its comfortable and pleasant residential environment. Seeing foreigners wandering around the area speaking languages of their own sometimes creates an illusion of being in a European city.
 Most visitors to this French neighborhood want to get a firsthand taste of authentic French cuisine. The Seorae Village location for Paris Croissant, situated in the middle of the main street, has  long been a symbol of this French district, famous for offering bread by a French patissier who only uses wheat flown in from Paris.
 There are several brunch cafes offering delectable menus. Sicily is famous for its hand-drip coffee and cream cheese pasta while Café Bello, just across from Sicily, boasts a brunch menu of  its own consisting of scrambled eggs, sausage, hash browns, and Romaine salad. Brunch buffet Stove is very popular with young people who are escaping from the fast-paced lifestyle of the  city.
 Most visitors to this French neighborhood want to get a firsthand taste of authentic French cuisine.
 Mouthwatering cuisine from Spaghettis with all different sauces, pancakes, French fries, French toast, baked potatoes, all sorts of pizzas, and waffles are all prepared by 10 a.m. Madeleine,  located at the back alley just behind BeansBeans, has no menu but only offers a different daily special every day. Besides a taste of local French home cooking, visitors to Madeleine also are  satisfied with the café's generous all-you-can-eat salads at just 10,000won. The street also offers various types of traditional local foods from all around the world. It allures visitors to come by  and taste ethnic cuisines such as Italian, Japanese and Singaporean.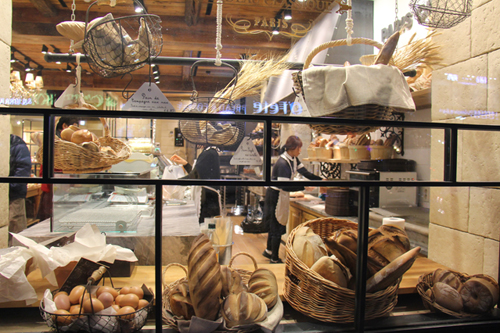 The delectable smell of freshly baked bread on the main street of Seorae Village lures passerbys off their routes. Recently, the café Damjang Yeope Gukhwaggot (Chrysanthemum by the fence) got its name on the list of hot places for its menu themed on tteok (Korean traditional rice cake). The best dish offered there is injeolmi (rice cake coated with bean flour), prepared with a few health-enhancing ingredients such as sweet pumpkin, sweet potato, black rice, and mugwort. A dish with ice flakes and red-bean porridge with chestnut and jujube is the famous seasonal delicacy. The desserts, which come out in brassware, seem well-suited with the vintage interior design and also the relaxing and cozy atmosphere of the neighborhood.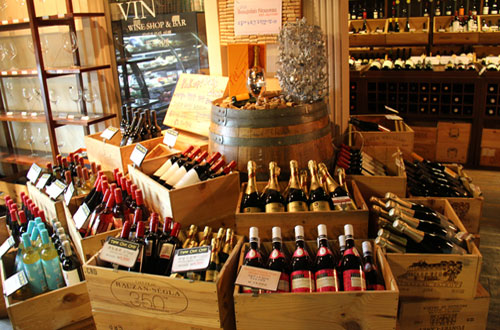 Wine bars tucked away in a quieter backstreet of the French neighborhood offer a great collection of fine drinks. They are also on sale along with various imported cheeses. All corners of the French district exude Frenchness with pavement decorated in the three symbolic colors — red, white and blue — of its national flag and lampposts installed to mark the visit of then French President Jacques Chirac. The road signs, direction posts, and name boards of restaurants all written in both Korean and French add a peculiar charm to the landscape.
Not very far from Seorae Village is the 15.6-kilometer waterway of Yangjaecheon, one of the Han River's tributaries passing through Gwacheon and Gangnam. The ecological park is filled with the picnic spirit of families, couples, bike-riders and walkers create all corners of the space. In between Dogok-dong and Daechi-dong along the eco-park is Yangjaecheon-gil, a three-kilometers-long trail with approximately 800 metasequoia trees planted along both sides to form a tree tunnel.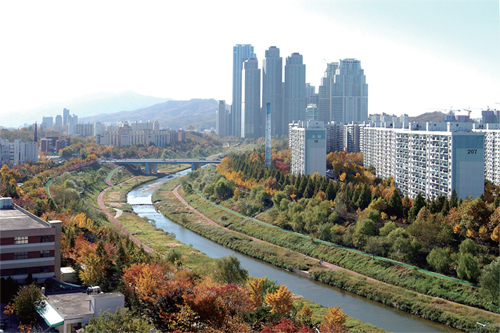 Walking along the eco footpath of Yangjaecheon Stream in the shadows of verdant trees helps you blow away the stress (photo coutesy of Gangnam District Office).
Yangjaecheon is accessible by Dogok and Hangnyeoul stations on Seoul Metro Line 3 and Gaepo-dong and Daemosan Station on the Bundang Line. One of the easiest ways to get to Seorae Village is to get off at Express Bus Terminal Station on Metro Lines 3, 7, and 9 and go out exit 5. Walk straight until you reach a pedestrian bridge at the main street, and cross over the bridge to get into the alley.
More details are available at Gangnam District Office.