Beautiful Museum for Traditional Windows and Doors Chungwonsanbang master
On the Occasion of Opening Chungwonsanbang 
About four decades have passed since I began to work together with trees.
There were both difficult times and happy moments. But I did my utmost to produce.what I could recognize as the best windows and doors, not for getting recognition from others. Up until now, I have been assisted by my teacher, students, family members and many other supports in various ways. Chung Won San Bang, which reflects all the skills I have, is designed to return the affection and support from all the people who have helped me so far. This place is to exhibit about 40 pieces of traditional windows and doors, while demonstration of craftsmanship and research will take place. I hope this cozy place will be an open forum to promote traditional Korean windows and doors―a space for anybody and everybody. I cordially invite all of you to come and use the doors and windows. Thank you very much.
Chungwonsanbang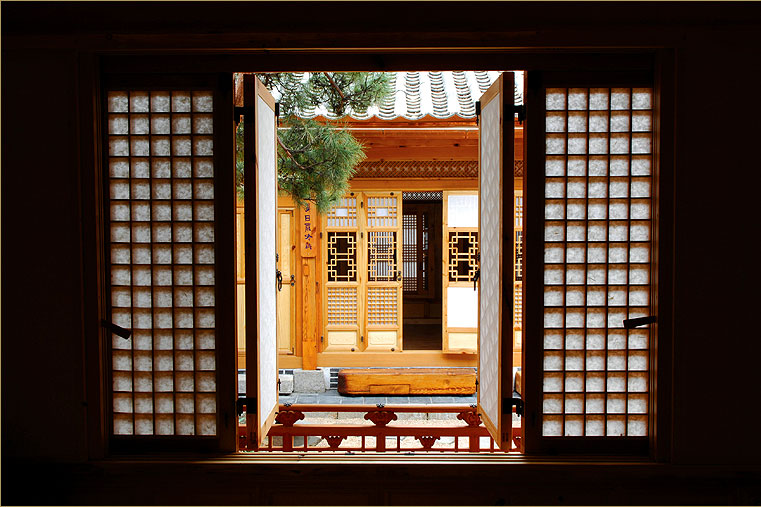 Beautiful Museum for Traditional Windows and Doors
Chung Won San Bang is a traditional Korean-style house located at Bukchon, Hanok Village (Gye-dong, Jongno-gu, Seoul).
This small yet inspiring museum has all there is to know about Korea's traditional windows and doors. Up until, both experts and lay people have a hard time getting to know about the old craft, known as "chang-ho," because all the techniques have been handed down through word of mouth. The museum, however, has redefined the field by displaying all the major works crafted by Sim Yong-sik, whose 40-year career symbolizes the core of the artistry. The museum makes available information about "chang-ho" so that anybody can learn about the time-honored tradition and its beauty. Chung Won San Bang is shaped like a Korean character, "ㄷ,"an elegant design that also makes it easier to compare and contrast a wide range of traditional doors and windows. The displayed items will be changed on a regular basis. Visitors can also take a close look at 300-odd tools used for making the doors and windows. In addition, Sim will occasionally offer an on-site demonstration of making traditional items for visitors.
Chung Won San Bang(淸圓山房) is named after Sim's pen name "Chung-won," whose Chinese characters mean "clear and circular." Inside the museum hangs a majestic panel at the front gate, and Kwon Chang-yun, one of the top calligraphers in Korea, has written the letters for the museum. The meaning of the letters on the panel is "beautiful like a moon where the cinnamon tree is planted," reflecting his wish that the museum will shed light on the traditional culture like the soft moonlight. Chung Won San Bang is the symbol of Sim Yong-sik's unparalleled expertise that has been honed in the past four decades; therefore, the museum will play a pivotal role in promoting and preserving traditional windows and doors.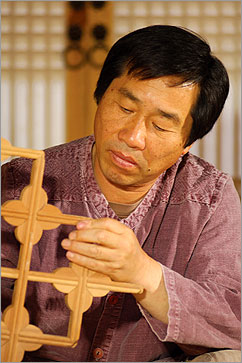 Passion Lasting for 40Years More
Sim Yong-sik, born in 1952 in Yesan, South Chungcheong Province, began to take formal craft lessons from Jo Chan-hyeong. He turned just 17, and Master Jo taught him for ten years. After six years working at the workshop filled with sawdust, Sim made a formal debut with his work chosen by Sudeok Temple. From then on, he met a host of masterful craftsman: Yi Kwang-gyu, Choi Young-han, Shin Young-hoon. Sim learned specific theories and skills such as the selection of wood materials and use of tools from the teachers. He also learned the attitude required for a top craftsman, deepening his level of knowledge and understanding about the field. Sim broadened his perspectives and accumulated experiences by joining major architecture projects both at home and abroad.
In 1981, he founded Sungsim Arts & Crafts Co., leading to more active production of traditional windows and doors. He traveled all around the country in order to find the best materials for his artistic works. He sticks to handicraft rather than machine-based work because he believes his hands remember all the techniques he has so far used to make the top-notch windows and doors. In making a single door, he takes into account all the elements―size of a house, wind conditions, amount of light and even the house owner's personality. He has been keeping alive hundreds of different traditional windows and doors while producing a new set of windows and doors through his modern interpretation of traditions. Recognized for his dedication and passion, Sim was selected as the Seoul Intangible Cultural Heritage Somok Handicraft Man in 2006 and awarded the prize of Seoul Traditional Cultural Artist in 2008. He is focusing on training younger talents as well as working on his artistic projects. He has also established Chung Won San Bang in a bid to make available the traditional windows and doors to more people.
Windows and Doors
Key Components of Architecture
"Chang-ho," a single Korean word, can break down into two distinctive meanings: "Chang-ho," a window whose key functions are ventilation and lighting, and "ho," a passage that connects different rooms.What is notable is that "ho," plays the role of a door only when people pass in and out, and when there is no such human activity, it acts as a window. Chinese philosopher Laozi once stated: "Room turns useful only when it has a door and windows." As such, doors and windows are at the heart of Korea's traditional architecture, evolving in a way that reflects different residential conditions, lifestyle, cultural background and natural laws. A striking example is "Bunhapmun," a flexible door that also doubled as a temporary wall. This particular door reflects Korea's pronounced four seasons and the extended family system. It usually served as a temporary wall to secure a separate space and maintain optimal temperature but changed its function when there was a family function, or more outside wind was needed, especially during the summer. In addition, "Nungopjaegi" window was specially designed to prevent the loss of air during the cold winter days, while interconnecting inside and outside space. Besides, "Bulbalgi" window was capable of adjusting the level of incoming light through the thickness of paper, testifying to Korea's salient technology that pieces together science and artistry.
Modern Living Room
PDP TV in harmony with Traditional Windows and Doors
It is hard to see traditional doors and windows in modern houses except ancient palaces or temples in recent years, underscoring the drastic changes of lifestyle and architectural trends. But as the public interest about traditional architecture is heightened, a growing number of people are installing Korea's time-honored windows and doors at this apartments and villas.The traditional windows and doors come with repeated patterns of intricate characters, a characteristic that if installed in modern apartments produces a resonating elegance and gracefulness Not only windows and doors but also other furniture bearing door-frame motif―tea tables, dining tables, folding screens―infuse a sense of elegance to rooms. The traditionally designed items, made up of environment-friendly materials, are also ideal for those who consider their health and well- being."Chunyang" pine tree, used for traditional doors and windows, lasts longer because of its high density, and keeps fine colors without any artificial lacquer-ware. Moreover, as the tree matures, it produces a soothing aroma that is beneficial to human body. Thanks to the charming elements, more and more people are adopting traditional windows and doors.
Reinterpretation of Tradition for New Millennium
However great a traditional culture might be, it would simply wither in a museum unless people rediscover its unique role and universal value. Nor does it serve any purpose to reconstruct old techniques without incorporating the original creative spirit and time-honored techniques. Sim Yong-sik is currently pushing the envelope to strike a balance between old tradition and new interpretation. He restores old techniques and at the same time adds to the list hitherto lesser known methods. Based on his new findings, Sim is creating his own styles suitable for contemporary Koreans. Sim? goal is to produce traditional doors and windows that are used and enjoyed by people, not a forgotten artifact that is displayed and admired onlyin a museum.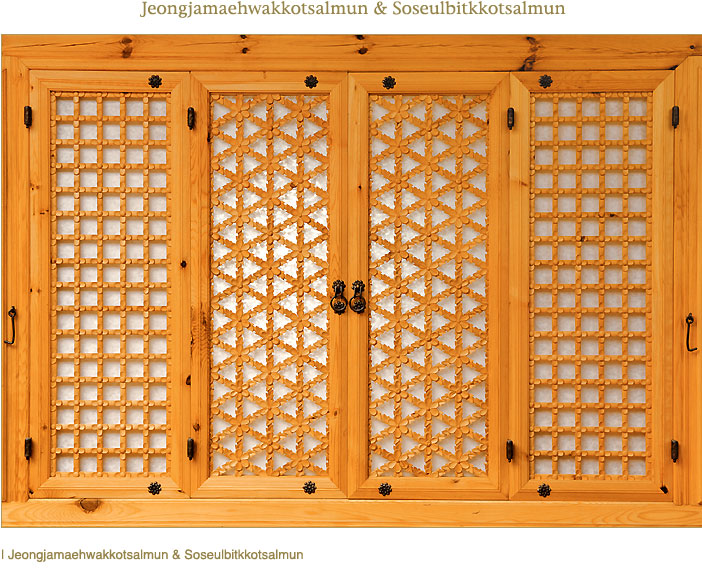 Apricot blossom and cherry blossom doors let us feel the wonderful beauty of the spring flowers and art.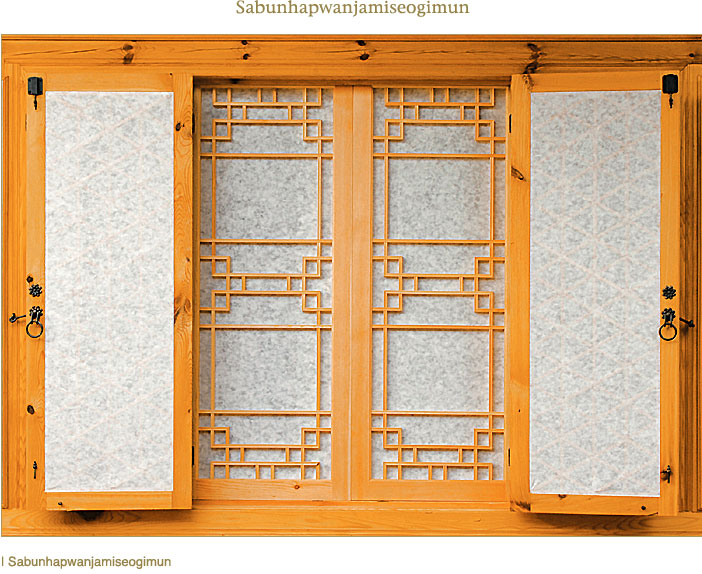 Four-frame doors that can be slid open and closed horizontally, used as an inner door for the colorful kkotsal door.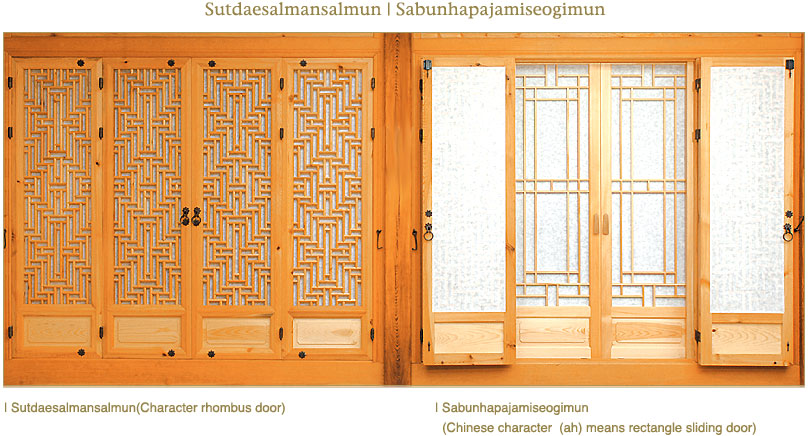 The lines are installed tightly so that the shapes and designs of the repeated geometric rhombus reflect the Korean traditional cultural beauty. Compound doors in 亞 shape are divided into four parts,
revealing the elegant, splendid, magnificent beauty.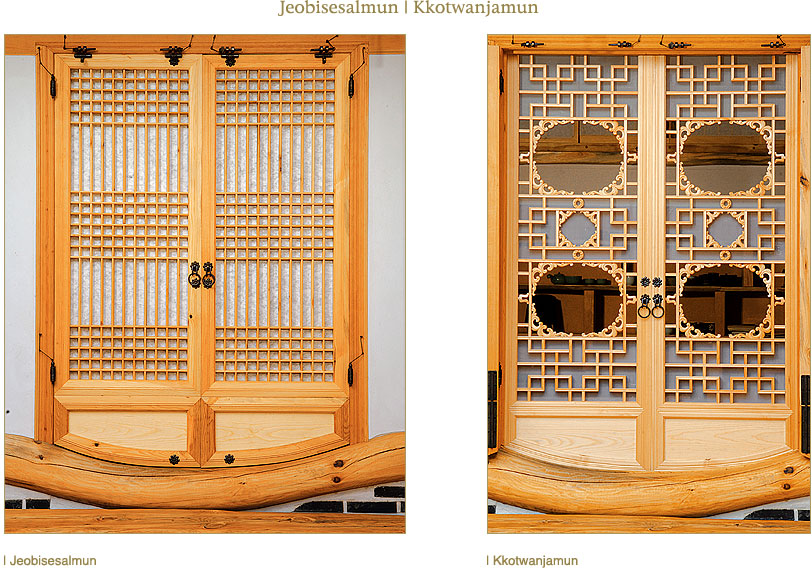 It is decorated vertically with the narrow lines, and the upper part,   medium and bottom with plain lines. It reveals artistic grace and   wisdom that have been harmonized with nature. Floral 卍 door : character 卍(wan) type floral door at main room, temple, palace. All the doors and windows at Chung Won San Bang reveal the highest beauty of Korean traditional windows and doors. They are mostly double-framed ones where the inner parts are brilliantly designed while the outside are light and simple.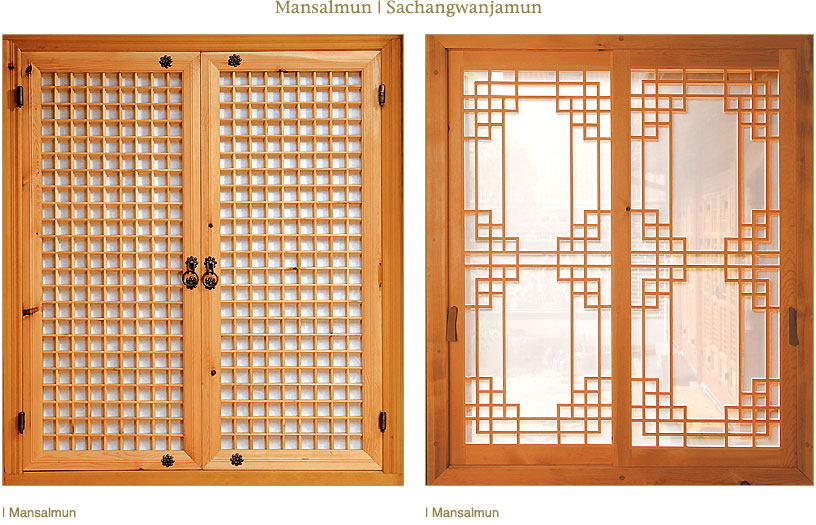 井 character type door. It exhibits classical beauty together with modern beauty. 卍 character type door : This door can be used even as a mosquito net since it is decorated with silk fabrics.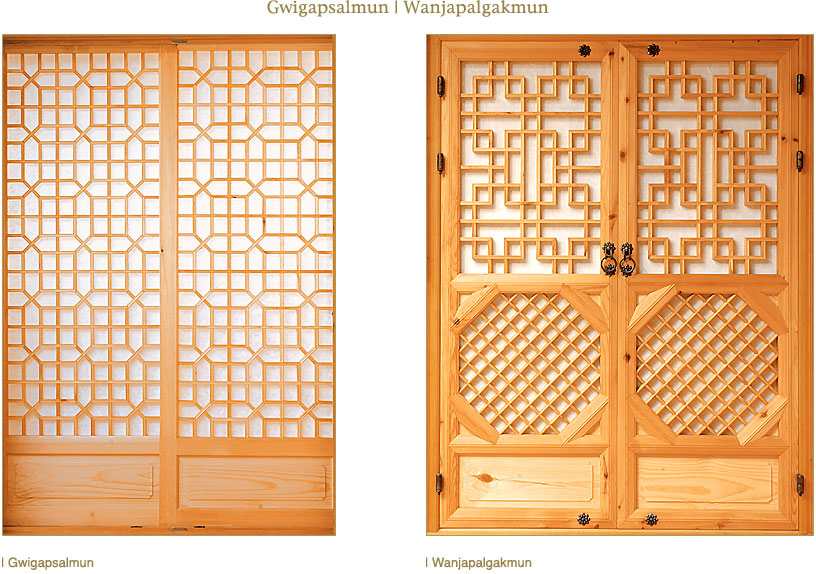 A door of turtle-shaped hexagonal patterns designed for   expressing longevity and prosperity. 卍 character and octagonal design door that showcases the artistry of intricate decoration.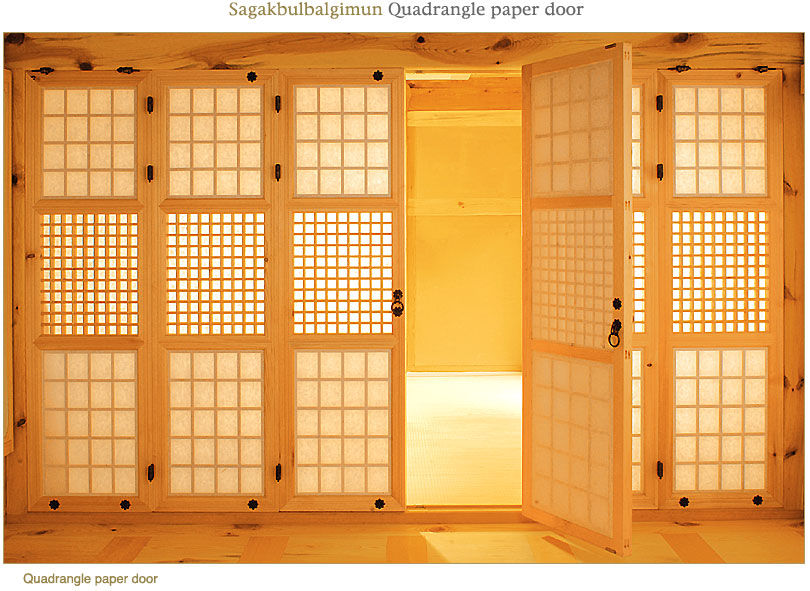 Rectangular doors can be useful for a party hall. Painting, scroll, and calligraphy can be drawn and written onto them.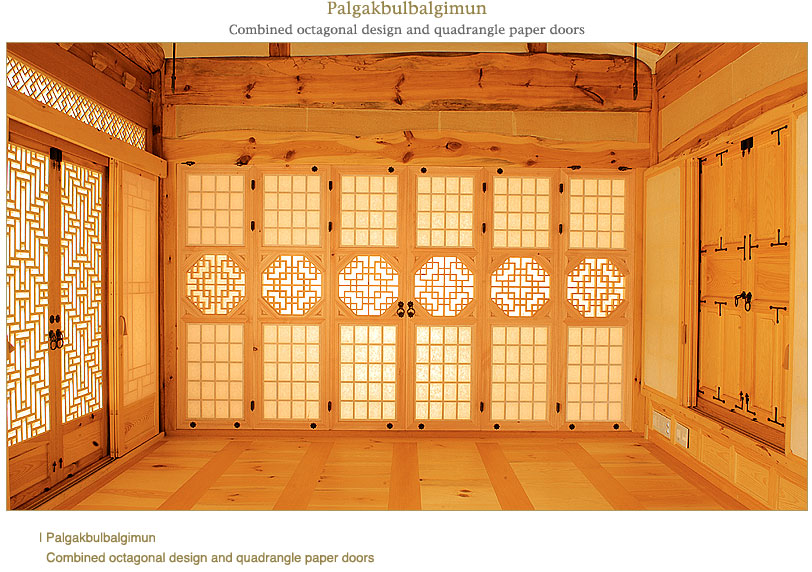 The opaque octagonal doors in the mid-part covered with window-paper come in handy at a party or an event, incorporating the features of Korean traditional house.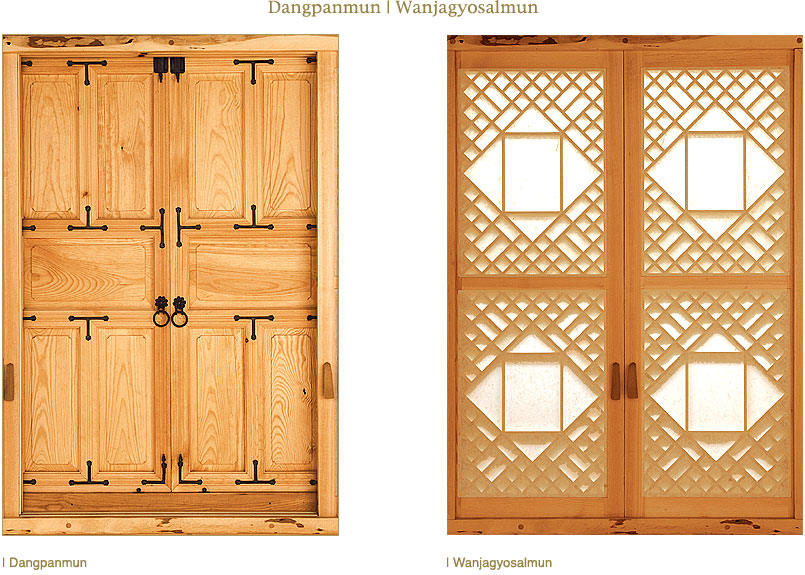 A wood board door used as the outer door for the main door. This doors has frames whose angles are between 35˚and 135˚and its beauty comes from the harmony between the brilliant appearance of quadrangle and rhombus.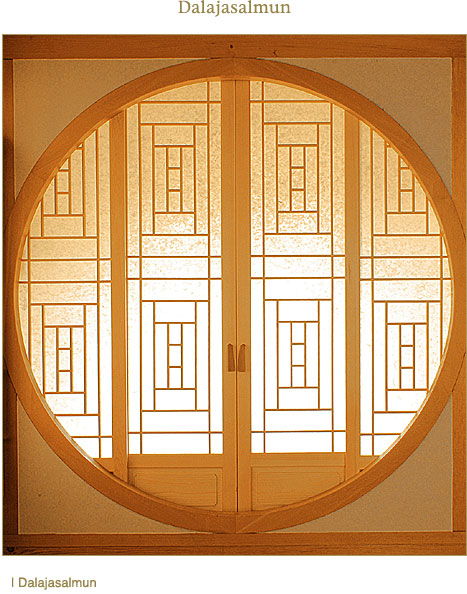 This pretty-shaped door takes shape after a full moon.

A simple secondary door to complement the narrow main window.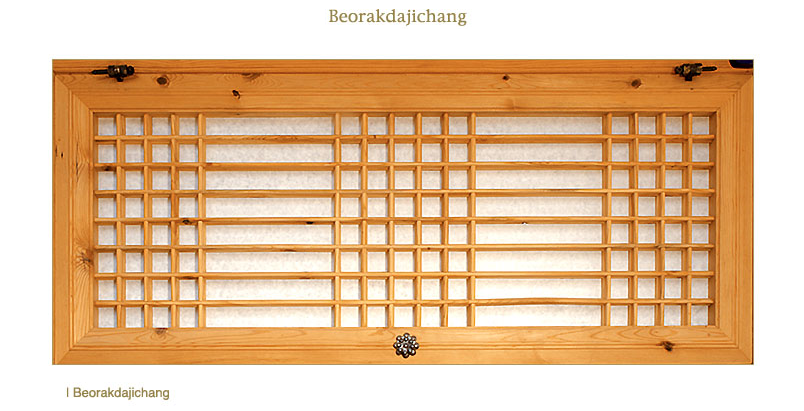 A door opens and closes very quickly, almost like a thunderstruck.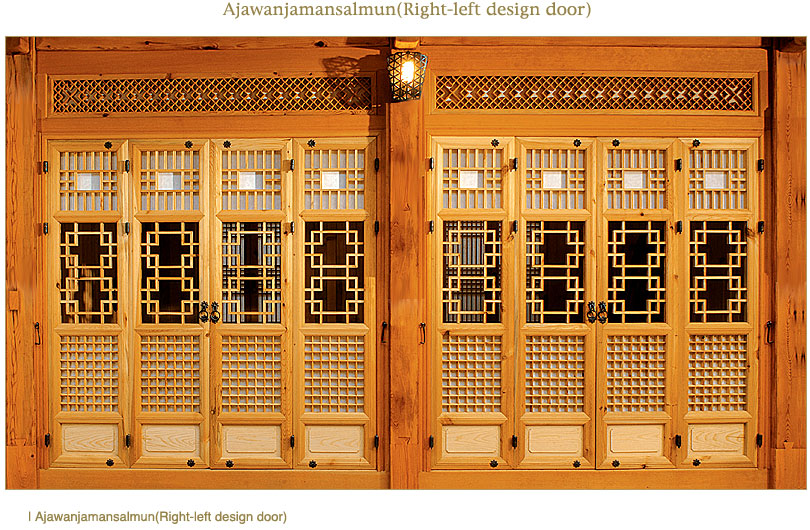 A charming design on the upper part and transparent the mid-part accentuate the door's graceful beauty, which is used for mostly women's quarters.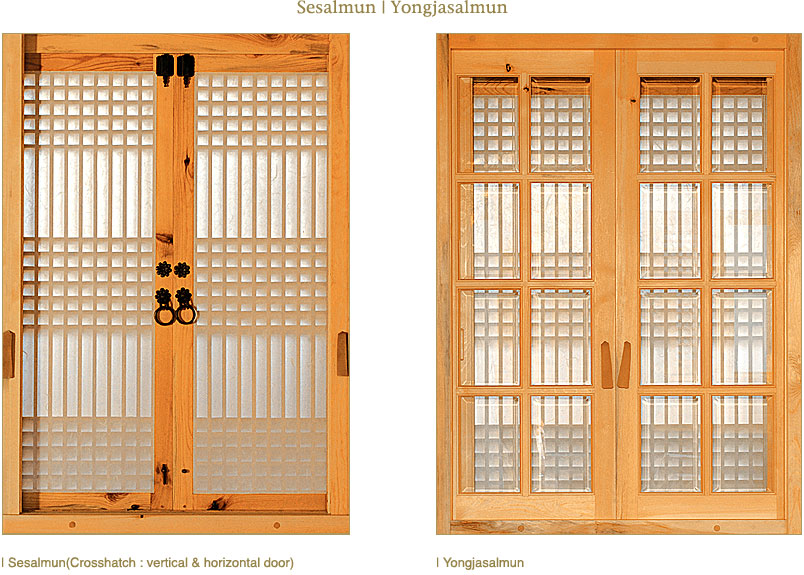 The Sesal crosshatch, or vertical and horizontal design, is commonly used for traditional Korean windows and doors. 用 character shapes the plain design structure of this door. The simplicity here is because the door used to be favored by the Yangban literati thanks to the door's clean image.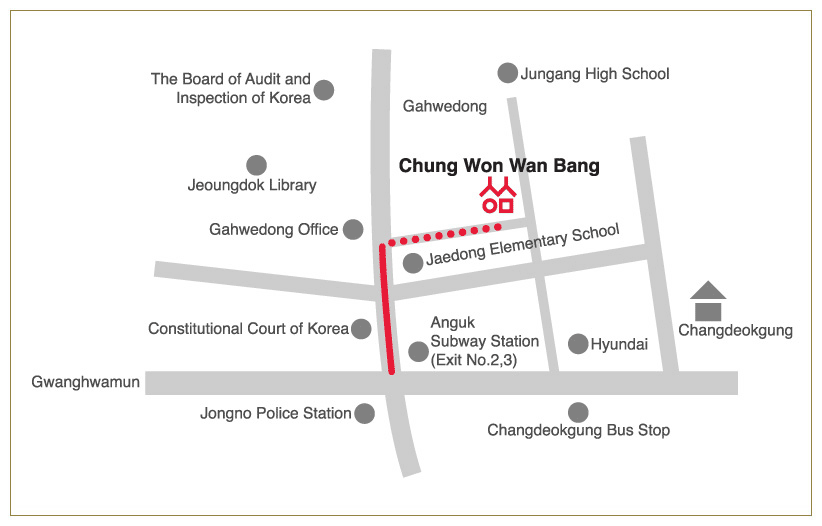 Address            79-12 Gyedong Jongno-gu Seoul
Tel.                   82-2-715-3342  
Opening Time  Tuesday~Friday 10:00~17:00 Advance reservation
                         Saturday 10:00~17:00 Free watch
                         Monday, Sunday, Holliday Close
By Subway
                         Take Subway Line No. 1 get off at Jongak Station(Exit No.3), take bus No.2 in front of YMCA, get off at Gahwedong Office, and walk via Jaedong Elementary School to Chung Won San Bang
                         Take Subway Line No. 3 get off at Anguk Station(Exit No.2) and 5-7minute walk