O-train, V-train lead to hidden inland wonders
The interior of the Korean Peninsula has breathtaking views of natural rocks and cliffs along steep valleys and mountains, coupled with long traditions of songs of Arirang and Confucian culture. The region is less accessible than major cities due to its rugged geography, but that's changing these days with the recent introduction of special train routes. Since the O-train and V-train opened the door to the mountainous interior of the peninsula on April 12, 20,000 passengers have taken the trains to see the hidden attractions of the inland so far, and another 20,000 have made reservations to take the trains, according to Korail. The Korea Tourism Organization (KTO) recently organized a familiarization tour with foreign correspondents based in Korea and members of Seoul International Women's Association (SIWA), among others.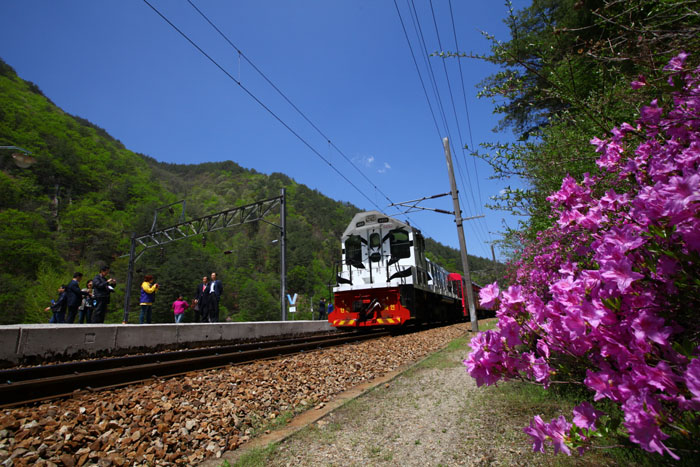 The O-train is a shuttle train that loops around the inland running through Gangwon-do (Gangwon Province), Gyeongsangbuk-do (North Gyeongsang Province), and Chungcheongbuk-do (North Chungcheong Province). The O-train, whose name is derived from the round shape of the letter "O" to suggest its circular route, stops by 13 stations including Jeongseon, Taebaek, Cheolam, Buncheon, Bonghwa, Yeongju, Punggi, Danyang, and Jecheon. The train circulates four times a day with two runs going clockwise and another two in the opposite direction. It takes four hours and 50 minutes to compete the entire 257.2-kilometer circuit.
The V-train, which connects to the O-train at Cheoram, Seungbu and Buncheon stations, travels 27.7 kilometers back and forth between Buncheon and Cheoram stations. The letter "V" stands for valley, suggesting that the train runs on a route between steep valleys of the mountainous east in Gangwon-do. A one-way trip takes 70 minutes. Six trips are offered every day, with three from Cheoram to Buncheon and another three in the opposite direction. The V-train travels slowly at a speed of 30 kilometers per hour to help passengers enjoy the spectacular views of cliffs and rugged mountains.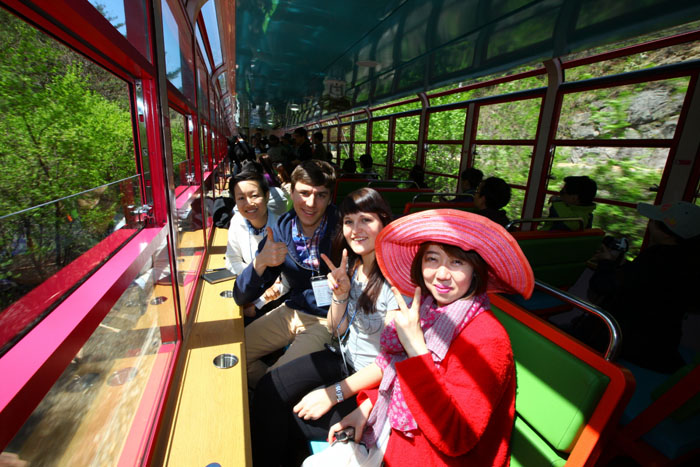 "The train goes through steep mountainous regions and deep valleys which feel very close to us," said Lee Charm during the tour held by the KTO. The highlight of the new train adventure is the V-train, offering stunning views of cliffs and valleys along the ride. The views from the train, especially in May, are worth a look when wild flowers including azaleas are in full bloom. "The V-train has a very colorful atmosphere and offers views of picturesque landscapes in Korea," said Ulli Schwickart, a member of SIWA and wife of a German diplomat. "It is a very good experience to discover the beauty of Korea's inland. I like travelling by train because it is slow and I can enjoy the view."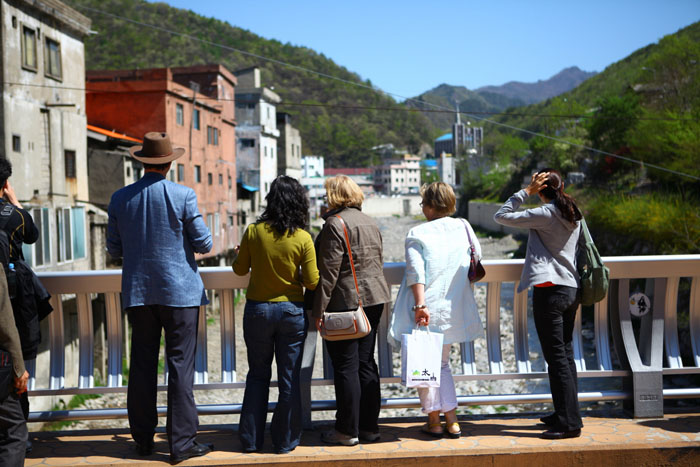 Choi Won-sook, a leader of Asia and China travel center at the Tokyo-based Club Tourism International Inc., said she especially liked the V-train. "The V-train ride was very interesting because it brought us closer to nature," Choi said. "The ride is slow and pleasant. I am thinking about organizing a V-train tour for Japanese tourists by renting a car of the train in the fall." There are also many attractions along the O-train ride. Jeongseon County in Gangwon-do, famous for the origin of Jeongseon Arirang, offers an Arirang themed musical titled The Melodies of Utopia at 2 p.m. on 2, 7, 12, 17, 22, and 27 of every month until November 27, at Jeongseon Culture and Arts Center. For more information, visit www.muyonsi.com or call 033-562-3821. 
The Skywalk, a part of Arii Hills Resort in Jeongseon, has a fascinating view of the valley and its wave-shaped stream. This allows visitors to walk on a glass walkway 850 meters above sea level. It also has a zip line on which a rider can descend to the bottom of the hill at a speed of up to 100 kilometers per hour.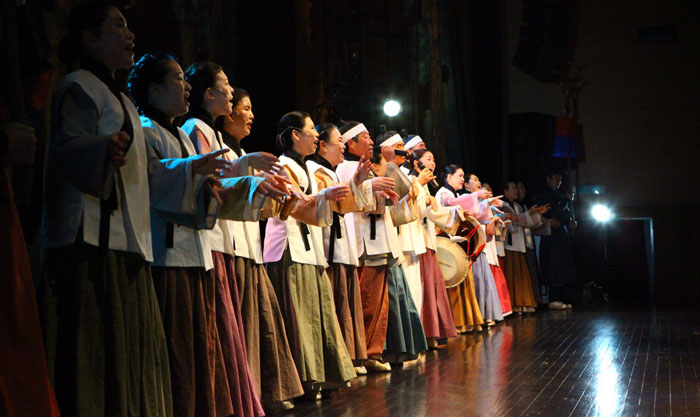 The O-train and V-train also provide opportunities to explore hidden inland attractions. The mining facility near Cheolam Station, built in the 1930s, has been running for over 70 years. Its population dropped from 12,000 during its heyday in the 1980s to 3,000 currently. Many houses in the old mining town were built near the stream due to a lack of flat land. With the mining industry on a steep decline, many of these houses are abandoned. It is a very rare scene in Korea and gives a glimpse of the country's history. Some artists and residents have made drawings on the walls of rundown homes. Tsutomu Kawakami, a chief producer of NHK's office in Seoul, said he has taken much interest in railroads and has already shot a documentary on trains in Korea. "I really liked the V-train and I would like to produce a documentary on the history of nearby villages and the train."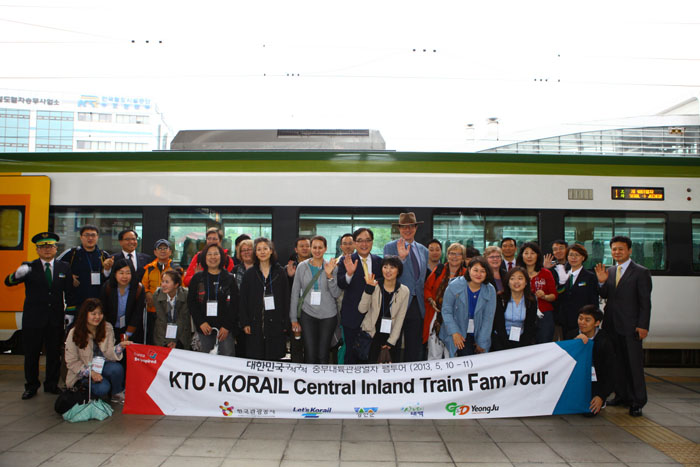 Participants of the FAM tour including KTO CEO Lee Charm (wearing a soft hat) pose for a picture before the O-train ride (photo courtesy of KTO)
(Travel tips for O-train, V-train)
For the O-train and V-train, a two-day tour is most recommended because it would be very tight if someone tries to do it all in one day. It would take one full day to take the O-train and transfer to the V-train and then back to the O-train and then transfer to another train to return to Seoul. Although the O-train departs from Seoul every day at 7:45 a.m., it does not return to Seoul and passengers need to transfer to another train at Jecheon. The O-train also departs from Suwon at 7:40 a.m., Cheonan at 8:15 a.m., and Osong at 8:40 a.m. A two-day pass for the O-train costs KRW 66,100 for adults and a three-day pass sells for KRW 77,500. Holders of the passes can freely use the V-train. A 50-percent discount is available for children and a 30-percent discount for seniors and adolescents. According to Korail, there is a two-day package including a one-night stay at High1 Resort in Jeongseon County, Gangwon-do. For more information, visit korailtour.com or call 1544-4590.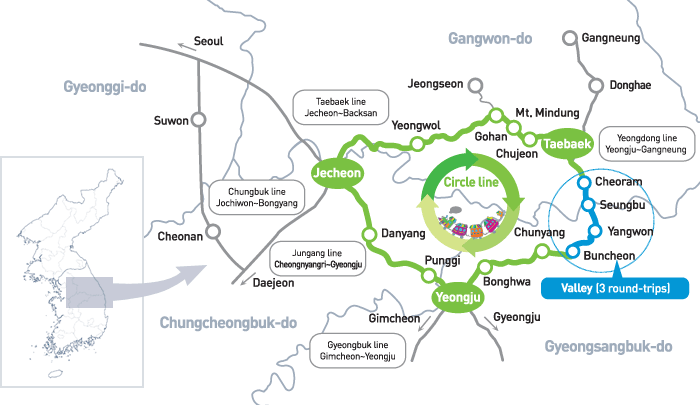 O-train and V-train routes (graphic courtesy of Korail)