Electricity and Voltage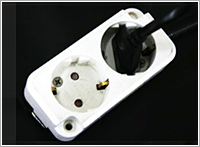 The standard voltage in Korea is 220 volts.
The outlet has two round holes and is the same type used in France, Germany, Austria, Greece, Turkey, and many other countries.
If you do not have a multi-voltage travel adapter, you can borrow one from your hotel's front desk. If you want to buy one in Korea, you can do so at a duty-free shop, convenience shop at Incheon International Airport, or Yongsan Electronics Shopping Town.