New bike route runs along east coast
A new network of bicycle lanes and bicycle paths has recently been launched, running down the east coast of the country. It connects Goseong-gun County in northern Gangwon-do (Gangwon Province) with Samcheok City in the southernmost region of the province, crossing a total of 242 kilometers. Running along the coastline, cyclists can hit six cities and counties: 59 kilometers in Goseong-gun, 10 kilometers in Sokcho City, 37 kilometers in Yangyang-gun, 57 kilometers in Gangneung City, 24 kilometers in Donghae City and 55 kilometers in Samcheok City.
According to the Ministry of Government Administration and Home Affairs, the newly-launched network of bicycle lanes and paths is part of a bigger plan to establish a 720-kilometer coastal bicycle trail that ends in Busan, South Gyeongsang Province. Starting with this newly-opened section in Gangwon-do, the trail will wind along the coastlines of North and South Gyeongsang Provinces.
The bicycle lanes and paths in Gangwon-do enjoy relatively lower amounts of bicycle traffic, compared to urban bicycle paths along river banks. The network links quiet coastal automobile roads with dedicated bicycle lanes, bicycle lanes separated by traffic barriers and peaceful walking or jogging trails with adjacent bicycle paths.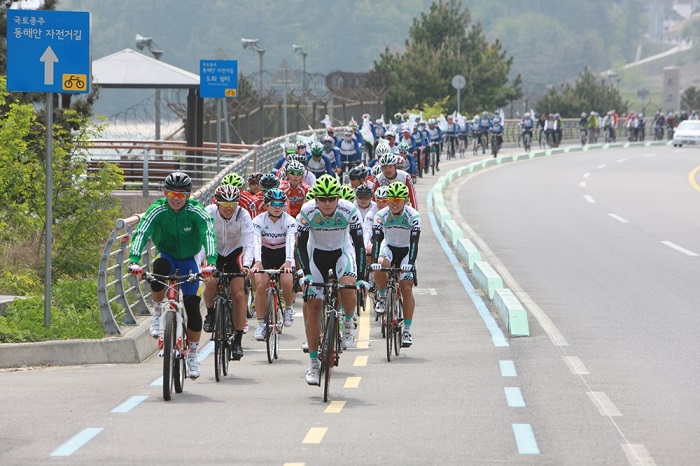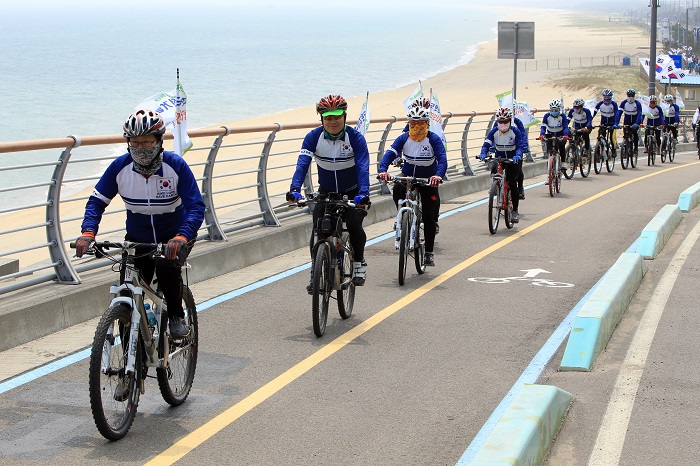 By Lee Seung-ah
Korea.net Staff Writer
Photos: Ministry of Government Administration and Home Affairs, Yonhap News
slee27@korea.kr