Aquarium meets the jungle: Aqua Planet Ilsan
A growing number of day-trippers are turning their eyes to aquariums, the underwater worlds where they can see marine life firsthand. Exploring an aquarium offers an otherworldly experience and, at the same time, is educational, helping people to be aware of the importance of our marine ecology. Therefore, aquariums are enjoyed and loved by all people, from kids to grandparents.
There are a number of aquariums nationwide. Among them is Hanwha Aqua Planet Ilsan, located in Ilsan, Gyeonggi-do (Gyeonggi Province). It is the largest in the greater Seoul metropolitan area. The four-story building covers 14,600 square meters and houses 4,300 tons of water in its tanks where some 25,000 sea creatures live together.
Aqua Planet Ilsan was constructed in April 2014, becoming Hanwha's fourth aquarium in the country, following 63 Sea World, the nation's first aquarium established in 1985, Aqua Planet Jeju and Aqua Planet Yeosu, both constructed in 2012. For the first time, the Ilsan branch created space for land mammals, too, alongside their marine animal friends. The aquarium can roughly be divided into two sections: The Aqua for marine life and The Jungle for land animals. It dedicates about 60 percent of the space to The Aqua and the remaining 40 percent to The Jungle.
The highlight of the aquarium is the Deep Blue Ocean, a gigantic water tank about 12 meters long and six meters deep. True to its name, it is reminiscent of a real ocean. According to the aquarium, it takes about a week to fill the tank with water. Around 10,000 marine organisms spanning 30 species live in the tank, including blacktip reef sharks, zebra sharks and Japanese eagle rays.
Daily underwater performances take place in the Deep Blue Ocean tank five times a day. The performance is based on the story of two aliens and a boy who dreams of travelling around the universe. Young visitors scoot forward to the front of the tank on their cushions, waiting for the performance as the show time comes close. The team's wonderful underwater dancing skills leave visitors speechless.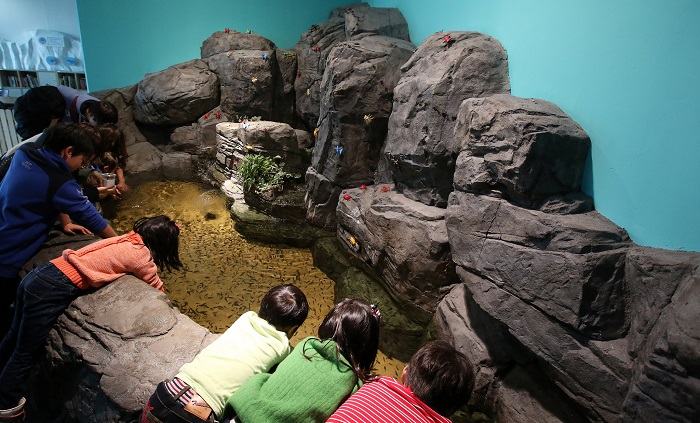 The mascot of Aqua Planet Ilsan is Mary, a four-year-old walrus. This young yet big animal consumes more than 10 kilograms of fish and more than 5,000 scallops every day. Visitors are given time to see her twice a day. When the walrus meets people, it lets out a loud bellow and sometimes sprays water on them, too, much to their surprise.
The penguins and beavers in the Ocean Arena are particularly friendly with people. They have been trained to do short spins or twirls in exchange for a snack from the audience, and follow people back and forth underwater through the glass.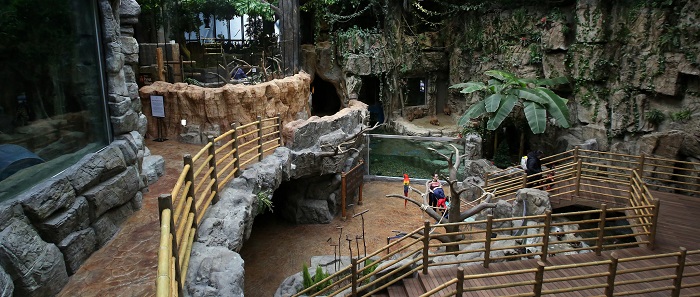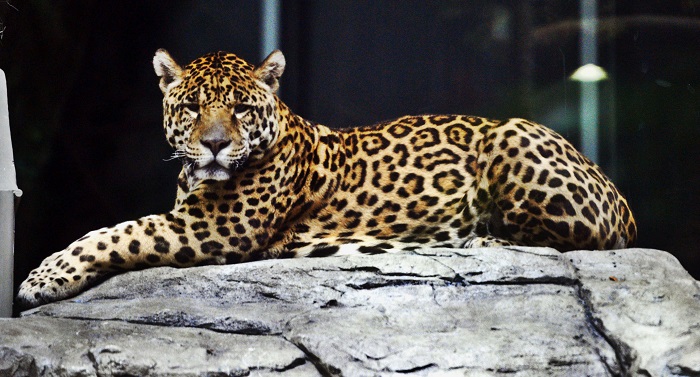 Visitors in The Jungle, the zoo section of Aqua Planet Ilsan, can see ring-tailed lemurs from Madagascar, jaguars and many types of parrots: yellow fronted Amazons, cockatiels, budgerigars and more.
Jaguars are known for their strong power and highly honed hunting skills. They have been known to break the skulls of their prey. Their sharp-sighted eyes make the visiting children wary.
Interview with Aquarist Kim Da-mi

What do you do at Aqua Planet Ilsan?
I am responsible for taking care of the fish. I have to always keep an eye on them and respond to any troubles that might occur. I majored in Fisheries & Biomedical Research and have experience in a number of fields, including training marine mammals. Fish in general are very sensitive to their envrionment, so I am always checking the temperature and the salinity.

When do you feel happy as an "Aquarist"?
Humans are not in communion with fish as much as we are with mammals. However, I know that they recognize me. When I approach them, they follow close behind. They are lovely.

Are there any particular programs at the aquarium that you recommend?
We run a "Backside Feeding" program twice a day. Visitors can directly feed the animals. It's a rare opportunity to see animals up close. Visitors love it.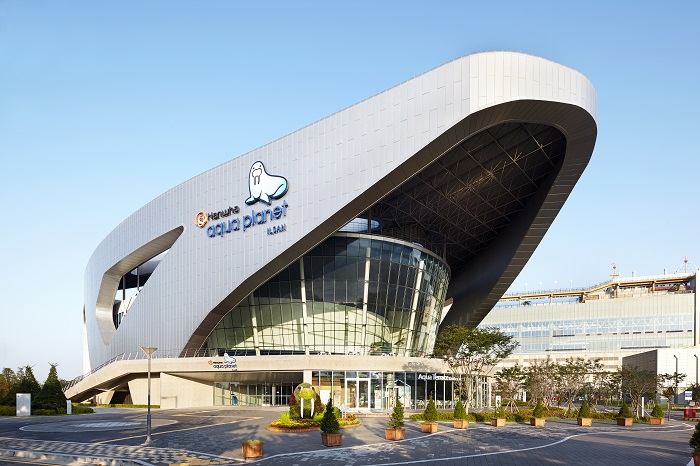 *Admission is KRW 27,000 for adults.
It opens from 10 a.m. until 7 p.m.
More information is available at the official homepage:
https://www.aquaplanet.co.kr/ilsan/index.jsp
By Lee Seung-ah
Photos: Jeon Han
Korea.net Staff Writers
slee27@korea.kr